by Rhoda March 16, 2018
I'm excited to feature one of the sweetest bloggers out there today!  Meet Stacey with Poofing the Pillows, who's been blogging for several years and I know she is probably one of my longest readers and has left me the kindest comments on my blog over the years.  She's just a doll and I finally got to meet her in person at Haven and if I had the chance, I'd love to hang out with her, I know we'd have fun.
Stacey is from TX and she and her husband built their dream house in the last year or so.  They moved in last summer and she's still getting settled in, but wow is it pretty!
A brick TX house, stately with a mix of brick and stone.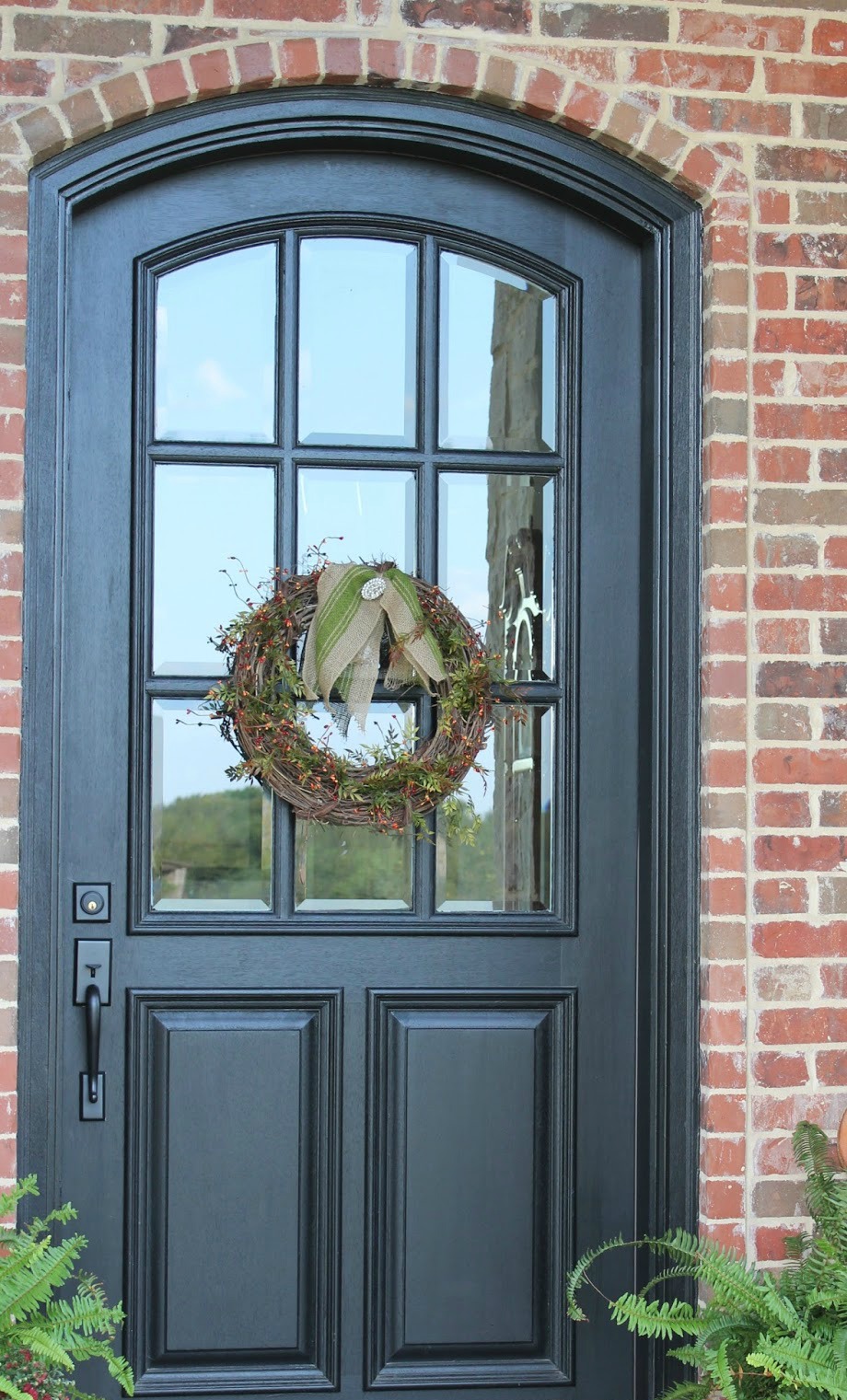 I love Stacey's front door and notice it's black on the outside and take a look at the inside.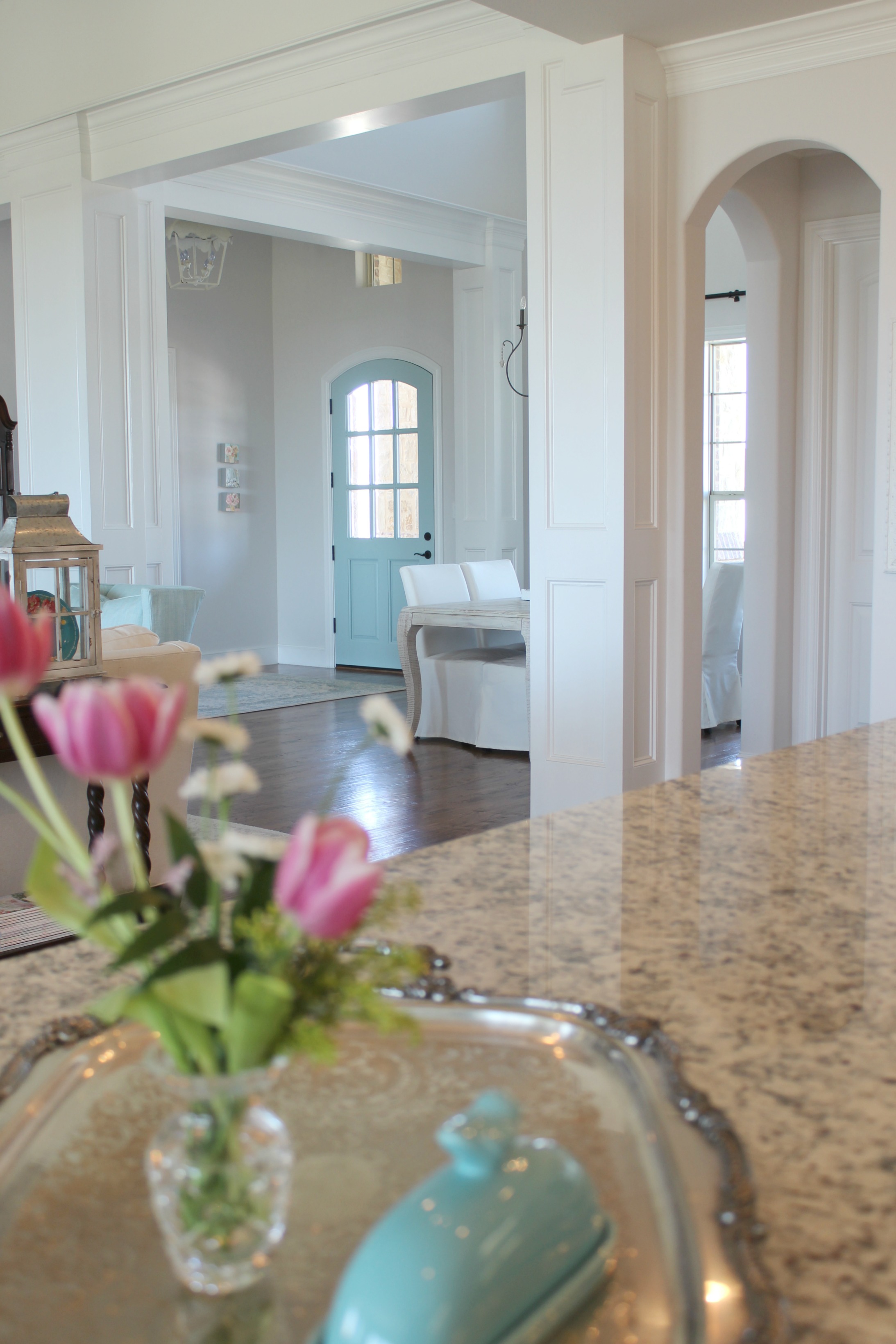 That luscious shade of aqua blue inside the house gives an clue of the accent color that Stacey uses throughout her open floor plan home.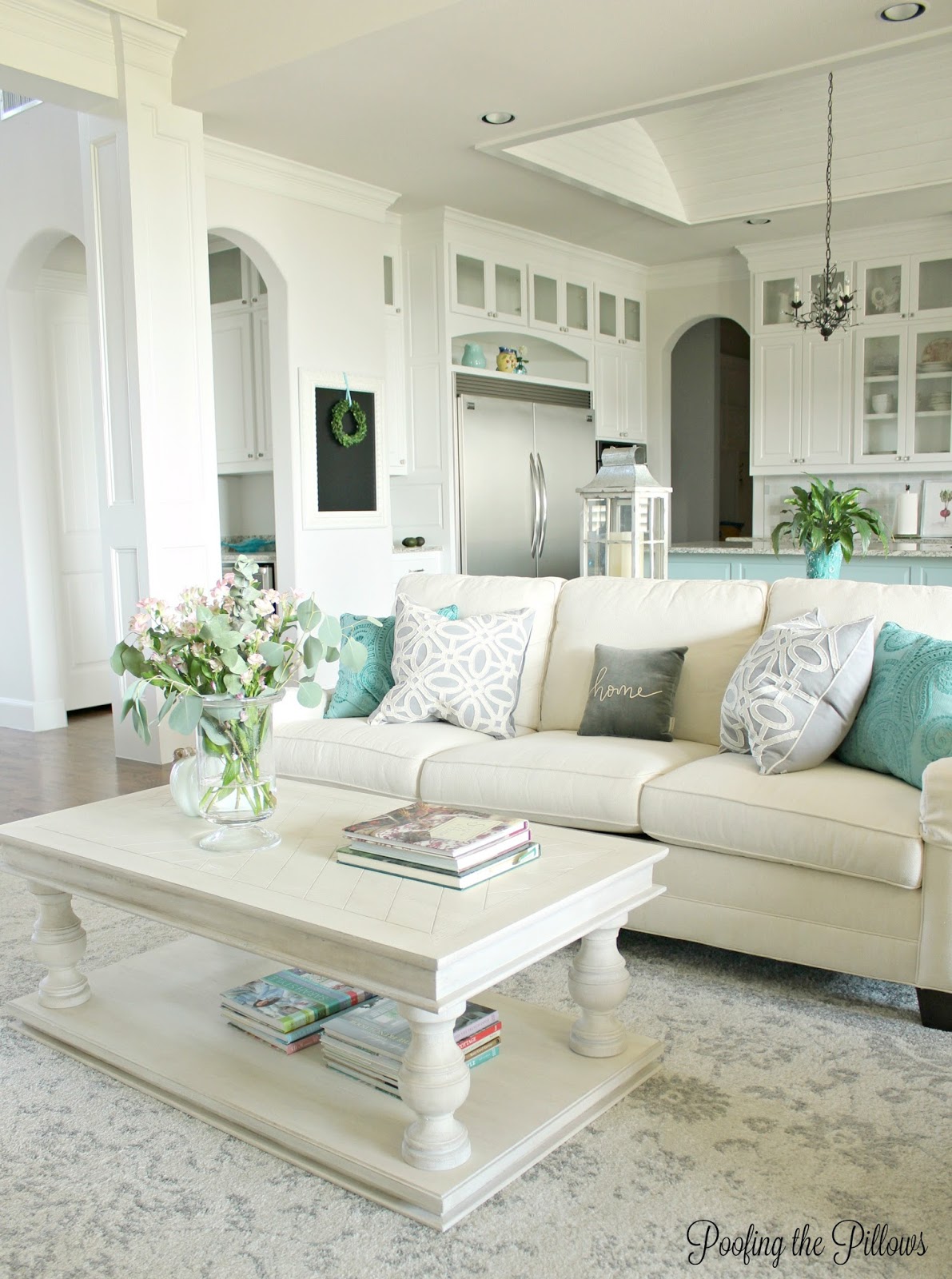 Soothing shades of cream and aqua blue are easy on the eyes and how about that kitchen?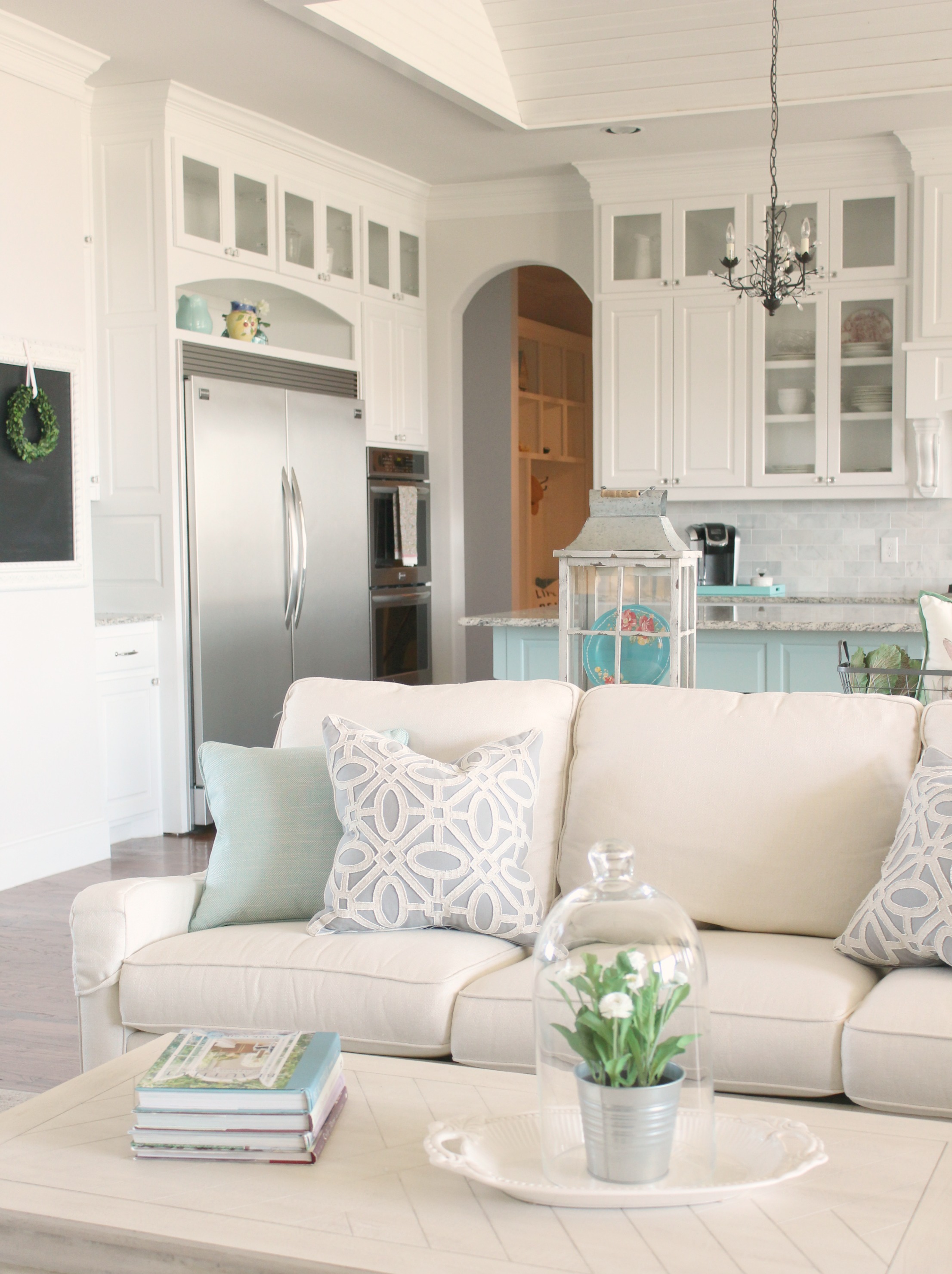 It's absolutely gorgeous!
Built in bookcases on either side of the fireplace.
Another peek at that aqua door.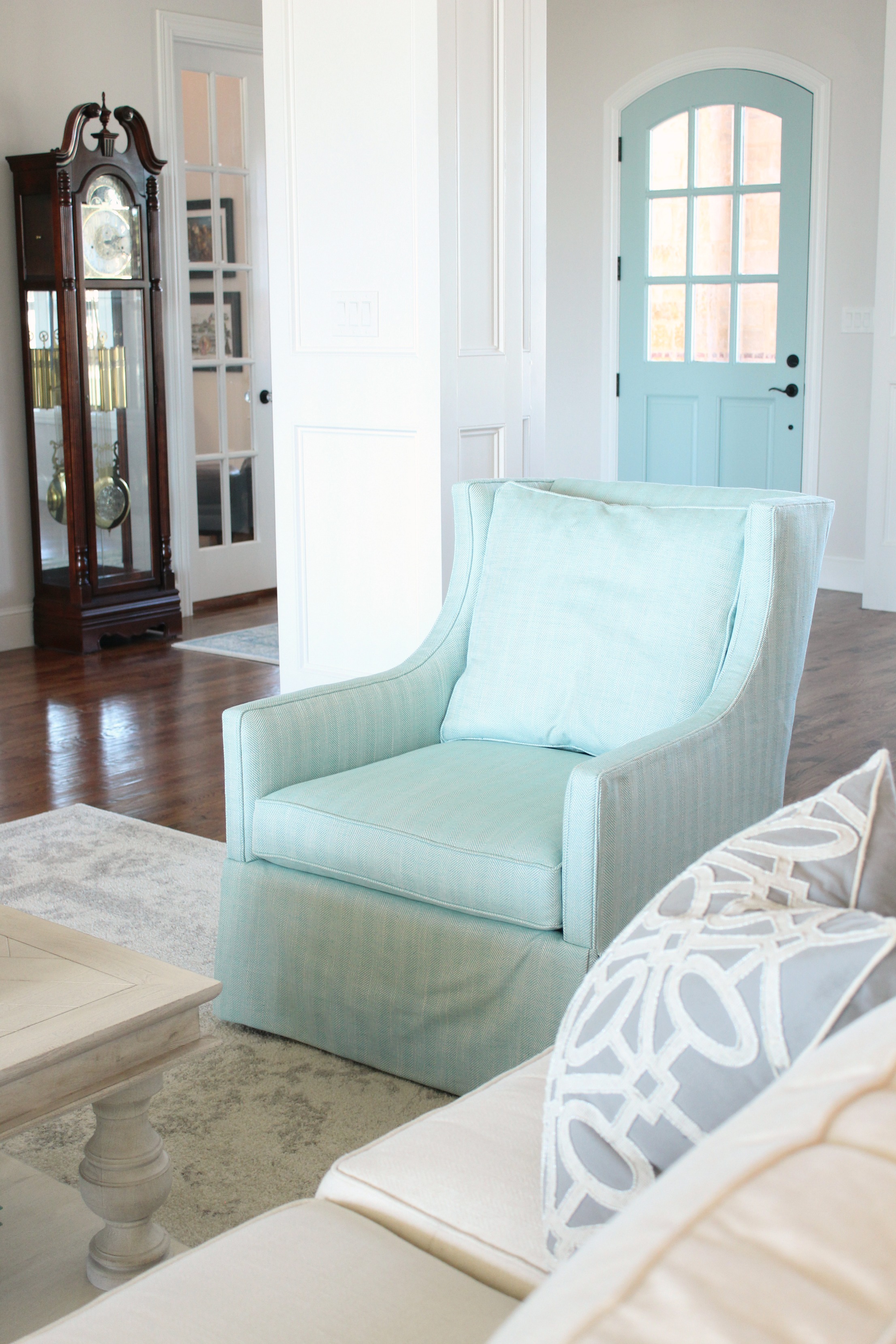 The living room flows into the kitchen and dining spaces.
Stacey has great taste and has added lots of pretty things to her new home.
The dining room is open as well.
Open shelves in the kitchen give Stacey a chance to add and change accessories around.
Another view of the kitchen and dining area.
And a peek at that gorgeous planked barrel ceiling, it's a stunning feature.
And the beautiful marble backsplash is so gorgeous.
I love all the features in Stacey's new house, she did a great job with everything.
The island is painted a pretty shade of aqua as well.
Spring on the breakfast table.
Isn't that so pretty and really makes me ready for spring!  I've been getting ready for spring at my house too and will be sharing lots of that next week.
It was so fun to feature Stacey and her new home!  I hope you go over and say hello to Stacey and get to know her sweet heart, she is such a wonderful friend in blogland at Poofing the Pillows!
SaveSaveSaveSave
Filed Under: Decorating Details, Feature Fri. 22 Comments
by Rhoda March 14, 2018
Hey there friends!  The weather is teasing us this week, with a cold snap again and it can't seem to decide if Spring is really here or not, but we'll take the sunshine that's here this week.Here's a question you probably didn't expect to hear today.Do you ever shop for clothes at Cracker Barrel?  I know, right?!  I typically only eat there when we are traveling, but sometimes Mark and I … Read More»
Filed Under: Fashion Beauty & Fitness 36 Comments
by Rhoda March 13, 2018
This post is sponsored by James Hardie®. For as long as I can remember, I've enjoyed looking at houses.  The exterior of houses is just as appealing to me as the interior.  A charming exterior gets me every time and it's a combination of things that create a beautiful home environment.  Exterior curb appeal, lighting, landscaping, all of it combines to create that welcoming "I'm home" feeling … Read More»
Filed Under: Projects and How-To 15 Comments
by Rhoda March 11, 2018
This post is sponsored by Schlage. Hey, friends!I've been talking about painting our doors and updating the door hardware, so wanted to share more about that.  Many of you were interested in painting your doors too, so I wanted to share the process of how I'm painting our doors and changing out the hardware at the same time.  I was very fortunate to partner with Schlage on this project, a … Read More»
Filed Under: House Renovation, Projects and How-To 32 Comments
by Rhoda March 9, 2018
What a fun Feature Friday today!  This house is amazing and even jaw-dropping, so sit back and enjoy the show.  I saw Ashley on Instagram and was immediately drawn to this gorgeous stately and yes, modern antebellum house.  I love older historic homes and this home which sits in Louisiana, looks like an old plantation home, but it's brand new and modern.  It's gorgeous and I hope you enjoy the … Read More»
Filed Under: Decorating Dilemmas, Feature Fri. 21 Comments
by Rhoda March 8, 2018
Hey, friends!One of the things I've been working on in our new house is updating all the interior doors with a paint color.  I mulled it over for awhile before I decided on one, but this one really stood out to me as a good choice, so that's what I ended up doing and I am SO happy with the results.I'll share mine at the end of this post, but I wanted to talk about this trend of painting … Read More»
Filed Under: House Renovation, Projects and How-To 41 Comments
by Rhoda March 7, 2018
Greetings my friends!This post really is all about the shoes.  You have probably figured out by now that I like shoes.  I can be swayed by a pretty pair of shoes and convince myself that they need to be in my closet.  I don't replace all my shoes constantly, but I do like to add a really neat pair here and there and when I was scrolling through Facebook recently (minding my own business), an … Read More»
Filed Under: Fashion Beauty & Fitness 18 Comments
by Rhoda March 4, 2018
This post is sponsored by Wayfair.Hope you're all having a wonderful Sunday!  We've been busy around here with several things going on, some big and some small.  The bathroom is coming along and if you've watched any of my Instagram stories, you will have seen some sneak peeks. It's looking SO good.  I still have to find someone to install the glass shower doors and I am getting that wallpaper … Read More»
Filed Under: House Renovation, Projects and How-To 34 Comments