Hope you are all having a good week! I'm still recovering from my travels but did fit in a visit to Scott's Antiques market this week, which I'll share later. I know you all love to see what is out there.
Here's what caught my eye from last week's party! You are all finding some great things, you will love all of these today.

Check out the thriftstore coffee table that Amanda found!  She repainted it and now it looks like a million bucks.  She paid $60, more than she wanted to, but I think it was well worth it.  Way to go, Amanda! 

Being Brook took a plain little $3 stool and houndstoothed it all up!  Cute, cute, it could be a Bama football fan now. 🙂
CircaDee scored this beautiful vintage industrial turquoise office chair at a church sale.  How cool is that?  I've had good luck at those church sales too.
Taryn from Design, Dining and Diapers found the most amazing deal at the Goodwill.  Both chairs for $1.30, now THAT is a steal!  With a little sprucing up, these will have a lot of life left in them.
DIY Home Staging Tips grabbed this steal of a deal set of lamps at Salvation army for $2.89 each and gives a wonderful tutorial on how she painted them.  Marble bases, great looking classic lamps.  This is the before, you can see the Afters at her blog.   I have my own marble base lamp that I redid too and still love!
Look at the score on this silverplate that Everyday Lovely found at a yardsale.  $9 for all of this.  I would have grabbed it too!
If I ever found glass fishing floats at a yardsale or estate sale, I would snap them up too.  B3 Home Designs scored these at an estate sale.  Love them!
Home is Where Her Shoes are found this beautiful buffet on Craigslist for $30 and gave it a complete makeover. You can see the Before and Afters on her blog.  Gorgeous!
What's cuter than a vintage red step stool? Parsimonia didn't pass this one up!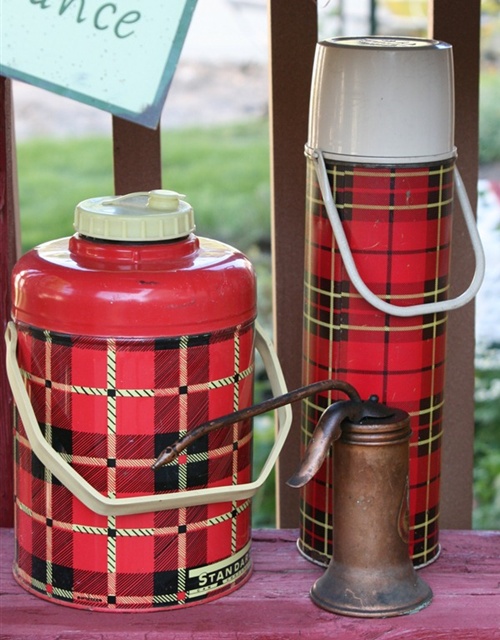 These old vintage Thermos bottles are so heart-warming.  Do you remember this plaid like I do?  A Daily Cup of Mrs. Olson found these for $3.99 at the thriftstore.  So cute!
There are a TON of parties out there to highlight all your projects, so please let's keep this one about thrifty finds that were bought 2nd hand! Not a great sale from the store, or a recipe, or just a plain project, but 2nd Hand finds only!
And please DO NOT go back in your archives to OLD posts and link up. Let's keep this party fresh and current! If you have already shared your find in a previous party, DON'T share it again! Please, girls, I don't want to have to delete links.

Add your permalink to the link list, which is the actual post that you did for this party, NOT your general blog url. To get the actual post, after you publish the post, just click on the title and THAT will be your party post url. PLEASE try to get the correct url in the first time!
Please add my button to your post or blog OR at least link back to this post in your post. That's all I ask. It's common courtesy to link back to the person having the party, so that all of your readers can find it too.
Please do NOT link to an Etsy shop or something similar (even if you think it's a fabulous deal) or I will delete the link. This party is for sharing thrifty finds from yardsales, thriftstores, or something along those lines. If I see that your post is not really on track with this theme AND you don't link back, I'll delete your link. Sorry, but I'd like to keep the party consistent! IF YOU SEE THAT YOUR LINK HAS BEEN DELETED, IT IS PROBABLY BECAUSE IT IS NOT IN LINE WITH THIS PARTY THEME.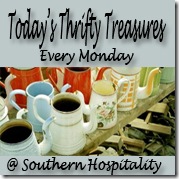 Don't Miss a Post, join my list!