There were so many neighborhood sales this weekend, I could hardly decide which one to hit first.  So, I hit Brook Highlands and then headed over to Northlake at Greystone to see what was left.  Exhausting, but so much fun.
Before even leaving my neighborhood, I stopped at my consignment store neighbor's yardsale that she always holds to pare down inventory and found this oh so cute straw aqua purse for $3.  How could I turn that down?  She also had a pair of Levi's in just my size (and Talls!) for $2 that I scored.  Oh, how I love to find clothes like this.
And it was a good weekend for scoring clothes. I found 4 Tommy Hilfiger shirts that looked to be nearly new for $1 each for the hubs.  Now, that is bargain shopping.
Ran into one of my blog readers (hi, Liz!) at that same sale and bought this cute Ann Taylor top in my fave shade of green for $1.  Hello, come home with me.
Moving on, this cute Lily short dress (which I'll wear as a long top) was $1.  Perfect for summer & maybe with leggings and flip-flops.
25 cents for this old Pyrex orange bowl.  I may resell this, since I have so many bowls already.  But, you know how much these go for now, the older pieces are so collectible.
Little white wall shelf was $1.  I scored a bunch of plates and may do a wall grouping in my living room with all of them, along with this piece.
Two white platters and both are old.  I found ALL of these plates and bowls for $14 and most of them are older pieces.
You can't really tell, but these are light gray and the older lady I bought them from said they were from the 30's.  The top one  is marked Luray, which I have seen out there, very pretty pieces.
Another pretty rectangular vintage piece in that pretty aqua color.  Again,  all of the above pieces were $14, quite a steal for this many and the fact that they are old.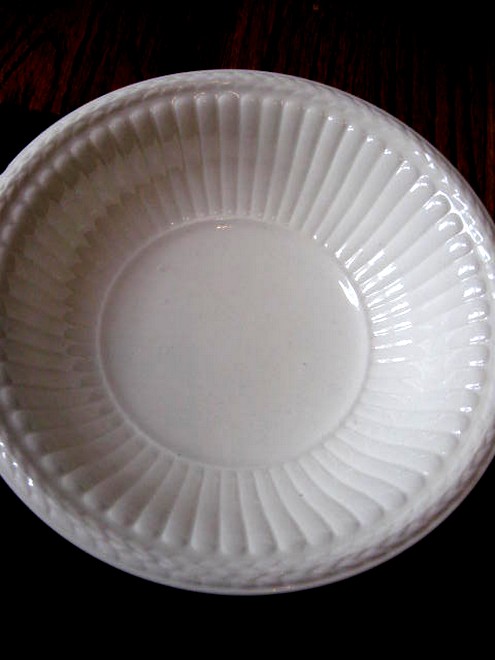 Little Wedgewood bowl was 10 cents.  It has a chip under the rim, but still very pretty.  It could easily hang on the wall too.
Wrapping it up for the week, these vintage hot pink tiny Christmas balls were all for 50 cents.  Not that I need them, they were too cute to leave behind.
My small group of ladies at church are going to make over a room at The Lovelady Center and I found a few things to use in that redo, so I'll share all the process with you when we get everything done. I've got before pics of the room and hopefully, it will be really cute when we get finished painting and spiffing it up!
So, now it's YOUR turn for the party this week! What have YOU found lately. Add your link to the Linky list and remember our guidelines for the party:
Add your permalink to the link list, which is the actual post that you did for this party, NOT your general blog url. To get the actual post, after you publish the post, just click on the title and THAT will be your party post url. Last year, I can't tell you how many links I had to fix. This year I might get mean & delete them, so PLEASE try to get the correct url in the first time! 🙂
Please add my button to your post or blog OR at least link back to this post in your post. That's all I ask. It's common courtesy to link back to the person having the party, so that all of your readers can find it too.
Please do NOT link to an Etsy shop or something similar (even if you think it's a fabulous deal) or I will delete the link. This party is for sharing thrifty finds from yardsales, thriftstores, or something along those lines.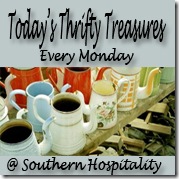 Let's have some fun this week with the Thrifty Treasures party!
Don't Miss a Post, join my list!