Atlanta is a wonderful city for design!  I had the pleasure last week of attending the 46th annual ASO Decorators' Show House here in Atlanta, Chateau Soleil.  It's always fun to see the designs and styles of each of the rooms in these beautiful show houses and I loved the tour.  These homes are always big and grand and not at all in the realm of how most of us live, but it is still fun to see them and get inspired.
The 2015 show house was built in 1998 and sits on 2 lush acres on Northside Drive. With European-style craftsmanship, it evokes a French feel and named Chateau Soleil for it's golden yellow exterior.  Architectural designer William T. Baker is renowned for this type aesthetic.
I will not try to comment on all the pictures, but I will attempt to name the designers of each space and hope that I get them right.  I have a book that I'm going by and my memory on which rooms are which from winding through this large and stately home.
Front Terrace and Side Patio – Chip Wade Creative (Frontgate outdoor furniture)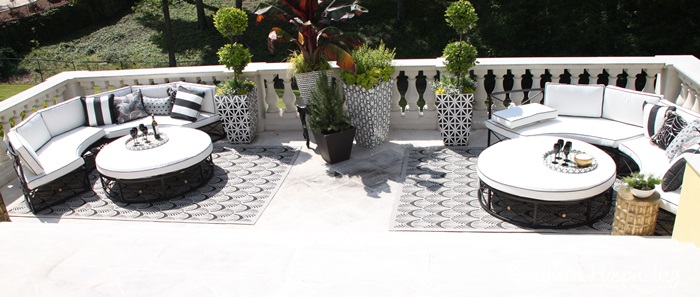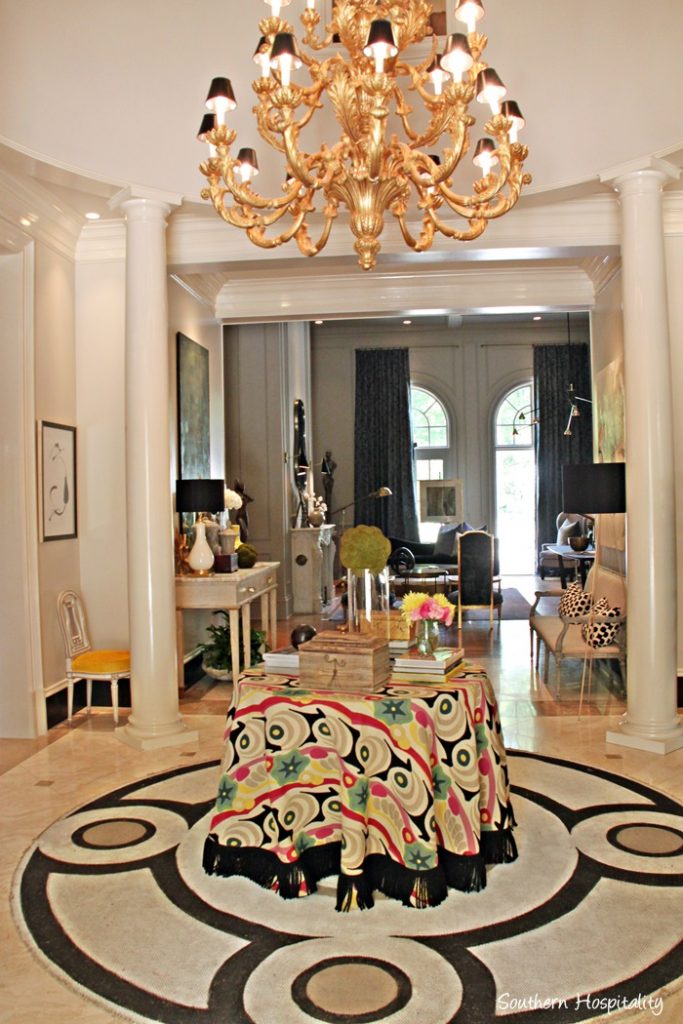 Grand Foyer & Rotunda – Loren Tayler, ASID and Carolyn Abrams Taylor: Loren Taylor Interior Design
Study:  Lance Jackson and David Ecton:  Parker Kennedy Living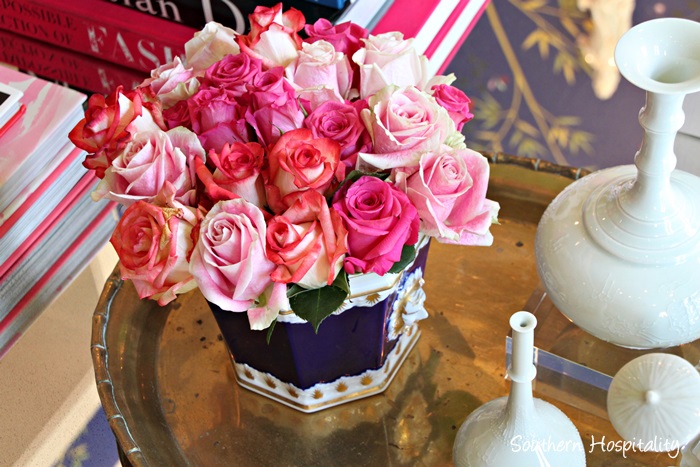 Living Room – Michel Boyd with Smith Boyd Interiors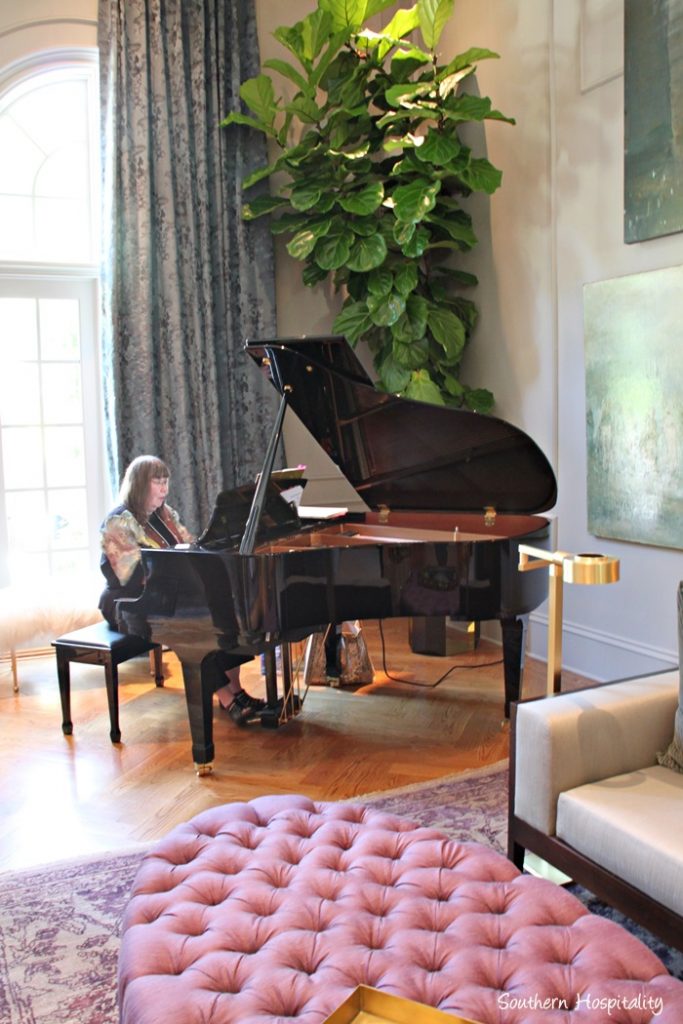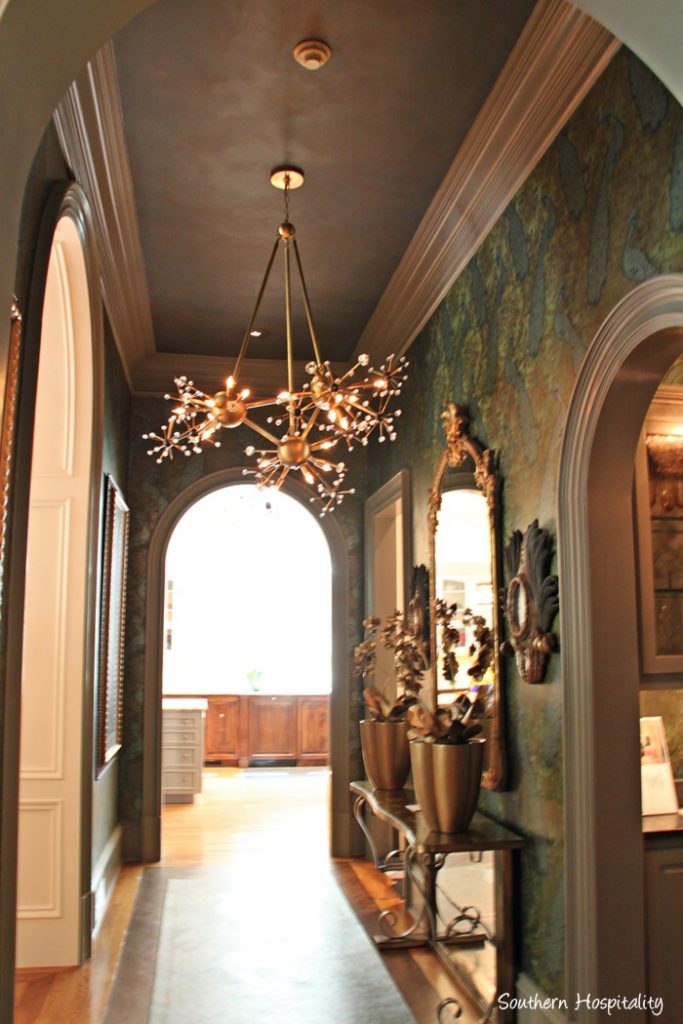 Butler's Pantry and Dining Hallway – Stuart Pliner with Stuart Pliner Design
Dining Room – Boxwoods Too, Randy Koran & Dan Belman with Boxwoods Gardens
OK, so I loved the dining room…one of my fave spaces!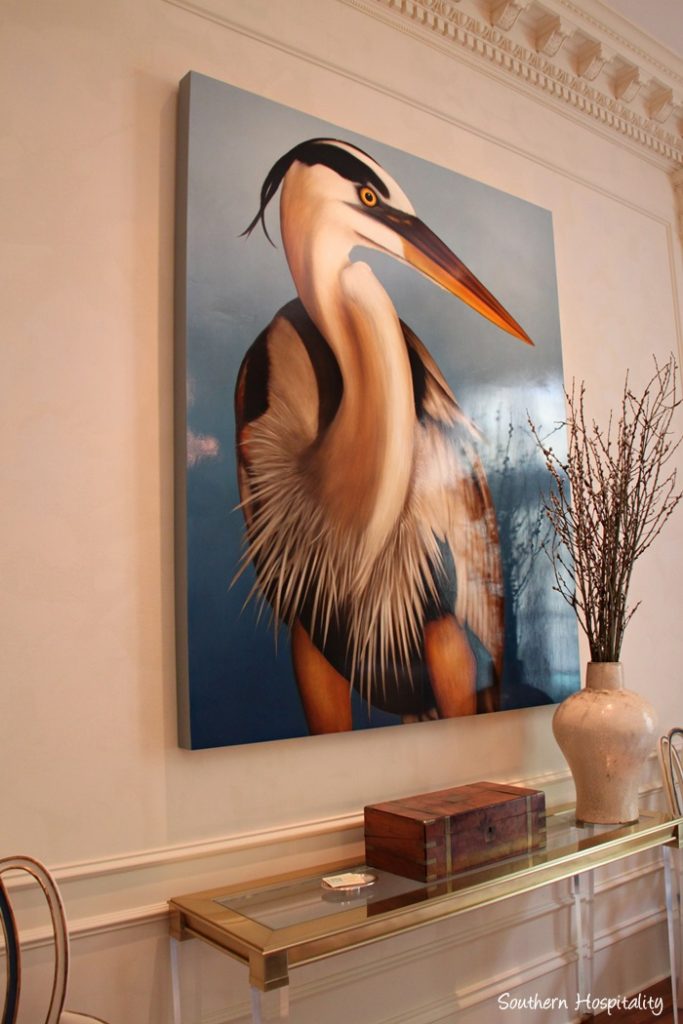 Kitchen – Robin LaMonte:  Rooms Revamped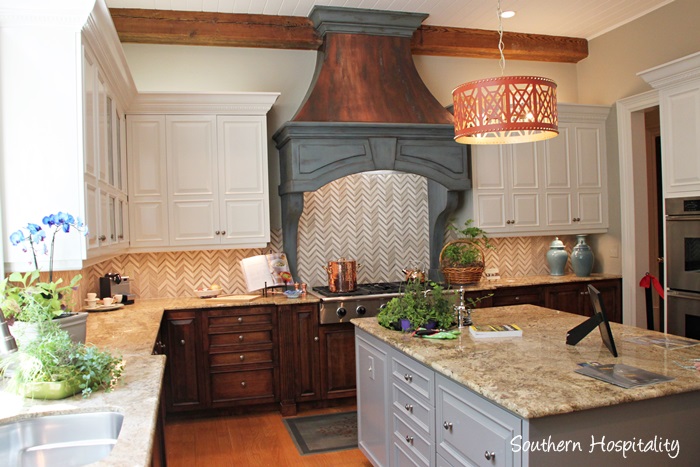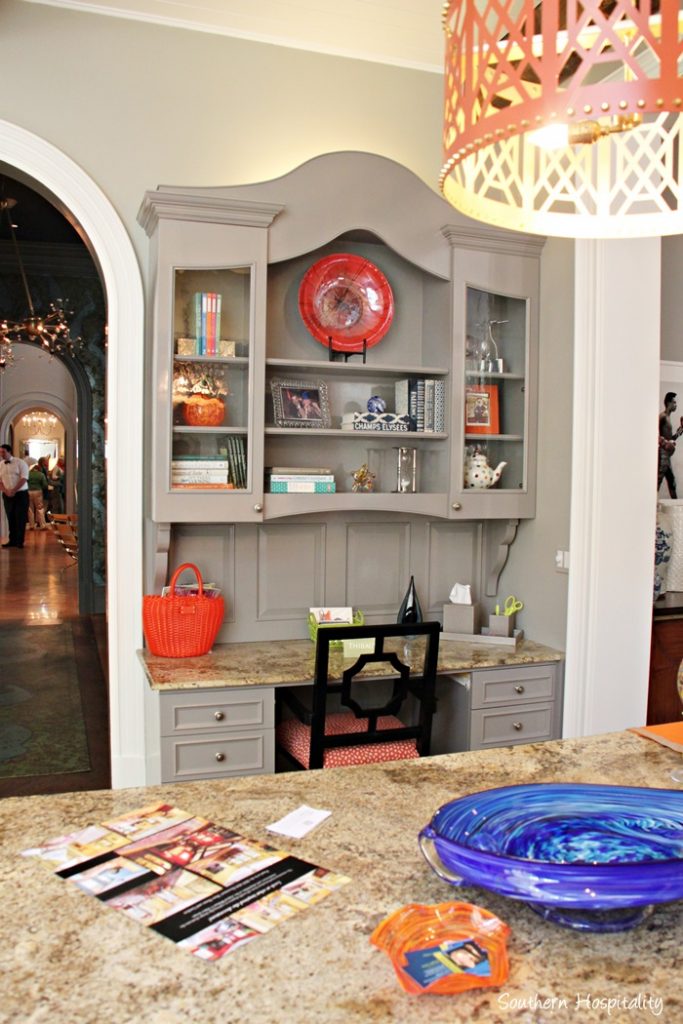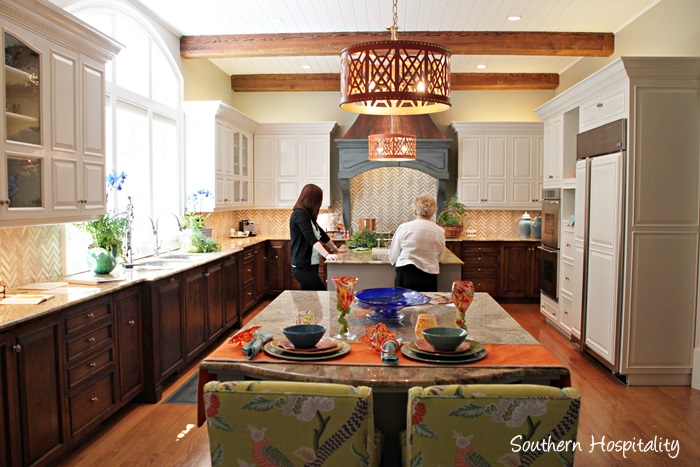 Breakfast Room and Den – Vern Yip with Vern Yip Designs
Outdoor Terrace – Bill Hudgins with Lush Life Home and Garden (Frontgate Furniture and accessories)
Master Suite and Bath – Robert Brown with Robert Brown Interior Design
Gentlemen's Closet – Barbara Peacock Snook and Erin Hardy with California Closets Atlanta and Boston
Her Bathroom and Dressing Area – Danielle Rollins and Bill Ingram with Rollins Ingram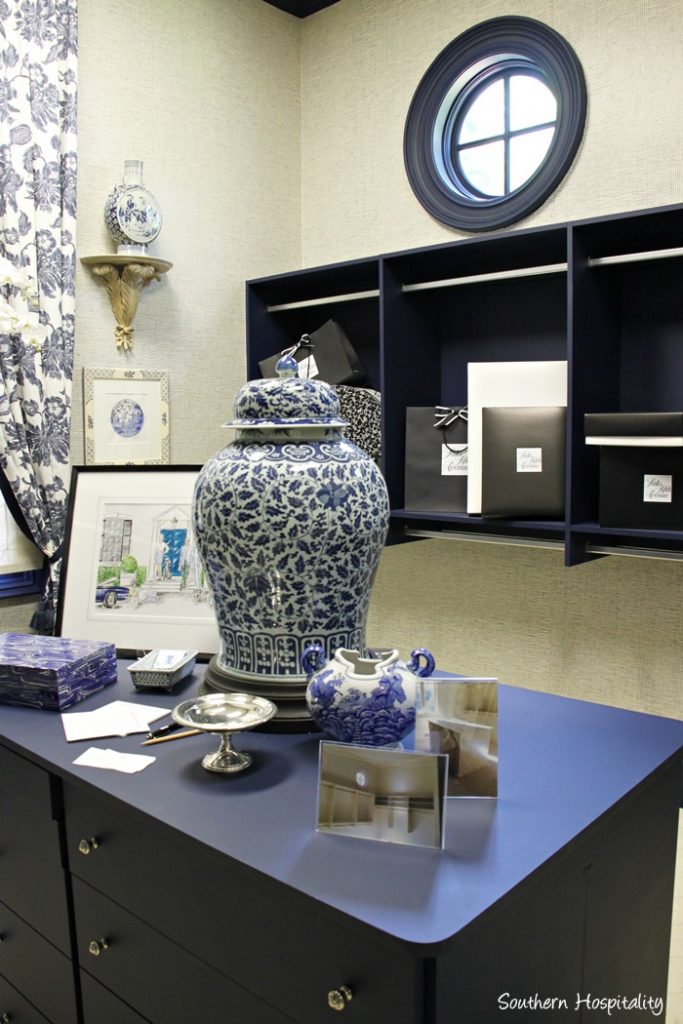 First Floor Guest Room – Melanie Turner, ASID with Melanie Turner Interiors
Guest Bedroom 1 – Bryan Alan Kirkland and Iesia D. King: Kirkland and King Design Associates
Upstairs Retreat:  Stephen Pararo & Seble Bebe Mengistu:  Pineapple House Interior Design
Designer's Suite Dream – Patricia McLean, ASID Allied with Patricia McLean Interiors
Nursery & Bath – Kimberly Grigg:  Knotting Hill Interiors
Laundry Room and Office Pantry – Jessica Bradley:  Jessica Bradley Interiors
Pool Deck and Gardens – Ed Castro & Hannah Seaton:  Ed Castro Landscape, Inc.
Furniture:  Frontgate 
Side Patio – Chip Wade Creative
Furniture and Accessories:  Frontgate
I hope you enjoyed this beautiful tour of the Atlanta Symphony Orchestra Show House 2015!  I didn't get pics of every single space, but there were other designers involved in the show house too.
It's always fun to visit and if you are in Atlanta, it's open this weekend, through May 10th, so try to get by for a tour.
Don't Miss a Post, join my list!