I love strawberries!
No doubt about that, strawberries have always been a part of my life and recipes.  Almost 6 years ago, I blogged about a drool worthy fresh strawberry cake that I made and it has been a BIG hit on my blog, getting pinned and shared all over the place the last few years.  The pictures I took are really bad….6 years ago I  had no idea how to take decent pics, so it was pretty pathetic. I just went back and edited that post with a good picture and a printable recipe sheet that I'm adding here too.
One of my friends I went to college with sent me a funny note recently.  She was looking for a strawberry cake recipe and her daughter found one on Pinterest and sent it to her.  Yep, it was from MY blog from 6 years ago and I had to laugh.  Small world, after all!
After bringing all these beautiful fresh strawberries back from Florida, I had to make another one of these strawberry cakes. So, I'm reprising the strawberry cake recipe today, which I'm also updating on a printable recipe page. We didn't do that back then, but now recipes can be printed easily.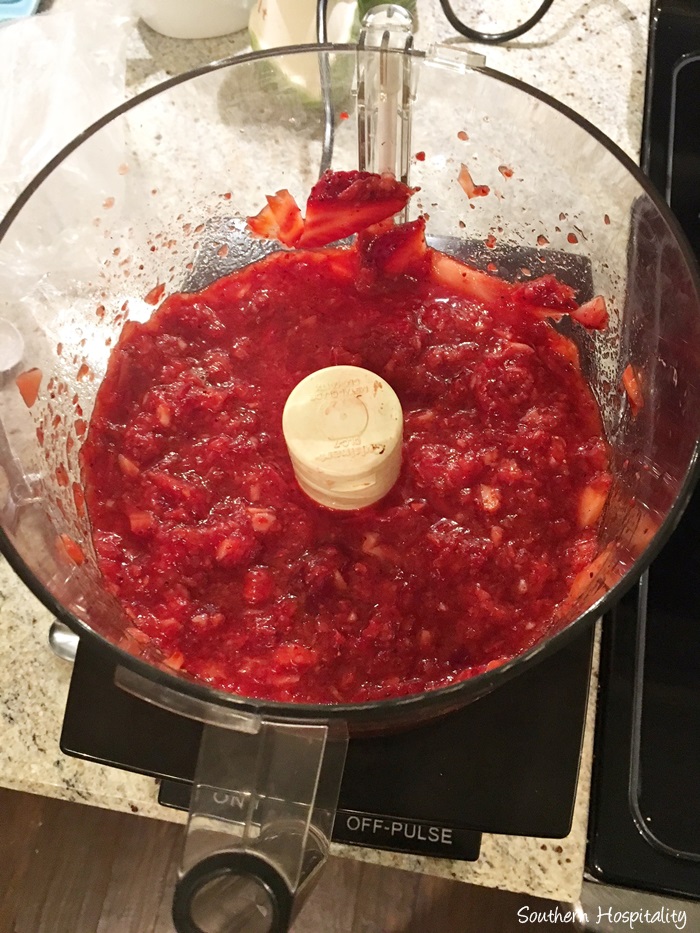 I pureed the strawberries and used about 3 cups fresh strawberries in this cake.   One cup in the batter and one cup in the icing.  I had leftovers for adding to the top too, so the strawberry flavor is pretty intense.
The recipe calls for a white cake mix, so I bought a Duncan Hines French Vanilla.  Then you add some other ingredients to the cake batter mix, along with 4 eggs.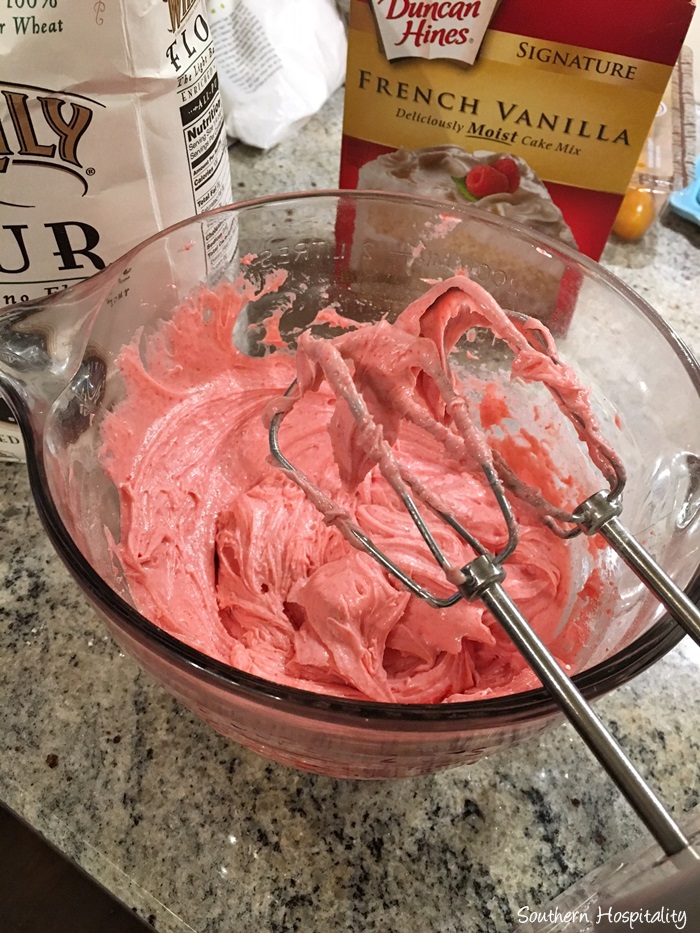 Mix it all up with a mixer. Puree the strawberries.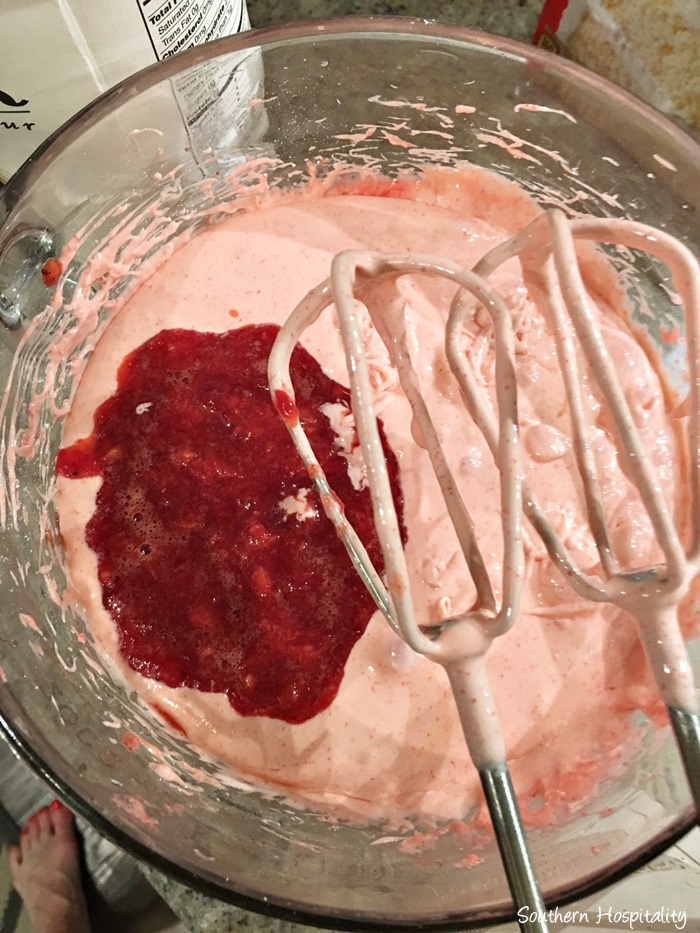 Then add the cup of fresh pureed strawberries.
Pour into a 9×13 pan. You could also make this as a layer cake too in round cake pans, I'm sure, if you wanted to. Layer cakes have never been my specialty so I did the sheet cake version.
After baking, it came out golden brown.
Mixed up the frosting, which is butter, cream cheese, confectioners sugar, and strawberries.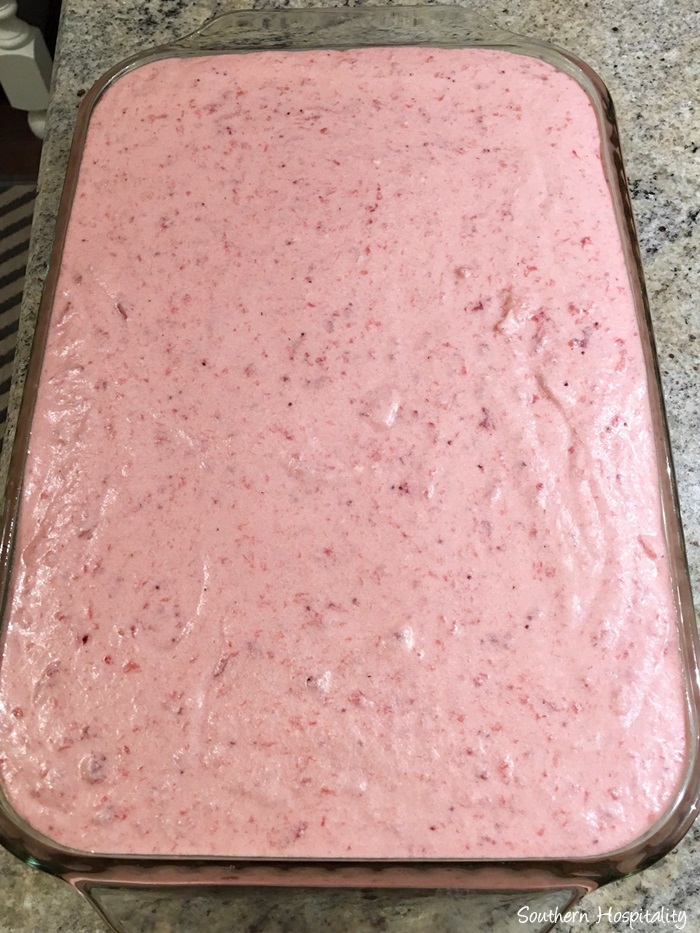 The icing is runny and not a hard icing, but it's very yummy!
Please note that the icing is not a hard icing at all, it's runny and if you leave out some of the strawberries it should be less runny so be aware of that. I used this icing recipe as I found it online, but the icing needs to be tweaked, it does make a lot of icing (almost too much) and the icing is very runny as is. I've read to add more powdered sugar to thicken up icing, so I would use less strawberries and more powered sugar to make the icing thicker.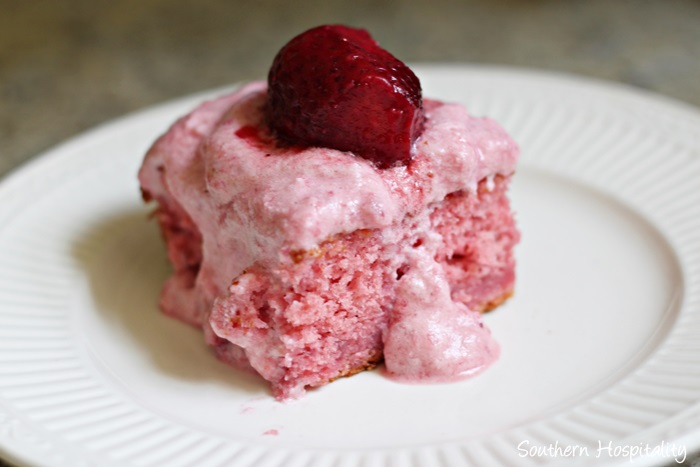 Let it drip down the cake and then add a dollop of strawberries on top for garnishment. The taste is out of this world!
Invite some friends over and let them eat strawberry cake. It might taste from scratch, but it's very easy to make and super delicious if you like strawberries!  Feel free to pin this one too, I love that it's been shared so many times! The sweetness is delicious and has such strawberry flavor.
Best Ever Strawberry Cake
Easy strawberry sheet cake made with a box cake mix base, with added ingredients and a cream cheese frosting with strawberries.
Total Time
1
hour
15
minutes
Ingredients
1

box

white cake mix

3

tbsp

plain flour

1 (3 Oz)

box strawberry jello

1/2

cup

water

3/4

cup

oil, I used canola oil

2

cup

fresh or frozen pureed strawberries (one cup for cake & one cup for icing)

4

eggs
Instructions
Combine cake mix, flour, Jello and water. Add oil and eggs, one at a time, beating well between. Add strawberries. Beat 2 minutes. Pour batter into well greased and floured 9×13 pan. Bake at 350* for about 45 minutes.

CREAM CHEESE ICING: adapted from Paula Deen online recipe

1 8 oz. pkg. cream cheese, softened

1 cup frozen or fresh pureed strawberries ( or frozen strawberries)

Add all ingredients to a mixing bowl and mix with mixer until creamy. Pour over cake after it cools from the oven. Add a strawberry to top for garnishment or pureed strawberries to top. Eat and Enjoy!
Recipe Notes
Cake recipe Adapted from Cooks.com
For those of you who can't see the printable recipe above, here's a screenshot of just the recipe:
Don't Miss a Post, join my list!