Happy Labor Day to all of you! I hope you're doing something fun with your friends and families. I didn't do any yardsales this week, getting ready for my own.  But, I did go out a few weeks ago to an antique store here in town that I love to browse, Hanna Antiques Mall, downtown Birmingham. It's always fun to see what's out there.
Plenty of shabby chic and aqua painted furniture is out there.  All the dealers have caught onto the trend too.  Do you think they read all these blogs? 
I think so!  Love this pretty and soft aqua headboard.
And this one too.
Blue and white stripes for a beachy look.
Plenty of white.   I loved this open shelving, lots of possibilities for it.
A weathered old table.
This piece really caught my eye.  I'm seriously thinking about selling my sideboard and getting something like this beautiful hutch to hold my white china pieces.  I think I would want it even more open on the top, but this one was pretty.
Another white hutch.
Loved this old door made into a headboard.
Cloche on a stand.
Bamboo etageres are really popular. I've seen these all over the magazines.
Blue Ball jars too.  Don't we all love these?
Love this shabby corner cabinet.  This isn't tall, but meant to be hung on the wall in the corner.  Pretty cute piece!
Loved this whole area with its gardeny things.
Adored this old shelf. 
And wouldn't this be easy to make with the right materials?   An old shutter, brackets and a shelf on top.  I'm taking notes!
Love this pretty chair too, can't you see it with some fresh new fabric?
Another pretty old hutch.
Transferware in shades of purple. You don't see this color every day.
Pretty set of chairs.  If I was looking for dining chairs, I would definitely scour the markets first. 
And these old beauties!  So pretty & would look great updated with fabric.
This huge hutch was not for sale, but oh how pretty it is.
Nifty idea for updating maple without painting the whole piece.
Black and white transferware.
Old shutters. Be still my heart.
Pretty window display.
Vintage hutch and lots of kitchen eye candy.
At one other stop, I thought these drapery panels were very pretty.  So botanical.  And I bet they are from the 60's.  Just goes to show, you should check out vintage drapes when you go out browsing. I can see these working right now and freshening up a space!
***********************
The Living With What You Love book giveaway winner is #138, Joyce Ackley.  Joyce, please email me with your mailing address and I'll pass it on so that you can get your book.  Enjoy!
***********************
REMINDER:  Layla and I are having a HUGE yardsale on Saturday, September 11th,  at my house in Birmingham, so if you are in the area, I hope you'll come on out and see us.  It's going to be a LOT of fun and we will have a TON of stuff, between the 2 of us.
Now it's YOUR turn!  What have YOU found lately? Add your link to the Linky list and remember our guidelines for the party:
Add your permalink to the link list, which is the actual post that you did for this party, NOT your general blog url. To get the actual post, after you publish the post, just click on the title and THAT will be your party post url.  PLEASE try to get the correct url in the first time!
Please add my button to your post or blog OR at least link back to this post in your post. That's all I ask. It's common courtesy to link back to the person having the party, so that all of your readers can find it too.
Please do NOT link to an Etsy shop or something similar (even if you think it's a fabulous deal) or I will delete the link. This party is for sharing thrifty finds from yardsales, thriftstores, or something along those lines. If I see that your post is not really on track with this theme AND you don't link back, I'll delete your link. Sorry, but I'd like to keep the party consistent! IF YOU SEE THAT YOUR LINK HAS BEEN DELETED, IT IS PROBABLY BECAUSE IT IS NOT IN LINE WITH THIS PARTY THEME.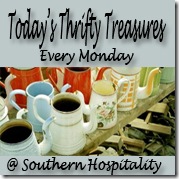 Don't Miss a Post, join my list!