We've had a lot of fun in our new house figuring out the changes we want to make.  We knew when we looked at the house from the first time that we wanted to change out all the lighting eventually.
I just love my "builder's grade" lighting, said no one ever! It seems that every new house in normal subdivisions are always lacking in the interesting and unique lighting, doesn't it?
Mark and I lean towards Traditional, but not stuffy in our lighting choices and we are going with a classic and timeless feel in this house, since that's what the architecture calls for.  When we started browsing lighting options, that's what caught our eye and it was fun coming up with options that we both like.
From top left, moving to bottom right:
Kichler Larkin Old World Bronze
Witmer Black/Brass (no longer on website)
I'm super excited to be working with Lamps Plus as a sponsor on a big portion of our lighting and we really enjoyed putting together some lighting options from their online shop.  They have a huge selection of great lights and there's something for every taste.
You can check out their chandelier lighting and their close to ceiling lighting if you're in the market for new ones.  We had fun browsing all the options and coming up with a plan for our house.  You can filter it down by color, size, price and more.
It's really amazing how much lighting changes a house and I saw my previous house come alive with the new lighting I added in there. This house will do the same, no doubt!  We took into consideration that many of these lights will be seen from room to room and so they all needed to flow well.
Here's what we started with, the builder's grade fixtures and I'll share where the above lights will go.
You've seen this light fixture all over the place, no doubt.  It's cheap and fits hallways and closets just fine, but there is no pizazz to this type fixtures. This one is in our little hallway going to the guest room.
And this one is coming in from the garage.  Boring, right?
This little cutie, the Charleston in bronze will go in both of these spots in the hallway and  we've already gotten them installed.  It has definitely changed the feel  of these areas so much.  As soon as they are all updated, I'll be sure and share the after photos.
The foyer light is so important and neither  of us loved this original to the house foyer fixture.  The house was built in 2005 and this is what was popular back then, more of the Tuscan look.  Not horrible, but not what we would choose now.
This stately 4′ tall lantern fixture will go in the foyer and I'm probably most excited about this one!  We both love the classic features of lanterns and I have loved them for a long time. It's a HUGE fixture and will look so grand up here.  We are hiring an electrician to install this one because a real tall ladder is needed.
The current living room fixture is a traditional glass semi-flush mount, not bad but nothing exciting either.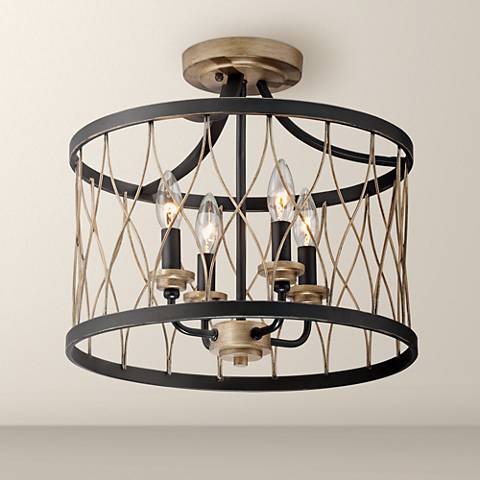 This pretty blingy beauty will go in the living room and I really like the shape and color it comes in. I think it will be a nice addition to the living room with what we have going on and it's bigger than the other one so will add some presence to the room.
In our upstairs hallway, we have more of the plain lights and we decided on something different up here, but we'll use 2 of the same fixtures for this hall.
This Quoizel bronze with rope detail will look  really pretty in that hallway and add a lot of interest. See what a difference lighting makes?
This is the current dining room fixture and I can't wait to replace it either. We have our eye on a couple of fixtures and I'm going for brass in here for an elegant and classic  look, so stay tuned to see what we do in here. It will be after Christmas before we get this one done, I'm pretty sure.
Out on our front porch, this is the current fixture and I've got a plan in mind for a switch from my old house, so once this is done, I'll share it too.  I had some really nice fixtures at my old house and one of them came with us too.
You may remember that this pretty fixture was in my living room and the new residents (Mark's daughter) wanted to add a ceiling fan in that room, so when this one came down, we brought it to our house and Mark installed it for me in the breakfast area.  I think it looks great and it replaces a fan, so a much better look in here.
Once this new lighting is installed, I'll be back to share all the difference it makes in the house and give you a new tour. Hopefully some other areas of the house will be finished and I can share more of that too!  It's really exciting to get things updated and moving forward.
How about you? Are you itching to update some lighting? 
Note:  This post is sponsored by Lamps Plus and they provided these lights for us.
SaveSave
SaveSave
SaveSave
SaveSave
SaveSave
SaveSave
SaveSave
SaveSave
Don't Miss a Post, join my list!