For the past 4 years, I've been going to the Country Living fair every fall at this time and it is such a fun day to usher in the holiday season that is about to be on us.  With Halloween coming this weekend, that takes us into November and Thanksgiving and then before we know it, it's Christmas!  Ackkkk, how does that happen?  But, it does happen. Every single year and it just seems to fly by more and more.  I can hardly believe it's almost time to start Christmas decorating.
The Country Living fair is a fun place  to browse for inspiration, try on some fun and stylish clothes, jewelry shop and generally enjoy the Fall sunshine.  Last Friday was a perfect Fall day, cool in the morning, heating up to a pretty hot day.  I took my friend, Jana, with me and we enjoyed browsing and hearing a couple of speakers on the Main stage.
The big pumpkin/gourd pile in the middle of the field at Stone Mountain is always a crowd pleaser.  Just seeing this pile 'o punkins puts a smile on your face!
Every year, I take my photo in front of the pile of pumpkins and this year was no exception. That's my cute petite friend, Jana, with me.  I seem to have a lot of petite friends.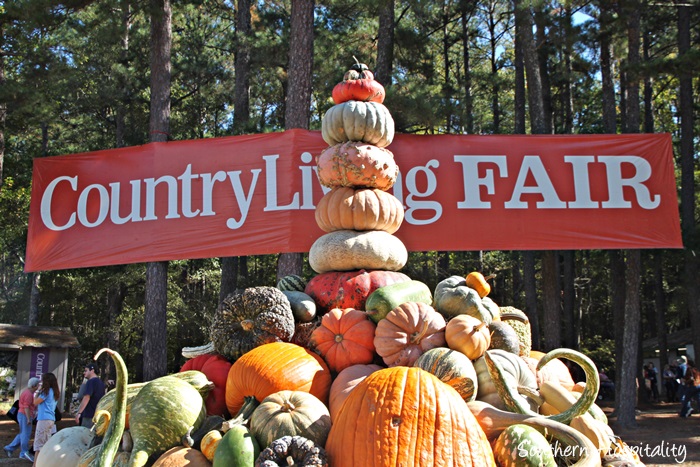 A look at the top of the pumpkin pile.  I'm not sure how they stack those things so nicely, but it's always so pretty.
My first stop was the Main Stage and a talk by author, Frances Schultz.  You may remember I just did a book giveaway for her new book, The Bee Cottage Story and she recapped her book and parts of how it came to be and what it looks like now with a slideshow.  I got a chance to go up before she started and introduce myself.  It was very fun to meet this NC native and I loved her Southern drawl.  Here's her book, if you missed it (affiliate link).
I knew that Ms. Ree, The Pioneer Woman herself, would be at the fair on Friday, speaking on the main stage.  She started blogging one year before I did and I found her blog right after starting my own and have been a fan of her ever since.  Some of you newer readers may not know that I got to meet Ree 5 years ago for the first time, when I went to her ranch for a blogger campaign we were on together.  You can see those posts here and here.  That was such a fun highlight of my blogging journey and I've seen her a few times since then.  It's been at least 3 years since I saw her at a conference in New York, but this time I was determined to try to say hello.  She has grown and grown and now has her own show on the Food Network and just came out with cookbook #3.  It's been fun to watch her amazing journey from blogger to Food Network and cookbook celebrity.  She still seems as down to earth as ever to me.
From my experience of speaking on the main stage last year at the fair (pinch me moment, for sure!), I knew that she would be coming in the back of the tent to go on stage. When I got to the tent, it was a mob scene and I knew I'd never get to see her with all those people around.  I waited around the back of the tent and when I saw her coming on the golf cart, I ran over and said hello to her for a short minute.  She didn't recognize me at first with my sunglasses on, but once I told her my name, she was all smiles and gave me a big hug.  She graciously posed for a selfie with me before she went on the stage to talk.  She told me she was nervous and I told her she didn't have anything to worry about.  She's a sweet lady and I'm so glad that I've had the chance to meet her.
We strolled around checking out some of the vendors, so enjoy these pics of Fall inspiration.
It's always fun to go to the Country Living fair!  This year, I had several readers come up and say hello and that truly makes my day.  I love meeting all of you out there, so never hesitate to say Hi if you see me out and about!
Don't Miss a Post, join my list!