It's finally cooling off enough in Atlanta and I wore my first sweater over the weekend.  It has taken awhile this year for it to actually feel like Fall!  I mean, September blew on by with hardly any coolness to the air and meanwhile my A/C kept running and while it wasn't as hot as summer, it certainly wasn't cool.  I love when the air is crisp and cool and I get to pull on a sweater and boots.  That combo is one of my faves and it just feels so Fallish and cozy.
You've seen most of this before, but of course, not everything in my closet is new.  I'm restyling again!  These jeans are Mother jeans that I shared with you earlier this year.  I do love them and they are sleek and form fitting, hugging in just the right places with stretchy fabric.  I love that they keep their shape.  They are a bit pricey, but I found mine on sale.
Mother Runaway Skinny Flare jeans in Partners Undercover (the wash) is that name of this one.  The site I bought from is sold out now, but I got them for $84, but they seem to be sold out everywhere I looked.
I have a thing for cream colored sweaters and have collected a few in my closet.  This one I picked up at Goodwill and it's from American Eagle Outfitter.  I love a soft sweater and this one really has a cozy factor. The scarf I think I picked up from TJ Maxx (affiliate link) in the last couple of years. I love that you can shop online at TJ Maxx now!
If you want to see how I tie my scarves this way, it's on my sidebar videos to the left.
Bracelet is from Accessory Concierge (affiliate link).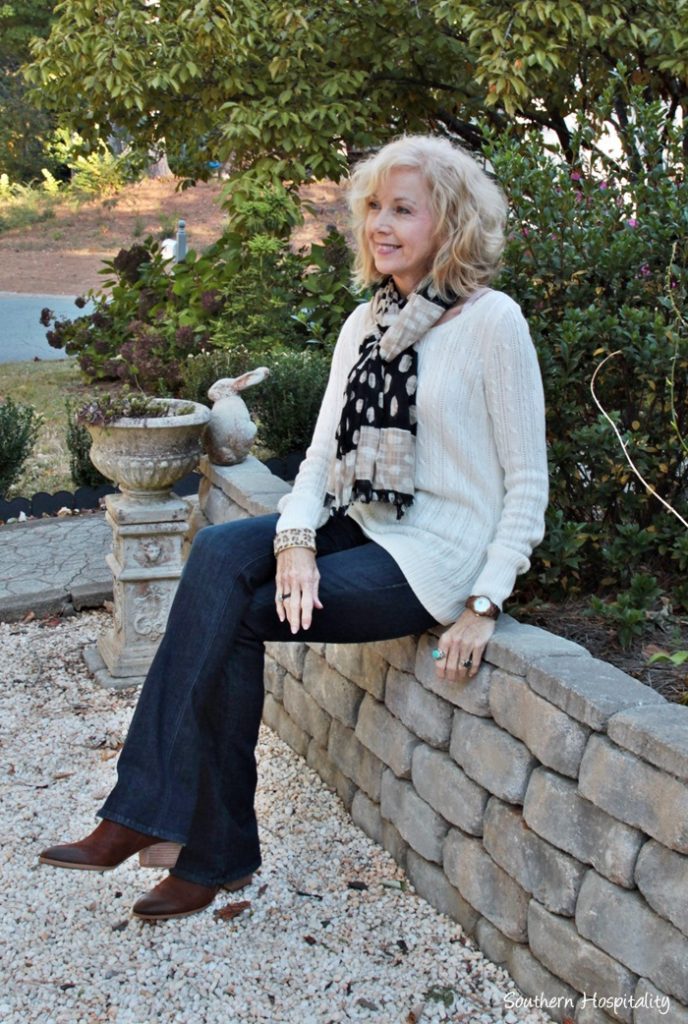 These boots I introduced last week, by Franco Sarto and I found them at TJ Maxx and I'm going to really enjoy them with jeans. They have them online too!
Franco Sarto booties (affiliate link)
That's it for today! Thanks as always for stopping by Fashion over 50!
Here are a few white sweaters that caught my eye:
Don't Miss a Post, join my list!