Another newer blogger who I've come across recently is Emily with Eleven Gables.  She lives in Oklahoma with her hubby and 4 boys (you know she is a busy mom!) and they have a gorgeous home that I can't wait to share with you.  With a pond in the backyard, this traditional gabled home is a beauty.
Here's how Emily describes her blog:
Eleven Gables is a blog where you can read about the happenings in our home, see a little high end DIY and a touch of cooking/baking. Here you will be inspired to decorate your home in a beautiful, sometimes thrifted, but always stylish way. 
Emily has beautiful taste in decor, with a traditional leaning, but definitely not stuffy.  You're going to love this home with its spacious outdoors and pond in the backyard.  Enjoy!
Isn't this an inviting front door?  Curb appeal to the max!
Dining room which is off the entry and next to the living room.
You can see a peek at their covered porch in the back. Wait til you get to that part. Gorgeous!
Emily has collected some mighty fine pieces of furniture, like this drop leaf table.
The kitchen recently went through a major renovation and it is truly outstanding.  Love it all!
Notice the brick floors, which give the kitchen so much character.
Looking towards the keeping room.
Emily is still working on many rooms of her house and said she'll be getting slipcovers for all the florals in here.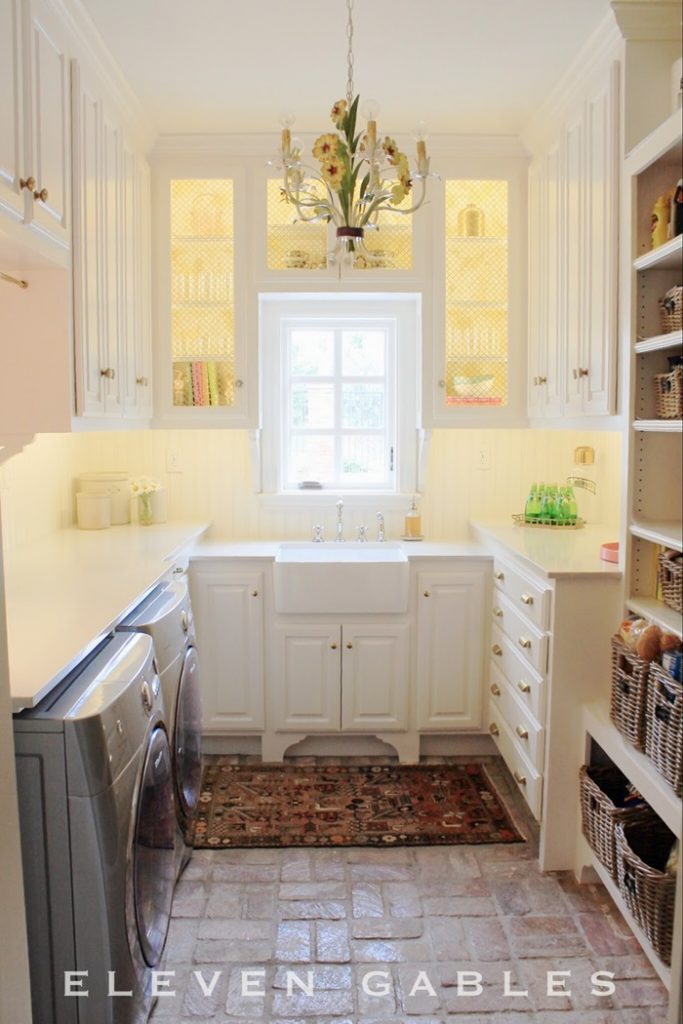 The butler's pantry was also part of the renovation and what a nice space this is.

Not to mention this organized pantry.  Wow, is that neat!
A mudroom was added in a hallway as well.
One son got his own tween boy's bedroom makeover and it's so cute.
Now, for a real highlight of Emily's home.  The back porch and back yard is just amazing.
I can imagine lots of lazy afternoons out on this porch.
With this view, you can't go wrong living outdoors.
With a winding pathway to a cute table and chairs for dining al fresco.
What a wonderful and sweet home that Emily and her hubby have with their family.  I love seeing women make the most of their homes and Emily has certainly done that.  I adore it all and I know you did too.  Stop over and say hello to Emily at Eleven Gables. 
Don't Miss a Post, join my list!