Welcome to another Feature Friday!  I'm back today with another blogger, Julie Blanner, who blogs at the same name and who has an easy, casual, classic style that I just love. You'll get lost in her pics and her simple, yet impactful way of decorating her house. She's not into a lot of stuff, but the things she displays are classic and beautiful.  I love getting back to traditional and classic roots and want to go that direction more myself.  It's always in style and just feels and looks so good!  Enjoy this beautiful home tour of Julie's home in the Midwest. She's been blogging almost as long as I have and she started her own events planning company right out of college, but then parlayed that into her beautiful lifestyle blog, where she shares recipes, simple living, entertaining, and home design ideas.
Julie and her hubby have 3 adorable little girls.  Isn't this a sweet pic?
They've been in their current home over 2 years now, I think and have worked on many rooms, putting their own stamp on the house, like we all enjoy doing.  The house was originally painted darker and lightening up the paint made a big impact.
Very welcoming entry way coming into the house.
And the clean and classic foyer.
Julie has some beautiful antiques sprinkled throughout.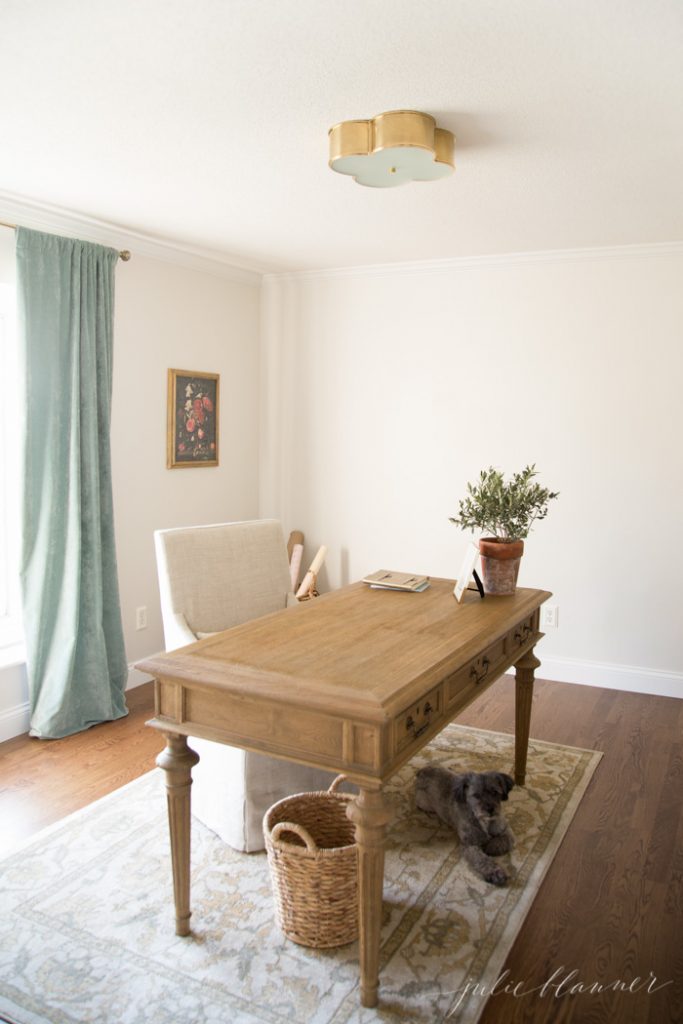 Julie's home office looks so pretty.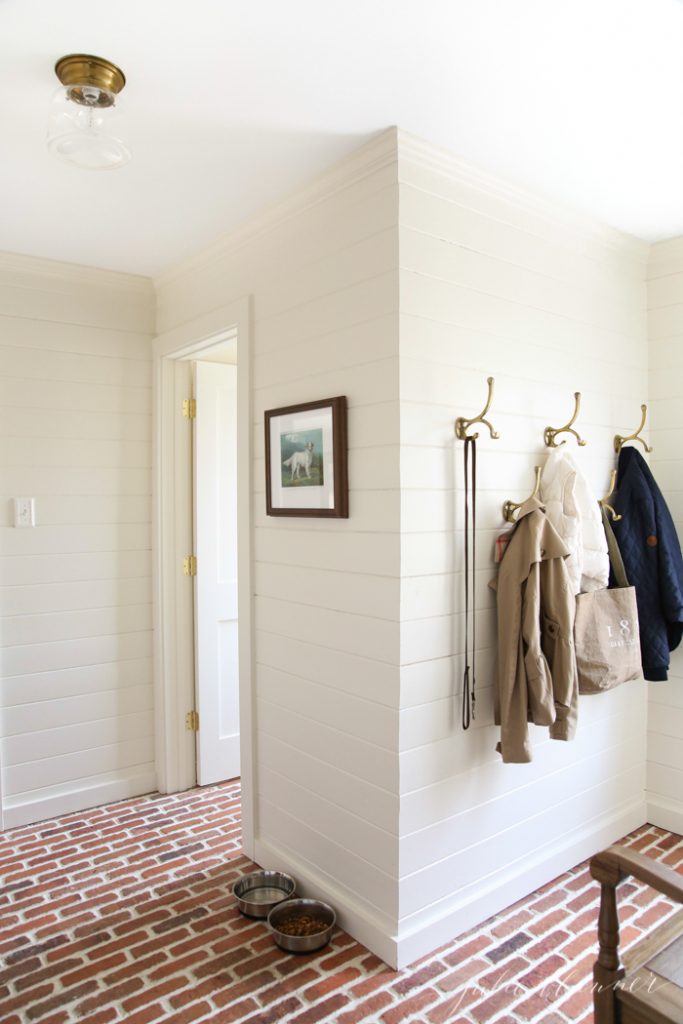 A mudroom was created with shiplap and brick on the floor.
So pretty and perfect for the dog bowls.  Every home needs a dog!
And a spot to sit on the bench.
The living room is so calming and pretty too.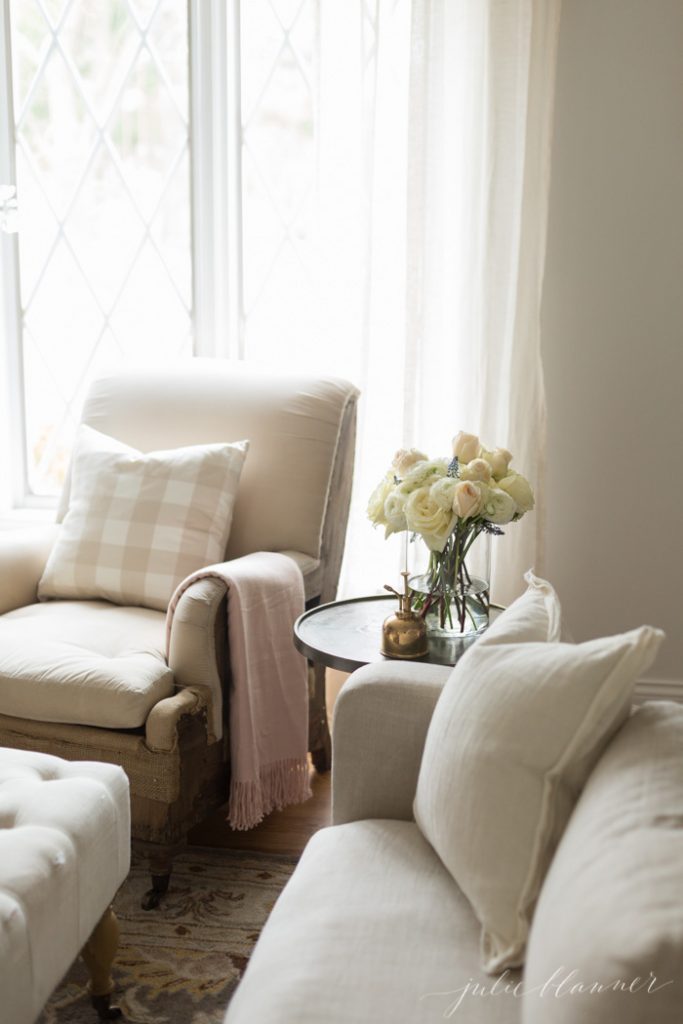 I just love Julie's simple and classic style, don't you?  She certainly doesn't have clutter in her home and that feels so nice.
Living room shelves are good for showing off treasures.
Again, simple and impactful.
The kitchen got a facelift with marble and a new backsplash and I think the cabinets were painted too.
Even an older kitchen can benefit from paint and adding new materials to the countertop.
Julie has a lot of tips on her blog about organizing, so check those out for more, like these storage ideas in the kitchen.
Pretty dining room, not sure where this room is because the next one is definitely the formal dining room.
With a classic wood table and slipcovered chairs, it's a beautiful space.
I absolutely love that brass chandelier.
Another pretty older buffet that just gleams, the wood is so nice and that mirror over it doesn't hurt either.
Even her laundry room is clean and bright.
I think this must be a sunroom or porch, but look at that ceiling.  Love this space and that table and chairs.
One of her daughter's rooms, pretty in pink.
Storage ideas in the kids rooms.
Powder room makeover.
And here's those sweet little girls again.  Such a cute family!
Wasn't that a wonderful tour of Julie Blanner's home?  I felt so peaceful and serene just looking at all her uncluttered, beautiful pictures.  It's a struggle for me to decorate without more things, but I do love it at Julie's house. So, so pretty!  Be sure and stop over and meet Julie, if you haven't already, she is so talented!
SaveSaveSaveSave
Don't Miss a Post, join my list!