I'm constantly amazed at the number of new decor bloggers that I stumble on, on a regular basis.  Many of these young and talented women are stay at home moms, taking care of their kids and decorating their homes in a creative and stylish way.
Who needs design magazines so much anymore, with the wealth of talented bloggers out there!
Meet Shelli from Alamode Maven, a new stay at home mom of a precious little girl.  She worked in the Corporate world, but now is mom and decorating maven in her home.  Shelli has created a beautiful and thoroughly modern home, with style in spades.
Wait til you see it all!
We'll start in her girly-girl office space.  Shelli wanted a space to call her own and I'd say she scored big time with this luscious office space 
Who wouldn't want to hang out in here?  Me me!
I love the shots of aqua and pink in this real space for chilling.  Peaceful and serene too.
A view of Shelli's very pretty kitchen and I love her hardwood floors.  Perfect dark stain.
The breakfast nook is just adjacent and is a lovely spot also.
Shelli's got some mad photography skills too!  Great job with the photos.
Her dining room looks like a shot out of Traditional Home.  Not too stuffy, but just right.
Check out those huge windows and the coffered ceiling.
Keep Calm and Carry on.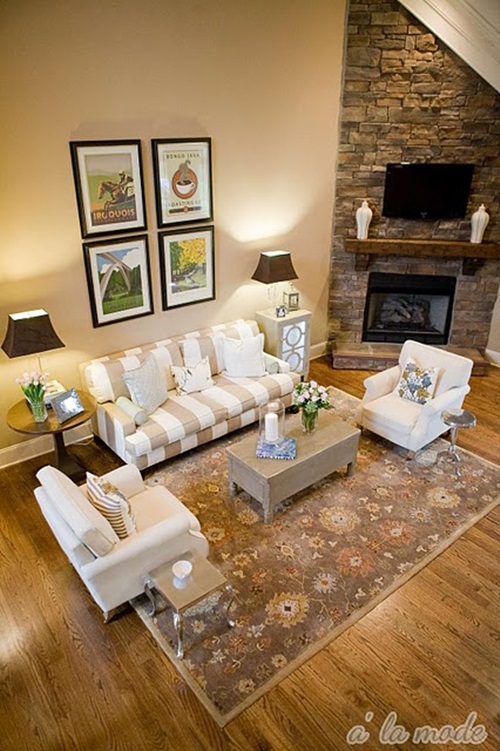 Cozy family room looks very inviting.
I love Shelli's use of color and texture too.
And of course, you will all love the master bedroom.  I noticed that her wall color is Comfort Gray, on the same Sherwin Williams color strip with Sea Salt, which is all over blogland these days.  I can see why!
This is a luxuriously beautiful room.
Anyone who uses lime green and black so successfully in a baby's room is a friend of mine. I still love this color combo which I had in my old office nook.
It looks so fresh and appealing here in her baby's room.
And here's the bundle of joy at Shelli's house!  Isn't she adorable?
What did you think of Shelli's beautiful home??  I could definitely feel at home there.  It's a traditional, yet modern feel and I was blown away when I saw her pics.  Lots of creative ideas to glean from Shelli's home. I just love seeing real life homes, don't you?
I hope you'll go on over and say hello to Shelli. She just started blogging this year.
Don't Miss a Post, join my list!