Welcome to the 2nd annual Holiday Home link party!  I'm covering mantels this year and I'm SO happy you stopped by! Don't forget that next week, my friends, Kate and Sarah will also be hosting Holiday link parties.   Kate's up next Monday, sharing Holiday crafts and Sarah will be showing off her Christmas tree on Wednesday, the 14th, and you are all invited to link up as well, to show off your Holiday home!
This year, I helped my sister do a little decorating at her house.  It's driving her crazy not to do the total explosion of Christmas that she normally does, but that will have to wait til next year.  She's getting ready for a party this weekend at her house, so getting the mantel festive and pretty was on the list for us to tackle.
I decided I wanted to do a big white urn with paperwhites and the rest of the inspiration came from her shopping trip to Homegoods for most of the rest of the pretties that made up this mantel decorating.  She got 2 large apothocary jars with lids that I filled with pretty shiny silver and mercury glass ornaments. She picked up some silver angels and other mercury glass pieces to fill in all the rest and we were ready to get started.  Silver, white and green are our colors on the mantel.
I'd like to show you what a plain fake lighted garland looks like on a mantel without adding anything to it and then what a difference it makes to add fresh greens.  I'm a huge fan of cutting the fresh stuff:  magnolia, cedar, pine, holly berries, there are so many possibilities growing outside this time of year, so we took advantage of that.  We drove around and found plenty of fillers to add the wow factor to this garland, so come along and see how it turned out.
We started with a plain fake lighted garland, which you can find anywhere. I'm sure you've got a bunch of these hanging around too.  We began adding the larger main pieces to balance things out.  The large urn in the middle was a stand in until I could bring over the big urn with paperwhites that have been growing.   They aren't quite ready for their photoshoot, but we do have a couple of blooms popping out.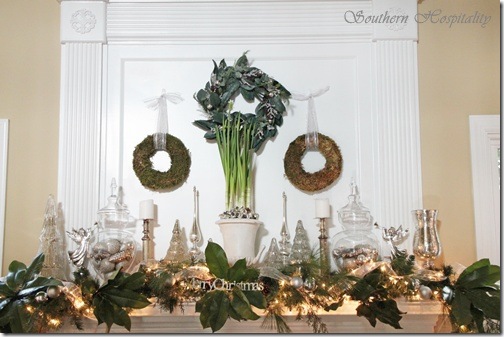 Here's the finished mantel, looking all cheery and happy with the addition of my 2 moss wreaths that I made last year, a fake wreath in the middle with silver accents, and the rest of the mantel is glass, silver and mercury glass pieces.  Sparkly and shiny, it comes alive with the light of the garland bouncing around all that silver and glass.
See what a difference all the fresh magnolia makes.  I'll show you some closer shots too.
All you have to do is cut and poke these in place.  The fake garland holds everything together just fine.  Cut and poke!  Easy peasy.  Those are the two moss wreaths I made a couple of years ago.
You can see the 3 fresh greens I used on the mantel:  magnolia, pine sprays and the softer feathery cedar, all found nearby. These textures add so much to a mantel and fake garland. The fake is just a good base to start with.
I added this vintagey glittery Merry Christmas that I picked up at a thriftstore a couple of years ago.  Wonderful greeting for guests.
Glass, silver and mixed greens, it's a great combo this time of year.
The paperwhites should all be blooming in a few more days.  I added these sparkly tiny mercury glass ornaments to the base and love the effect. My sis found these at Homegoods too.  They are so cute!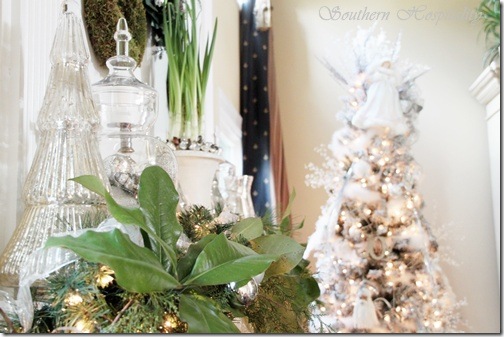 Here's the view from the side of the mantel looking over to the huge white and silver tree we put up also.  I'll show you that in another post.
Right side of the mantel. You can see the large glass lidded jars are full of pretty and sparkly ornaments too.  I love the simplicity of just piling in ornaments in glass or a beautiful bowl.  We also wired on some silver ornaments to the garland too for a bit more sparkle and shine.
Mercury glass is so pretty and appealing and I have fallen for it big time, as has my sister.
Paperwhite blooms are just coming out.
I added my large hurricane to the coffee table with some additional huge mercury glass balls.
In the foyer coming in the door, we placed my tall prelit tree that I got from Ballards two years ago, full of the multi-colored ornaments I used last year.  I love this happy colorful tree!  That Saturday Evening post print of my sister's really adds to the spirit of Santa.
Her family room console table holds a bit more sparkle and shine on burlap.  Just a little more Christmas!
Thank you so much for stopping by the mantel party and I hope you got some inspiration this year from my sister's mantel. We sure had fun putting it together and I think it turned out spectacular!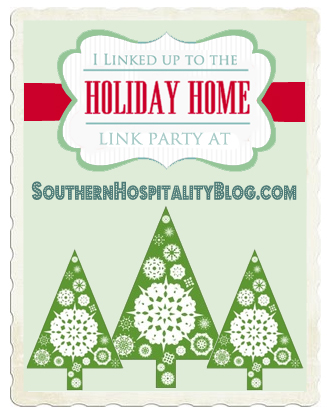 Feel free to link up YOUR mantel too! The more the merrier.  Isn't it fun to hop around blogland and see all the beautiful Christmas decorating that is going on now?  That's the fun of blogland, all the inspiration.
You can use the button to link back or a simple text link will do, but please do link back on your mantel post, so that everyone can find the party too!  
I'll also be linking up to my friend, Beth's mantel party on Thursday!  Stop by and get in on her party too!
Also, Julia from Hooked on Houses is having her annual Christmas tour, so I'm joining her too. 
Don't Miss a Post, join my list!