One of our Lowes monthly challenges was to come up with a fun and festive Christmas centerpiece, so I shopped the store and came up with a few items to create a beautiful Christmas table on my porch.  Sometimes I walk around scratching my head and other times, things come to me pretty easily and this one came together after I scouted the store for some items I could use.
I started with a piece of burlap to use as the base and then pulled out a really pretty green and red Christmas runner that was sent to me by Hen House Linens. They let me pick out something from their collection and I chose this vibrant chevron for Christmas.  Fun!
At Lowes, I found a Christmas shaped evergreen shrub, along with a silver bucket to put it in.
I also found some cactus that screamed Christmas to me (hello red ball on the top!) to use as a treat at each table setting and wanted to put them in something, so these plumbing couplings were perfect for that. I'll show you in a later post exactly how I did these and the bucket (FrogTape was involved!).  A can of Valspar paint in glossy red did the trick for my purposes.
And here's my pretty table.  I had to do this awhile ago while it was still toasty on the porch, so I'm glad I finally get to share it with y'all.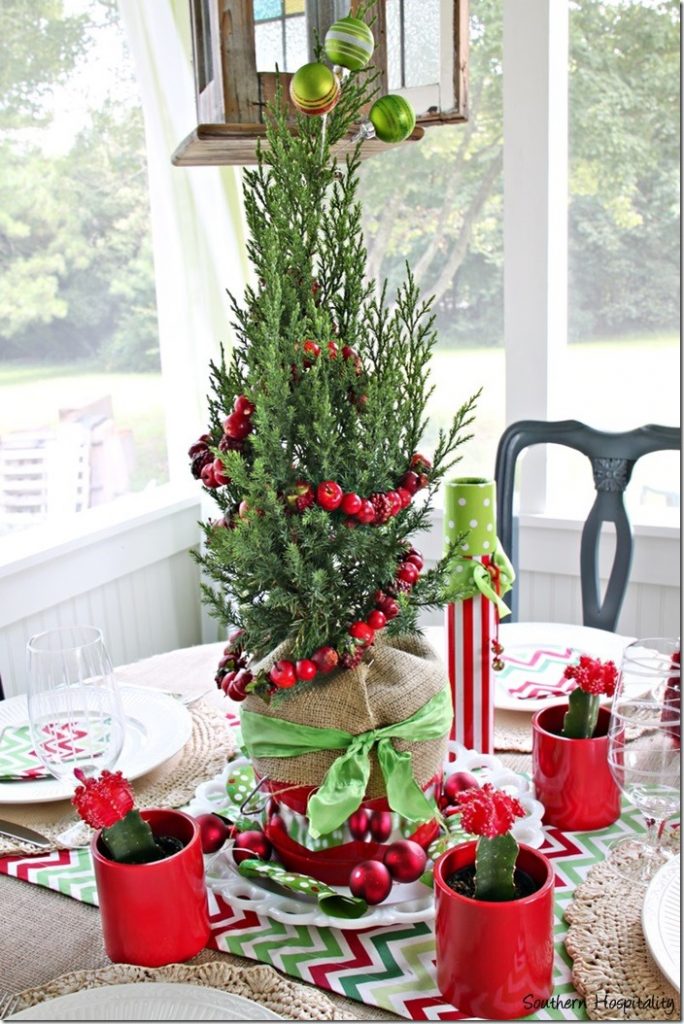 I like how it turned out and now that it's getting closer and closer to Christmas,  I can get excited about red and green all over again.
The Christmas cacti look so cute in their little holders.
I pulled out some of my red and green Christmas decorations to spruce up the table and that's all that was needed.  An old red berry garland draped on the tree and a pretty ball topper.
I love lime green and red together and have plenty of that in my stash, so this all worked together for a festive table setting.
I'll show you more about the bucket later, but you can see I used my FrogTape ShapeTape on this one.  The bucket wasn't quite deep enough for my tree, so I added a strip of burlap and a lime green ribbon.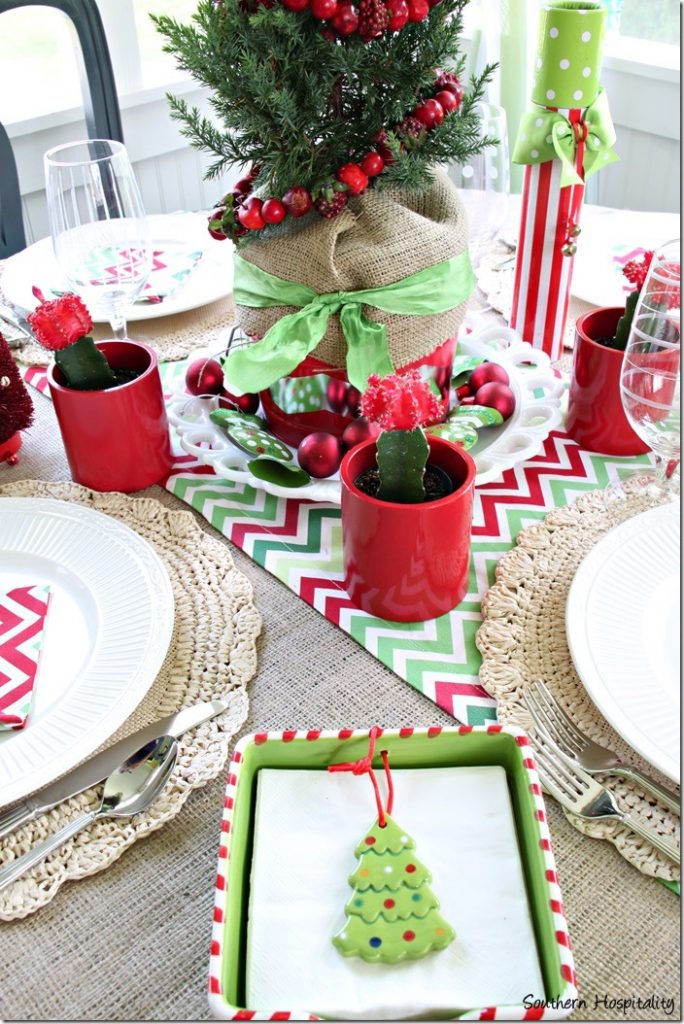 The chevron linens really add a lot of pop to the table too, so I appreciate Hen House sending those to me. I'm sure I'll use them this Christmas season on my tables.  They are beautiful. That napkin holder I've had for a long time and it's fun to pull it out again.
So, that's my early Christmas project for Lowes and I hope this gives you some ideas on what you can do at home with what you have or with a few little items to pull together a Christmas tablescape.

Check out Lowes Creative Ideas Magazine app, visit Lowes on Facebook, and Lowes on Pinterest.
Are you on Instagram? If you want to see what I'm doing in real time, follow me on Instagram. You can see Lowes on Instagram as well.  I love sharing little snapshots of everyday life and you'll see things I'm doing way before I blog about them.
Disclosure: As a Lowes Creative blogger, I am sent gift cards to spend on projects and to blog about them. This post is sponsored by Lowes, but all ideas and projects are my own.
The Essentia Pillow giveaway winner has been posted!
Don't Miss a Post, join my list!