Once again, there were some great items shared last week at the party, so I'm highlighting a few of my favorites that YOU all shared!  There are always some wonderful treasures found and I wish I could highlight all of you, but I have to choose just a few each week, so bear with me on that if I don't pick your find that particular week.
First up, someone at The Happy Home has been dumpster diving and found these 6 beat up chairs for FREE.  Did you hear that?  FAA-REEEE!   Now that is thrifty, my friends.  I'm all for saving something from the dump and love that she took these beat up chairs that started out black, painted them white and even found a $40 table on Craigslist to complete her set.  How frugal is that?
BJ at Sweet Nothings, found this incomplete set of cherry dishes at Goodwill for $10, brought them home and made an adorable table setting with them, along with some linens.  Way to shop, BJ!
DIY Newlyweds found this cute tray for $1 and quatrefoiled it all up in a pretty green and white.  Ack!  I love this!  I'm a big lover of quatrefoil right now and wish I had more places to use it.
L'Heure Bleue at Home had a really great week too with FREE finds!  This set of 4 vintage chairs were sitting curbside with a FREE sign on them.  Already painted white along with the pretty red toile on the seats.  How about that?  Perfect as they are.  I have never seen anything like this sitting on the curb with a FREE sign, have you?
House of Hawthornes found this pretty little cabinet with a neat metal top for $20.  Lots of possibilities with this one.
Megan with Row House Nest, all the way over in Ireland (I just love how this thrifting thing spans the miles between ALL of us!) found these adorable set of doggie bookends at a car boot sale for 2 pounds (Meagan tells me this is $3.25 in American $$).  Doesn't that sound like so much more fun than a yardsale??
Katy from An Inspired Space found this old vintage cabinet at a thriftstore for $60 and completely remade it into something pretty and useful.  Check out her post for the how-to's!
Willow and Paisley scored a vintage green chair for $5.  How retro is this little number?  I actually think it cute as is.
Now, I have to tell you this!  I'm completely and utterly jealous of my bloggy friend, Lana Austin, who is living the dream in Italy for a few months, as her hubby is stationed there and actually gets to thrift shop over there!  Man, that makes me drool just thinking about it.
Here's an outdoor space she put together with her vintage Italian linens and silver. Ack!!  I'm dying here, Lana!  
And this pic of some gorgeous florals she plucked from her yard.  Dying, I tell you, I'm just dyin'!
Is that really where you are living, Lana?  Yes, I know it is!
Here are some of the gorgeous goodies of Italian linens that Lana has scooped up.  Wow, are these pretty!
These silverware pieces are just gorgeous too.  I could die over all of this, in a manner of speaking.  Thanks, Lana for sharing all the beauty you are finding over there.  I really wish I was right there with you, seeing it all in person! Italy is the best place I've ever, ever visited and I sure do want to go back one day.
There are a TON of parties out there to highlight all your projects, so please let's keep this one about thrifty finds that were bought 2nd hand!

Add your permalink to the link list, which is the actual post that you did for this party, NOT your general blog url. To get the actual post, after you publish the post, just click on the title and THAT will be your party post url. PLEASE try to get the correct url in the first time!
Please add my button to your post or blog OR at least link back to this post in your post. That's all I ask. It's common courtesy to link back to the person having the party, so that all of your readers can find it too.
Please do NOT link to an Etsy shop or something similar (even if you think it's a fabulous deal) or I will delete the link. This party is for sharing thrifty finds from yardsales, thriftstores, or something along those lines. If I see that your post is not really on track with this theme AND you don't link back, I'll delete your link. Sorry, but I'd like to keep the party consistent! IF YOU SEE THAT YOUR LINK HAS BEEN DELETED, IT IS PROBABLY BECAUSE IT IS NOT IN LINE WITH THIS PARTY THEME.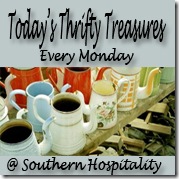 Don't Miss a Post, join my list!