Today is a fun day!
I'm joining my friend, Beth, in another blog hop, all about how to decorate.  These are fun, since there are many bloggers participating and you'll get to click around and see all the featured bloggers who are sharing ideas in this series, so you really will not want to miss this one.  Some great ideas for decorating on a budget, you can be sure!
If you're stopping by from Ashley at The Handmade Home, you are in the right place. Welcome!
One of the things I did when we were renovating my house 2 years ago was really concentrate on ways I could add some architectural interest to this plain 1979 home and I found several ways to do that.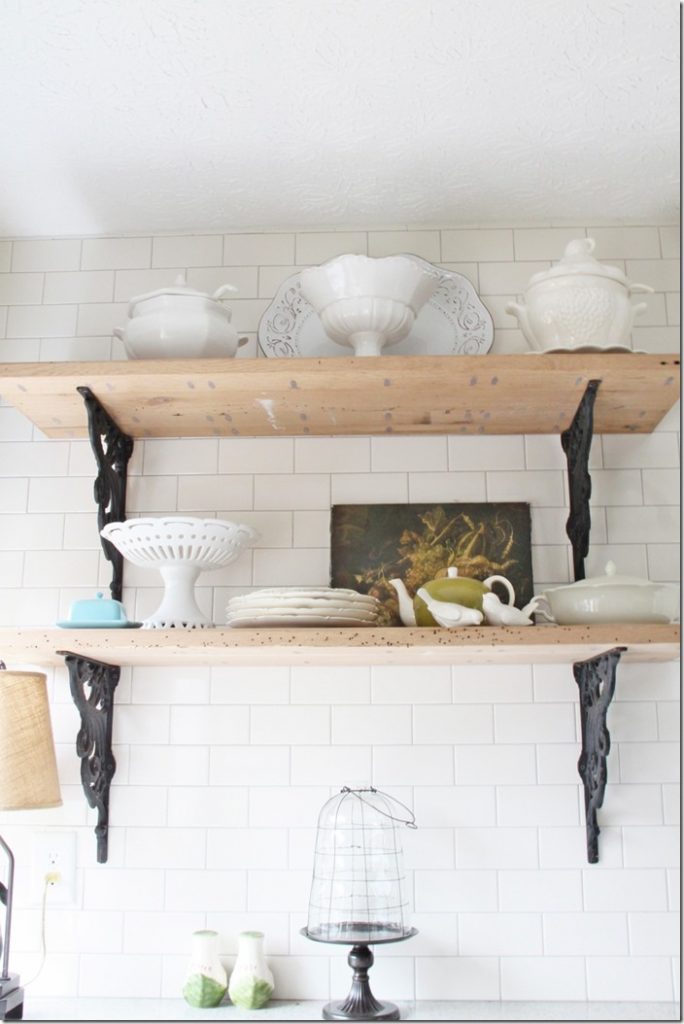 Open shelving has become so popular in kitchens now and I bought these shelves even before I knew I'd be using them in this kitchen.  They turned out to be the perfect accent above my countertops since I didn't want to continue the upper cabinets all the way over this area.  Rustic wood and iron brackets add a touch of vintage charm to a brand new kitchen.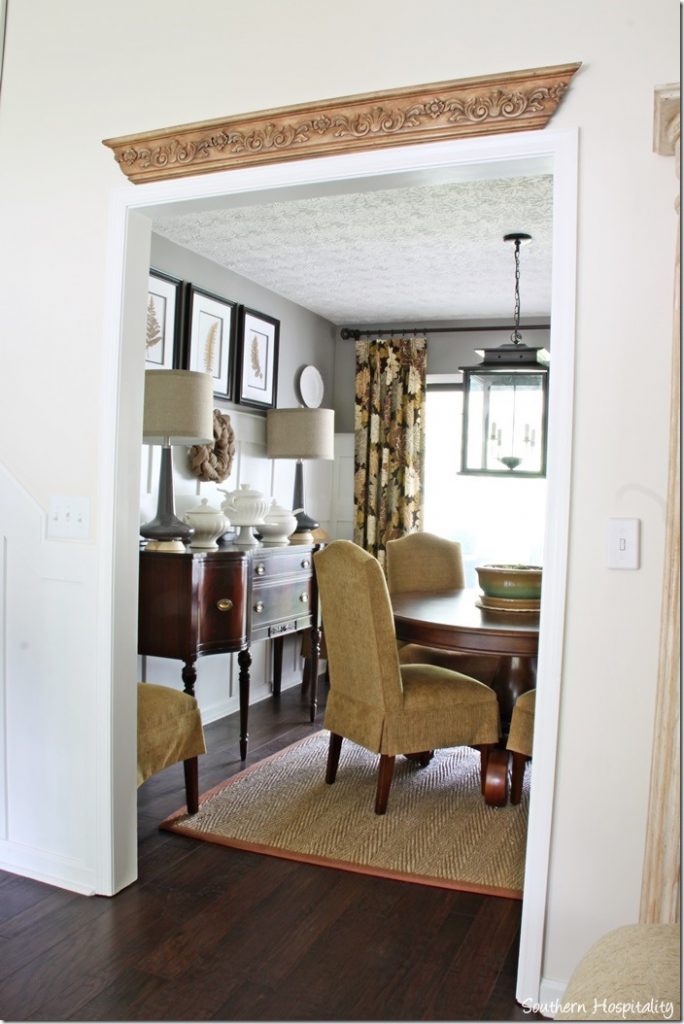 I salvaged this piece of expensive crown molding over 10 years ago and layered it with stain back then and have hung it over several doorways in my house since.  Just that bit of beautiful stained wood adds such a nice touch, crowning the doorway.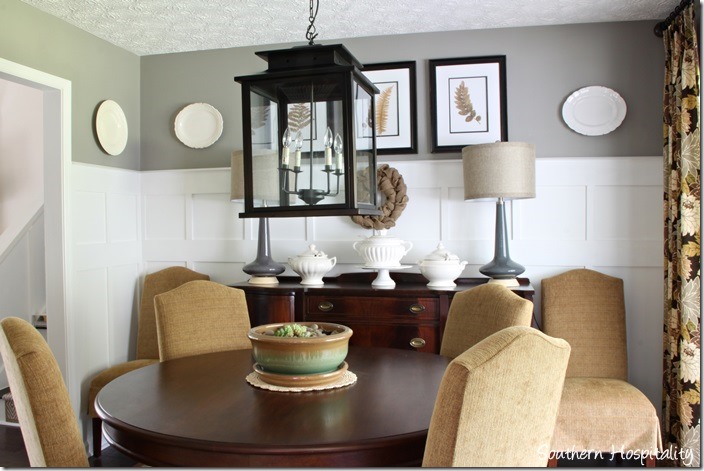 My dining room was one plain little box, but I was determined to bring it alive with board and batten molding, which is really cost effective.  We bought sheets of MDF and ripped them up to fit the walls and then made our way around the room, adding board and batten strips 3/4 way up the wall for lots of architectural interest.  I get a lot of comments about this treatment when folks come in my house and I'm so glad we took the time to add it.
It adds not only an architectural feel to the room, but vintage appeal as well.  All on a budget, it's a very cost effective way to add molding yourself.
Even paint  can be considered a little bit of an architectural feature, even if it's not 3D.  Just by painting a gingham paint treatment on  my bedroom wall, it livens up the room so much more than leaving it unadorned would have done.
Consider adding a vintage cabinet or salvaged wood piece on the wall.  That too will add lots of interest and details to an otherwise plain space.  If I didn't have this cabinet on the wall in my master bathroom, it wouldn't be nearly as appealing.  When I walk in there, it's the first thing I see every morning and it still makes me happy.
My guest bathroom was very plain too, with original 1979 vanity and nothing too appealing about the space.  I added my beadboard wallpaper with a nice chunky 6" board on top for a lot of interest.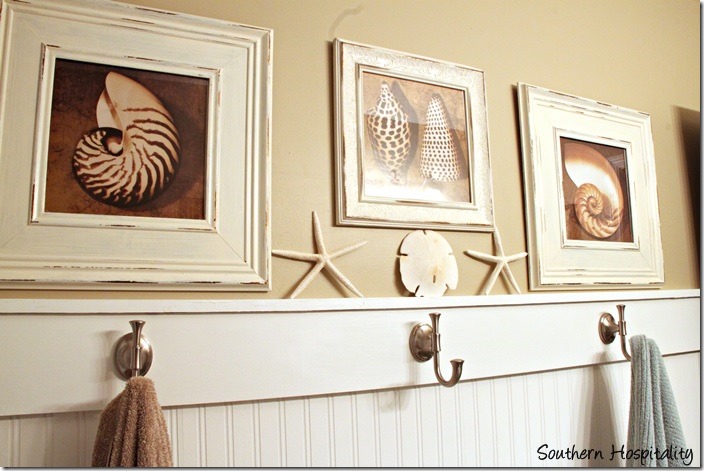 It became a focal point for adding 3 towel hooks and some pretty coastal art above.  This wall really came alive with the addition of the beadboard wallpaper, just on this wall.
Adding real wood on top and painting it all out with semi-gloss trim paint makes it look real.
I did the same thing in my vanity area.  This little nook was perfect for my vanity and bench and adding that beadboard wallpaper and molding just in this little space delineated it from the bedroom and gave it extra special presence in the whole room.  You can find the wallpaper in my online shop and it continues to be a great seller.
Again, trimming it out with real wood and painting it all the same as the trim makes it look so real and no one knows it's not.
Board and batten was also added up my main staircase going up to the bedrooms.  You might remember this awful progress pic from 2 years ago when we were working on this place.  I had the vision to make it pretty and thankfully, that vision was realized.
I lined the staircase with board and batten and took it down the hallway to liven up the whole hall.  Painting my stairs and adding runners was the final touch to a beautiful staircase.
The foyer got the same treatment and here's the progress of board and batten being added come up my stairs from the front door and foyer.  Just by adding strips of board and batten and angling it up the wall, it added so much more visual appeal to this plain 70's space.   Looking back at the work pics from 2 years ago makes me tired all over again!  That was such a big job that we took on and I'm so happy it's behind us now.
And here's the foyer table in place now with the board and batten behind it.
I love all the little touches we added to this house and it's amazing what those architectural details will do for a space.  The best bang for your buck that I've found yet and all of these treatments are inexpensive and can be DIY'd by a savvy homeowner, like YOU!
So, I hope these ideas gave you a little bit to ponder in your own home on ways to up the interest factor on a wall in your home.  Molding and paint does wonders and it's a tried and true method that works every single time.
Don't miss the other bloggers in this fun series, I think you will enjoy all the tips and tricks from all of them!  Next on the tour is my friend, Lindsay, from Makely.
Here are all the other bloggers who are in this series for the week.  Stop over and visit them, I know you'll be inspired!
How to Decorate Series
Day 1:
1. Beth, Home Stories A to Z: How to Find Your Decorating Style
2. Courtney, A Thoughtful Place: 5 Gallery Wall Styles
3. Stacy, Not Just A Housewife: How to Decorate with Plants
4. Myquillyn, Nesting Place: Turning a House into a Home on a Thrift Store Budget
5. Donna, Funky Junk Interiors: How to Turn Worthless Junk into Home Decorating Must Haves
Day 2:
1. Melissa, The Inspired Room: The Secret Ingredient Every Room Needs
2. Jessica, Four Generations One Roof: How to Decorate with Container Plants
3. Traci, Beneath my Heart: How to Style a Coffee Table
4. Cyndy, The Creativity Exchange: Tricks for How to Zone in on the Perfect Paint Color
5. Laura, Finding Home: 5 Ways to Personalize Your Home
Day 3:
1. Emily, Decorchick!: How to Decorate with Cowhide When You Aren't a Cowboy
Day 4:
Don't Miss a Post, join my list!