For you local girls, I just visited a new  antiques store called Kudzu and they are in the old Red Baron's site in Sandy Springs.  There's also one in Decatur, from what I hear.  I met up with my friend Lori and we made a little outing of it and it was fun checking out this shop full of eye candy.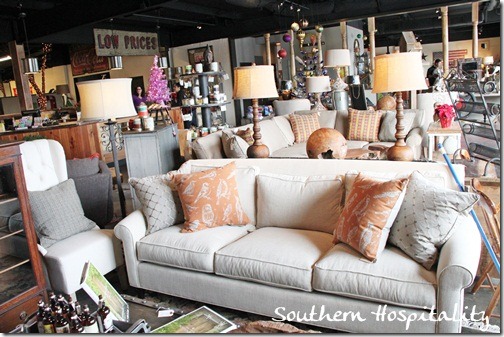 In the front is some new stuff, like furniture, pillows and accessories.  And the vintage stuff is in the back in booths.
Still in the front, cute wood tree.
Lots of pretty furniture and pillows.
Loved this reclaimed wood side table.
You can find lots of styles at Kudzu and reclaimed and industrial are well represented.  This is definitely a trend right now.
Loved this adorable little faux tree.  Looks so real!
Chandeliers and lots of fun things to see.
All the booths are different, just like most antique shops.
Of course, these pretty colorful ornaments caught my eye.
And more reclaimed wood things.
Repurposed beadboard made into shelving.
Loved this space too and I do believe I saw them at Scott Antiques in November when I was there.
Pretty dishes and a sweet little lamb.
Acorn Hill space
Nest space, cute!
More vintage ornaments.  These are highly collectible now.
Cute little table.
Unique burlap light fixtures.
More Shiny Brites
Lovely green side chairs and a black and white cowhide.
As you can see, Kudzu Antiques has lots to see and enjoy, so check them out when you are in Sandy Springs.  If you know where Red Baron's used to be, you'll find them!
Also, just to let you all know, I'm having my annual Top Projects of 2012 party next Thursday on December 27th.  That should give you all enough time to get a post together and join me!  I know I did a ton of projects this year, so can't wait to recap and share them.  Moving in this house was ONE BIG project, that's for sure!
If you feel like getting inspired, you can check out the link party from 2011, there were over 400 links added from all over blogland. 
Don't Miss a Post, join my list!