Well girls, we have come to the end of the road for the Thrifty Treasures party this year and as much fun as we have had, I think you'll agree that a respite is in order.  We've got Fall and Holidays to get ready for.  So, I'm sure we'll all find plenty to keep us busy.  I'm truly ready for a break from the yardsales, especially since I really don't need anything right now. And I've got some projects that I'm anxious to get started on.
I did get out to the Mt. Laurel neighborhood Fall sale this weekend and only found one thing, spent $1.
This pretty knit long top by Kenneth Cole was $1.  I hope to wear it with black leggings and boots and a jacket this Fall.  That could be cute!
And look, it matches my pumpkin!
I love, love pumpkins this pretty blue/gray color, so I bought one this year. This is a medium sized one, got it for $4.  I'm working on a foyer display on my table this year, so I'll do something fun with this.  Yep, this pumpkin is real, straight from a farmer.  Can't remember the name of this variety, but I have admired them for a few years.
The winner of the Ballard Designs petite carriage lantern is Kim from Kim's Domestic Bliss.  Congrats, Kim!  I'm emailing you, so just get back to me to claim your prize.
**********************************
What have YOU found lately? Add your link to the Linky list and remember our guidelines for the party:
Add your permalink to the link list, which is the actual post that you did for this party, NOT your general blog url. To get the actual post, after you publish the post, just click on the title and THAT will be your party post url.  PLEASE try to get the correct url in the first time!
Please add my button to your post or blog OR at least link back to this post in your post. That's all I ask. It's common courtesy to link back to the person having the party, so that all of your readers can find it too.
Please do NOT link to an Etsy shop or something similar (even if you think it's a fabulous deal) or I will delete the link. This party is for sharing thrifty finds from yardsales, thriftstores, or something along those lines. If I see that your post is not really on track with this theme AND you don't link back, I'll delete your link. Sorry, but I'd like to keep the party consistent! IF YOU SEE THAT YOUR LINK HAS BEEN DELETED, IT IS PROBABLY BECAUSE IT IS NOT IN LINE WITH THIS PARTY THEME.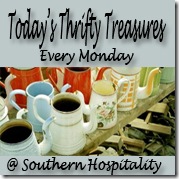 Don't Miss a Post, join my list!