It was raining here in Birmingham for most of the day on Saturday, but that didn't stop Debbie and I from venturing out and checking out a few sales.  Since it was a holiday, there weren't any big neighborhood sales, but we managed to find enough and brought home a few treasures.
This beautiful and large pottery pitcher was $2 and still has the original sticker on the bottom, from Banana Republic (had no idea they carried housewares, did you?), Made in Italy and the original price was $24.
This cute little retro Westclox clock was 10 cents!  Adorable.  Winds up so I imagine it still works fine too.
I love this metal holder with the tiny glass insert, just big enough for a leaf frond or flower, it was $1.
This old copper hanging pot was $5 and the girl said she got it at an antiques store years ago.  I'm getting ready to spruce up our deck, so a real plant will go in here.  I'll tell you all about my plans this week and I'm really excited about it.  That umbrella find last week really got me inspired to make our deck beautiful.  
This lovely fabric will come into play on the deck too when I get it all together. Not a yardsale find, but a thrifty find nonetheless, I found this fabric at of all places, Old Time Pottery. I had no idea they sell fabric.  This was a 5 yard remnant for $20 and I'm planning to make some porch pillows with it and there will be plenty left to do something else with.  Maybe something in my kitchen later on.  I just fell in love with this fabric and see a lot of possibilities for it.
For the first time ever, Random .org chose the very last comment for The Vintage Pearl giveaway winner and she is  Mary Jo,  who said this:
If I won, I'd love to use the gift certificate on a wide cuff for my husband.  He's getting ready to take several students from his student ministry (he's a youth pastor) on a mission trip to Ukraine.  I'd love to have it stamped with Ecc. 4:12 – which is engraved inside our wedding rings – to serve as a little reminder on his trip.
Congrats, Mary Jo!
So, now it's YOUR turn for the party this week! What have YOU found lately. Add your link to the Linky list and remember our guidelines for the party:
Add your permalink to the link list, which is the actual post that you did for this party, NOT your general blog url. To get the actual post, after you publish the post, just click on the title and THAT will be your party post url. Last year, I can't tell you how many links I had to fix. This year I might get mean & delete them, so PLEASE try to get the correct url in the first time! 🙂
Please add my button to your post or blog OR at least link back to this post in your post. That's all I ask. It's common courtesy to link back to the person having the party, so that all of your readers can find it too.
Please do NOT link to an Etsy shop or something similar (even if you think it's a fabulous deal) or I will delete the link. This party is for sharing thrifty finds from yardsales, thriftstores, or something along those lines. If I see that your post is not really on track with this theme AND you don't link back, I'll delete your link.  Sorry, but I'd like to keep the party consistent! IF YOU SEE THAT YOUR LINK HAS BEEN DELETED, IT IS PROBABLY BECAUSE IT IS NOT IN LINE WITH THIS PARTY THEME.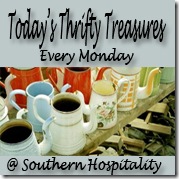 Let's have some fun this week with the Thrifty Treasures party!
Don't Miss a Post, join my list!