I didn't do a lot of yardsales this weekend, but did stop by a couple of them on the way to meet up with a long-time online decorating buddy that I met up with in Oxford, AL.  She was in Atlanta on business from CA and drove over to meet me.  I'll share that later on.  We did some antique shopping.
One stop, I found this pretty lamp for $5.  Not sure where I'll put it, but I really loved the shape and colors for that price.  It actually looks pretty cute in my laundry room.
This summery and bright dress was $2.
Not the most flattering pic, but I even have some pretty pink shoes to go with it.  There is pink in there, even though it looks all red.
And I found a bag to match for $5, by Cappelli.  I found this at an estate sale and oh, my gosh, did it have the stuff. And by that, I mean, the lady could have been on The Hoarders show.
This was all in the driveway. Lots of retro old garden and porch things. This was all left on Saturday afternoon and on Sunday they were having a 1/2 price sale. There was a TON of stuff left.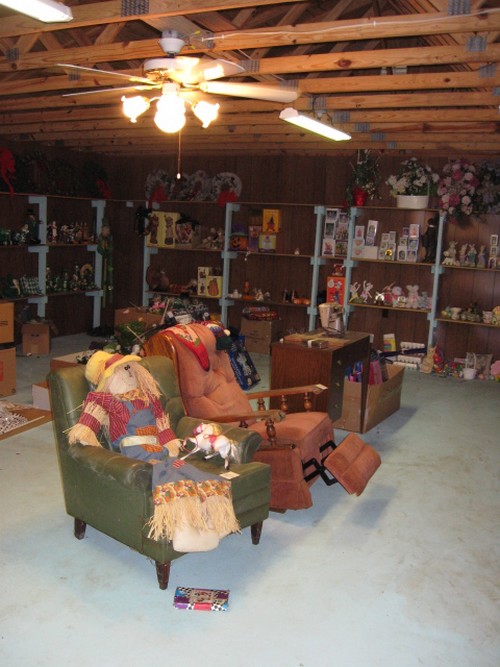 And out-building full of Christmas stuff.
Basement storage, more Christmas stuff. This is just a small part of what I saw.
Upstairs bedroom.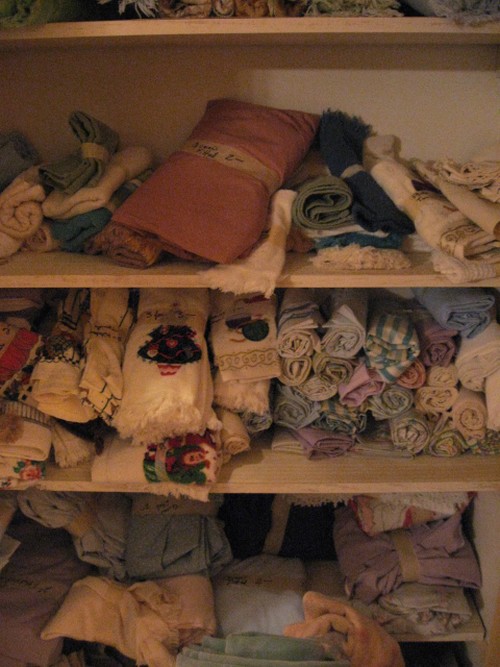 Linen closet.
And this was the master bedroom, FULL of shoes and purses and clothes.  TONS!  They said the lady was in her 70's and loved to buy things.  Really?! This sale gave a whole new meaning to the phrase, "you can't take it with you".  When I go in estate sales, it does make me sad to think about the end of a person's life like this.  All their things out there for people to rummage through.  Do you think about that too?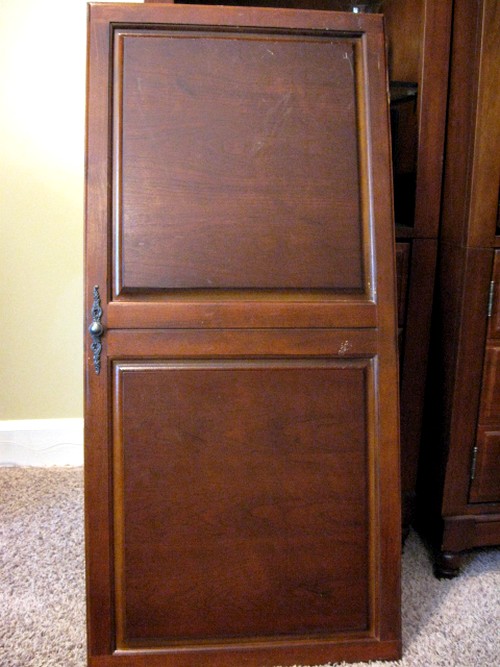 This was FREE from another sale, a solid wood pantry or cabinet door of some type.  I figured it could be made over for something useful.
The back side of it, it actually looks like it would be perfect for a chalkboard, all you'd have to do is spray this side with chalkboard paint.  If I don't use it for something, I'll pass it on to someone else.
So, now it's YOUR turn for the party this week! What have YOU found lately. Add your link to the Linky list and remember our guidelines for the party:
Add your permalink to the link list, which is the actual post that you did for this party, NOT your general blog url. To get the actual post, after you publish the post, just click on the title and THAT will be your party post url. Last year, I can't tell you how many links I had to fix. This year I might get mean & delete them, so PLEASE try to get the correct url in the first time! 🙂
Please add my button to your post or blog OR at least link back to this post in your post. That's all I ask. It's common courtesy to link back to the person having the party, so that all of your readers can find it too.
Please do NOT link to an Etsy shop or something similar (even if you think it's a fabulous deal) or I will delete the link. This party is for sharing thrifty finds from yardsales, thriftstores, or something along those lines. If I see that your post is not really on track with this theme AND you don't link back, I'll delete your link.  Sorry, but I'd like to keep the party consistent! IF YOU SEE THAT YOUR LINK HAS BEEN DELETED, IT IS PROBABLY BECAUSE IT IS NOT IN LINE WITH THIS PARTY THEME.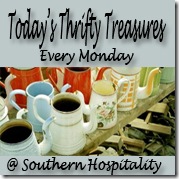 Let's have some fun this week with the Thrifty Treasures party!
Don't Miss a Post, join my list!