Another giveaway, another winner!  Elz from Elzabelz is the winner of the Southern Living magazine giveaway.  Congrats to you, Elz, you lucky girl you.  I wish I had copies for every one of you.
Even when I'm out of town, I look for yardsales and when I was in Atlanta over Mother's Day, there was a big one in a nearby shopping center. They must have it every year at this time, because this is the 3rd time I've hit it.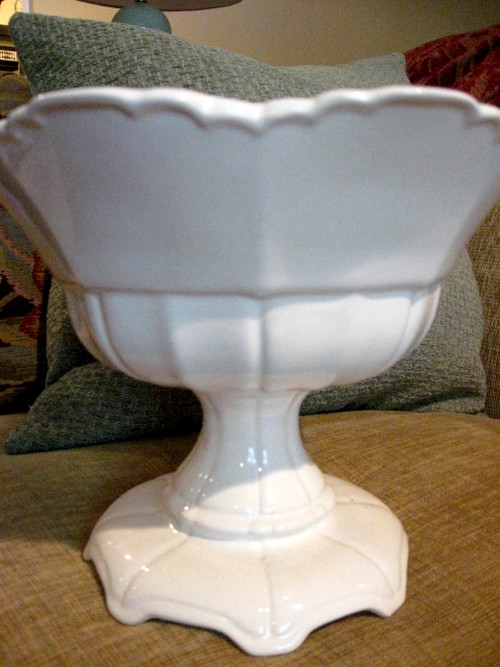 Found this pretty footed bowl at the sale in Marietta for $5.  More white pottery, it seems to find me.
CUTE burlap lampshade was $1.
Wooden plant holder with metal handle was $2.
I'm still looking for good stuff for the Lovelady room redo and I have found some super things. On my way to Atlanta on Saturday, I could hardly get out of town for all the yardsale signs that kept pulling me in.  Yep, I do brake for yardsales! 🙂
I found this cute folding bookcase for $5.  It's already been primed and painted my pretty shade of blue/green for the Lovelady room. I was SO excited to find this, it will be a perfect addition for those girls.
This adorable corkboard was also $5.  And the urn and bird were around $3 for both. I might keep that little bird, he's pretty cute.
And at the Marietta sale, I found a perfect set of tab-top drapery panels for $5 for the pair.  These will be a great addition to the room too.  It's all coming together SO nicely.  It will probably be June before we put it all together and get the room painted, but I'll be sure and share all the details!
Debbie and I hit the Mt. Laurel neighborhood sale this weekend, as well as MY neighborhood sale,  but all of that will have to wait til another time.  We did score some great stuff though!
So, now it's YOUR turn for the party this week! What have YOU found lately. Add your link to the Linky list and remember our guidelines for the party:
Add your permalink to the link list, which is the actual post that you did for this party, NOT your general blog url. To get the actual post, after you publish the post, just click on the title and THAT will be your party post url. Last year, I can't tell you how many links I had to fix. This year I might get mean & delete them, so PLEASE try to get the correct url in the first time! 🙂
Please add my button to your post or blog OR at least link back to this post in your post. That's all I ask. It's common courtesy to link back to the person having the party, so that all of your readers can find it too.
Please do NOT link to an Etsy shop or something similar (even if you think it's a fabulous deal) or I will delete the link. This party is for sharing thrifty finds from yardsales, thriftstores, or something along those lines.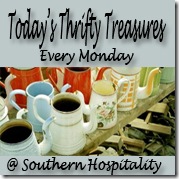 Let's have some fun this week with the Thrifty Treasures party!
Don't Miss a Post, join my list!