Sometimes it takes trial and error and time to get a room where we want it to be.  Rooms are not built overnight, are they?
After sharing that I was doing a major revamp in my living room, I'm happy to say it's finally finished (for now!). When I posted the changes I was making a few weeks ago, I got some pretty strong opinions on my living room and when I read that feedback, it was just the kick in the pants I needed to take a good look at my room. I realized that I did need to move some furniture around and make some much needed changes.  I made decisions when I moved in the house on which pieces of furniture to place where and it was time to rethink all of that.
Getting new windows in the downstairs den also prompted some moving of furniture and I switched a couple of pieces from those 2 rooms. The result is a much more cohesive living room and den and I'm excited to share the end result of the living room.
I got many comments about how cluttered my living room was and yes, perhaps it was. It was time to declutter some of my stuff and keep only the things I really loved.  So several of the bigger and smaller things I had in there have been removed. Now, when you look at these pics, I'm sure there will be many of you who will still think it's too cluttered.
That's OK!  I have to live here and to me it is just enough. I've never claimed to be a minimalist and I'm still not, even though I do display way less than I did 10 years ago. I think many of us have slowly decluttered and are using less accessories now. It's been a process for me and I do LOVE my room so much more.  That being said, I know everyone will not love all that I've done and that is perfectly fine too.  I share here to inspire you all and give you ideas and if you didn't like my style, you wouldn't still be hanging out with me after 8 years.  And my style has totally evolved in 8 years to something I'm very happy with at this time of my life.
After living here 2 1/2 years now, it was time for some changes and adding some extra color in the room has really kicked it up a notch too.  I will never be someone who only decorates in a neutral palette.  I like color way too much!   I had things way too matchy-matchy with my pillows and the chair of many fabrics didn't help either. So, I took that chair out of the room and added a new chair from Birch Lane. They were gracious enough to work with me on my living room project and I love the end result.
One more thing about style.  I am a collector and I love to have vintage things in my house that I will  not see in everyone else's homes.  I know that might not be for everyone either, but to me the various things that I've collected over the years is what makes my home uniquely ME.  I do not want to look like every other home in blogland and I am happy to say that mine is totally my own.
In case you have forgotten what the original Before and After living room looked like, take a look back and you can see all the changes. 
So, with all of that said, I'm ready to show you my new and improved living room!
Just FYI, I took a TON of pics to really show the living room with every corner and tabletop, so you can really see the evolution and details of my room.
Coming in the front door, I still have my turquoise painted front door and it is happy and cheery. I will share sources and details at the bottom of the post to  make it easier.
Come on in!  I'm happy to have some additional color in my room.  Can you see some of the changes immediately?  I sure can!
You may notice first, that I've switched many pieces around.  The newly painted green desk is now behind the sofa with my black chairs flanking it.  My 1880's French buffet was brought up from the den and now anchors that back wall.  Yes, I kept my columns.  I had several people tell me to get rid of them, but I chose not to.  I still love them for what they are and I added 2 large blue glass floats on top and love how they look.  We'll get back to that in a minute.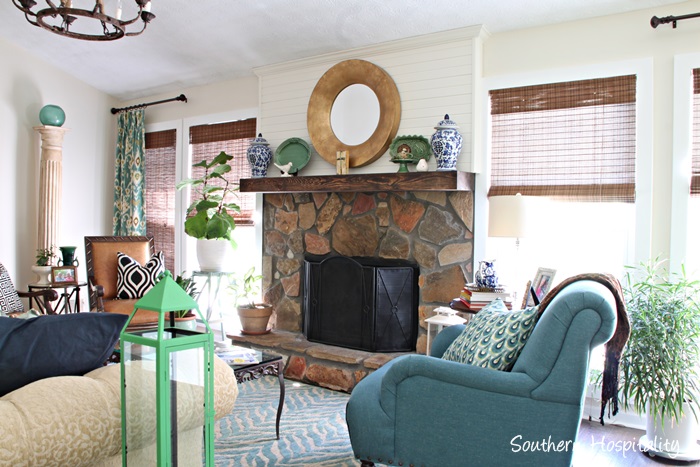 The new fireplace mantel still makes me happy with the planked walls.  Now my things show up so much better. I just added a new round chunky gold mirror that I ordered from Joss and Main.
I love the glimmer of gold it adds to the planked wall and is a nice contrast to the rustic mantel and stonework below.
An art piece I got from All Inspired Boutique. It's a beautiful block of wood with gold gilding and a cross.
Love the mix of blue and green pieces on the mantel.  My Bordallo bunny dishes have been with me since around 2000, way before blogging.
Looking back towards the entry stairs and the new console piece from Nadeau I shared earlier.  You'll notice I have pops of kelly green around the room and I'm loving the addition of that color in here.  The new blue chair looks so fresh in here and gives a nice update.
Looking towards the dining room and kitchen from the living room.
The Nadeau console table is a really nice fit here and I'm still very happy with my choice.  Some of you did not like it with my antique mirror, but I'm totally good with the pairing of the two.  The mirror picks up the brown tones in the caning of the console piece as well as the tones in my hardwood floors and bamboo blinds.  To me it is all harmonious.
I added a white urn with preserved greens and kept the rest the same.
Love these pops of green and blue on this table.
Again, I know I layer and use a lot of accessories, but it looks pleasing to my eye.  Everyone is different in how they like to display things and this makes me happy.
I switched my side tables in the living room too. This antique piecrust table I found years ago was between the gold leather chairs.  I decided to move them closer together to allow for the sofa to move in slightly and so I moved the Ballard Designs metal and glass table between the leather chairs.  You'll see that below.  Here's another look at the Birch Lane Shepard upholstered chair in Aegean linen.  I adore this color and this is a good representation of the real color.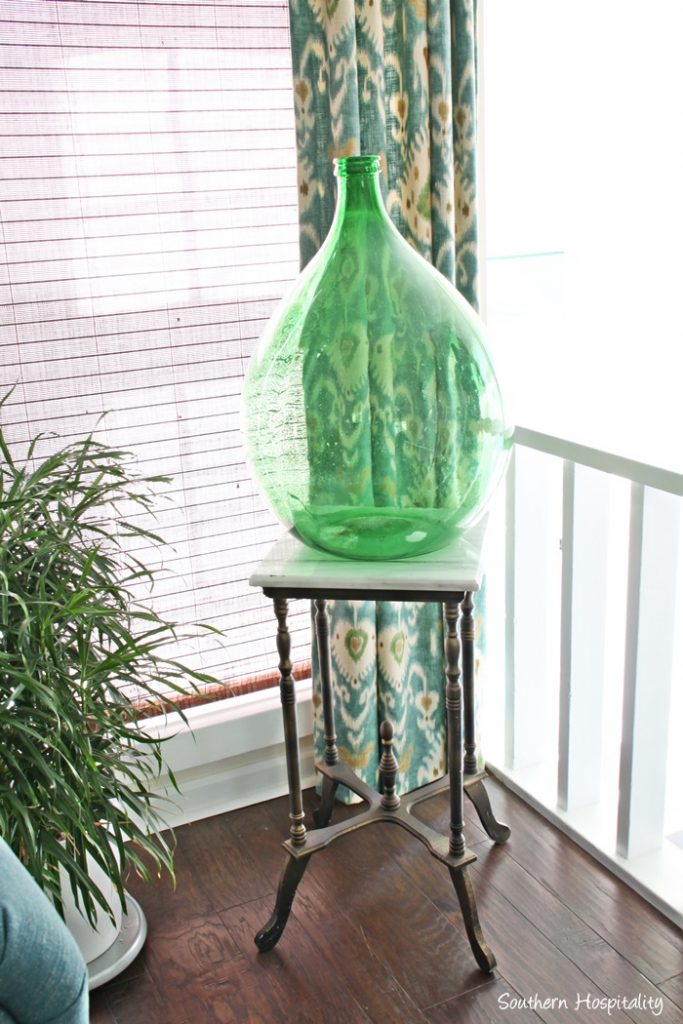 An antique green wine bottle from Italy was moved from my bedroom down to the living room and I got rid of the other things that were here in this little alcove by the stairs.  I found this beautiful marble topped table at an estate sale and the idea popped into my head to put it here with the green wine bottle and I love it displayed here.
It looks so pretty with my Ikat drapes.
Chair, potted plant and the wine bottle.
It's hard to capture this side of the room with sun coming in the windows, but you can see I have a lamp, stack of books, a blue and white pitcher and some family photos on this table.
Here's a really good look at the Birch Lane Shepard chair.  
This color is is a little lighter than it actually is in real life.  When I saw the fabric sample, I knew it would be a good addition to my living room space.  Again, a big shout out and thank you to Birch Lane for working with me on my living room update.  This chair makes my room come alive!  It has a firm seat to it, is very deep and comes with a lumbar pillow. Overall, it will be a great chair to curl up in. It is just the right size for my space.
Behind the sofa, I moved the newly painted green desk that I showed a few weeks ago.  I brought back  my old gallery wall and decided to group together all my favorite vintage paintings and artwork that I have found over the years. I still love every one of these pieces and love how they look together. Everything on the wall was found at a yardsale or antique store.  The aqua birdcage was a yardsale find in Birmingham.
The new Chaing Mai pillows make me smile, with their addition of some bold color in here.  I added it with a navy pillow cover for contrast and to add just a touch of navy to the room.
They were totally worth the splurge.  I'll do a recap at the bottom of this post with all the sources of my things.  I love the mix of colorful pillow covers I brought in this room. The old pillows were just boring compared to these.
Another look at the gallery wall and how it all relates to the sofa.
I had a black lantern sitting on this white stool and painted it the same green as the table.  Love how it pops in the room too.
Here's a shot at how the desk, black chairs and gallery wall all look together. You can see I have a walking aisle behind the sofa that goes all the way around the back of the leather chairs too to the buffet on the back wall.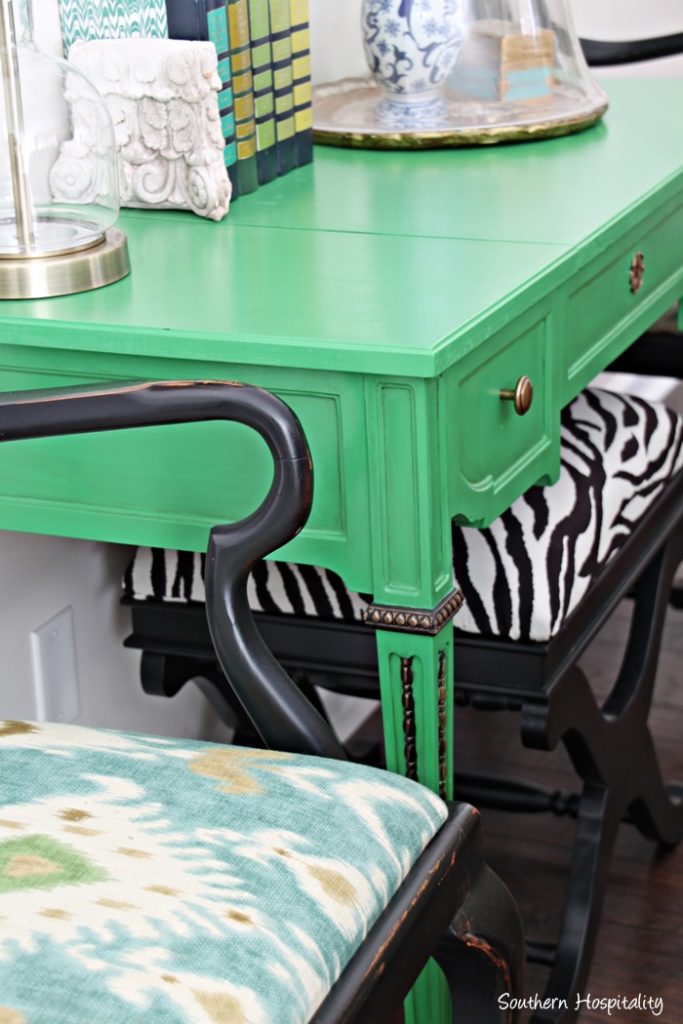 Ikat fabric, green desk and black and white zebra fabric on the stool.  I love all of this together.
The brass and glass lamp adds just the right elegance to the table and I added some colorful books to the green desk.
Readers Digest colorful book spines make a nice display with my plaster piece of vintage architecture.
I added a pretty Italian gold tray with a blue and white vase and a couple of other pieces under a big cloche on the green table as well.
The caramel leather chairs got new pillows from Etsy in black and white.  Love how they pop now on the chairs.
Here's a look at the detail on the chair legs and the metal and glass table I moved over here.  This table is a better fit for the space now, since it's much more petite in size.
A framed picture of my parents, a potted ivy in vintage planter and a vintage green urn I found recently at an antiques market adds a fun touch to the little round table.
Beside the sofa is my grandma's vintage table and I have this little display in a brass tray that I picked up recently at the thriftstore.  That cute bunny piece is from Peter's Pottery out of MS.  The black and white little box was a yardsale find.
An artsy look past the green lantern to the back wall.
I do love how much better my 1880's French buffet looks on this wall. It really anchors the space so much better and because it is taller, I raised up the painting and the sconces.  Now this wall has balance and looks substantial behind the rest of the furniture.  I did keep my columns, because I still love them and I think they add a nice balance flanking the French piece, especially with the vaulted ceiling in here.
This 1880's French buffet (I call it that, because I have never seen anything else like it and don't really know what it is) has been with me since early 2000's.  I got it from Scott Antique market here in Atlanta and it really is a beautiful piece of history. The patina on this beauty cannot be duplicated. Inside, there are grooved pegs to hold shelves and it is a work of art.  I can imagine those cubbies holding a cake plate or something in the kitchen back in the late 1800's.
This is one of my favorite yardsale finds ever, a beautiful armillary from years ago.  I still remember paying $25 for it and that was a lot at the time, but it was well worth it.
These heavy iron sconces flanking the buffet were also a yardsale find ($25 for the pair) when I was in Birmingham. They weigh a ton and are very old world and I still love them too.
In the right corner by the windows, my fiddle leaf fig holds a place by the fireplace.  I left this corner more simple this time around.
Looking back towards the stairs from the buffet corner of the room. You can see the den downstairs and my bedroom upstairs.
Peeking past the sofa into the dining room.
Here's a great aerial shot of the entire living room from the top of the stairs.  Can you see the difference that all of this made?  I sure do! The addition of the colorful pillows, the blue chair and moving the furniture around makes this room feel really balanced to me.  It's a cozy space and I love sitting in here. To me, everything flows together and has a happy, relaxed feel. It's just the eclectic feel that I was hoping to achieve.
Can I just say, I'm so stinkin' proud of this house and how far it's come in 3 years!
Not many of us can completely start over when we are decorating a room and frankly, I wouldn't want to.  I have many things that mean a lot to me and just by changing up some fabrics and painting a few pieces, the room has a new vibe now.  Mixing up fabrics is fun and even though everyone might not have chosen all these fabrics and put them together, they are very pleasing to my eye.
I hope you all love the changes as much as I do.  I am not naive enough to think everyone loves what I do as much as I do (the internet has a way of giving opinions), but I'm very proud of this room and how it has evolved into such a sweet space to enjoy daily.
Thanks for stopping by!
If you don't see something on the source list that I missed, just ask.  I'll be happy to share where I got everything. Of course, many of my pieces here are one of a kind originals that I've found by scouring yardsales, flea markets, and antique shops.
Source List:
Sofa:  Ethan Allen (I worked for Ethan Allen back in 2003/2004 and this was a floor model I scored).
Blue Chair:  Birch Lane Shepard Chair in Aegean Linen (Working with Birch Lane the past year has been wonderful and I thank them so much for this chair!)
Caramel Leather Chairs:  Bought from Furniture Craftsmen in Marietta back in 2002
Green Desk:  Yardsale find, painted twice by me, latest in St. Anne Green, by Maison Blanche
Glass Coffee Table:  Pier One a few years ago
Round metal and glass side table:  Ballard Designs
Rug:  Zybra rug in teal from Shaw Floors, HGTV Home collection
Blue Canvas Modern Print:  Ballard Designs outlet
Bamboo shades:  Tibet from Payless Decor
Entry Console Table:  Nadeau
Lamps:  All from Homegoods, including brass and glass desk lamp
Overhead chandelier:  Ballard Designs (one of my BEST deals of the century, for $8!) Yes, you read that right!
Gold Mirror:  Joss and Main
Pillow Covers, Etsy Shops:
Don't Miss a Post, join my list!