So, my weekend in San Diego was exciting to say the least!
Meeting up with some blog friends, hanging out in a beautiful city like San Diego, and getting geared up for a cook-off.  What could be better than that?
It truly was a very fun experience and one that I will not forget.  I'm going to share all about the cook-off in this post and then I've got more to share about San Diego, the city and the BlogHer 11 conference, so I'll do more posts on both of those soon.  I can definitely understand why residents of CA love this city so much.  The climate, the scenery, the water, oh it is all beautiful!  I could get used to 75 and sunny every day.  With no humidity.  Oh yeah, I could!  Thanks for all the suggestions to visit Coronado Island.  That was one of the best things I did!  Can't wait to share all of that too!
Back to the cook-off!  It was scheduled for around Noon on Saturday and everything was ready for us.  We went up to the big kitchen in the San Diego Convention Center to get ready for our big debut in front of everyone. This is 7 of the 8 of us who were participating in the Knorr cook-off.
There was plenty of activity going on in the kitchen as these chefs were prepping for the Knorr booth cooking demos that were going on for 2 days.
Those guys were really nice and didn't mind us coming in and taking over their space.   I cooked my chicken breast in some water and got it ready to debone.
We each had our own little station in the kitchen, waiting for our time to go down to the booth to get started.  The Knorr booth was just that, a booth in the BlogHer expo and it was close quarters for cooking.  We each had a hot plate to cook on.
Prepped and waiting.  I really wasn't nervous at all.  I figured I'd do my best and try to win and I would be happy if I did.
We made the trek down to the Expo hall to get started.  Those 2 cute girls on the front row (right) are my blog friends Monica (who did a great recap on being a BlogHer newbie) and Heather.  They were so sweet and watched the whole time, cheering me on and using my camera to take pics.  That's how I got all these pics!  Thanks girls, ya'll were great cheerleaders!
Ready to get started.  My chicken was already cooked, so all I had to do was make sure my dumplings got rolled out right.  I even brought my own flour, un-bleached all purpose from Kroger.
The left side of the stage, with links to their recipes:
Sydney – Crepes of Wrath
Carrian – Sweet Basil
Mandy – M Cubed
and ME!
Right side of the stage:
Amanda – What We're Eating
Jan – A Little Glimpse
Tresa – Reese Dixon
Danielle – Daisy, Just Daisy
Good photo op to pose with the rolling pin, a very important tool in my recipe.  They had all our requested items ready for us, thank goodness.  I would have hated to have to pack a rolling pin!
Name tags and recipe name.  I should have brought this home.
Rolling and cutting the dumplings.
I had a large square butcher block to roll them out on and it worked out fine.
Chef Einav Gefen walked around and chatted with us as we were cooking, taking questions from the audience too. 
It really wasn't bad at all and surprisingly, I wasn't nervous. 
Putting in all the dumplings one by one.  That is the most time consuming part of it all, dropping in the dumplings.  It is definitely a must, to drop them in one or 2 at a time.  That part took about 10 minutes to get them all in the broth.
There were photographers all around taking pics as we cooked.
Still dropping in dumplings.
Chatting with the chef.
Celebrity chef  and youngest man to ever win 3 coveted Michelin stars, chef Marco Pierre White, from England has been a spokesperson for Knorr for many years and he was at the show cooking demos for Knorr,  as well as acting judge for our competition too.  He was one of 4 judges putting our dishes to the taste test.  I felt really good when he came by and asked what I was making.  When I said chicken and dumplings, he replied in that wonderful English accent, "I love chicken and dumplings."
Well, alrighty then, I think we will get along just fine!  🙂  Plus, he's really cute too.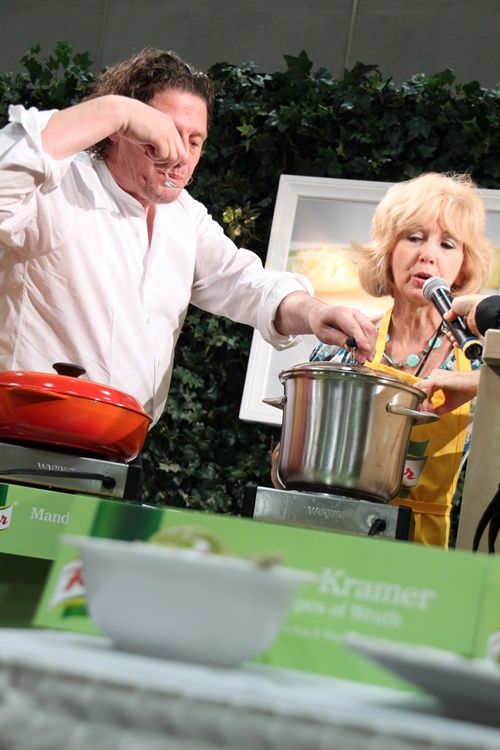 Chef Marco grabbed the spoon and started tasting my broth.  I do think he liked it.
We got the chance to chat it up as others were finishing their dishes and my dumplings were simmering away.  He had mentioned to me that he loves simple cooking. 
What a treat to have a world-renowned chef hanging out with us.  Of course, I couldn't help but wonder at first what a real chef would think about our family recipe of  old-fashioned chicken and dumplings, but after he made that comment to me early on, I felt pretty confident that he would love my dish.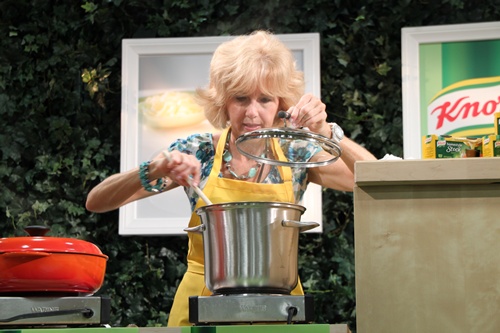 Stirring the pot one more time and then as Chef Marco suggested, I simply left my chicken and dumplings in the pot instead of plating them to get cold.  Great idea!  In fact, I didn't get a pic of this, but Chef Marco had me hand my pot back to him and he dished up my chicken and dumplings in a pretty orange Le Creuset pot which looked better in the pics and presentation. 
At this point, all the dishes went on the table and the tasting began!
We all stood around for a few minutes watching them taste our dishes and then wandered off until later when the 4 finalists would be announced.  It was exhilarating and exciting all at once.
We were told to come back by 3 pm to do individual video interviews with Knorr and then they would announce the 4 winners.  I hope to have the video to show to you soon!  I'm SO not used to talking on camera, but they said I did great.
We'll see!
We all gathered back in the Knorr booth for the final 4 announcement and I was absolutely thrilled to hear my name called.  I'm very excited to be representing Knorr.  We will all be ambassadors for Knorr products, which I am happy to do.  I love their products.  This chicken concentrate is the best stuff and we will definitely be using it again.
So, that's the cook-off day!  It was fun, exciting, and I'm honored to have WON the final four!  Thanks for hanging with me and for all of your support along the way.
Here are the other 3 in the Knorr 4:
Amanda – What We're Eating
Sydney – Crepes of Wrath
Carrian – Sweet Basil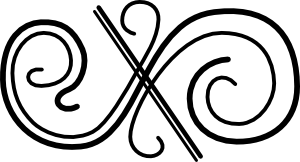 Congrats to the lucky winner of the Mirror Mate giveaway, she is Amy with Flirting with Design!  Congrats, Amy!

If you didn't win and wish to try out one of these fab mirror frames, Mirror Mate is offering all  my readers a 10% discount:
Coupon code is SOUTHERN and is for 10% off. The coupon is good from now until 9.13.11.
Don't Miss a Post, join my list!