It would be SO nice to have a screened porch.  Oh, how I've wanted one, but it's just not going to happen anytime soon (maybe never), so I've resigned myself to that for the time being.  I'm going to talk more about outdoor living next week and how we can make the best of what we have during these hot summer months, but for now I'll share what I found yardsaling this weekend to make not having a screened porch a little bit easier to live with.
I had thought about getting a nice market umbrella and figured they are expensive and  I've just never committed to buying one and trying it out.  So, when I stumbled on this nearly new super sturdy market umbrella in a heaaaaavy iron stand for $30, I figured this was finally my chance to get some shade on our deck without breaking the bank.  And if I happen to run across a table with a hole in the middle and decide to bring it home, I'll be set.
This one has a crank on it to open the umbrella, so it will only be open when we are out there using it. With our wind, which can be quite fierce at times, we have to be careful about putting anything up that might get tossed around by a brisk windstorm.  I think this will do the trick and maybe now I can actually sit in these chairs and enjoy some shade and an occasional breeze.  The umbrella is huge and shades about 1/2 the porch when it is up.  So, YAY I'm very happy that I found this at such a great price.  Now, I'm going to look for some better cushions than the old ones I had in these chairs to make them even more comfortable.
Ya'll might remember we had a big discussion last year about those really cool gazebos that are all over the place with the fabric ceilings,  but I could never figure out a really good way to make one of those work on our deck either, since the deck is just shy of 10′ wide and most of those are 10×10′ (at least the ones I like!).  I had heard such horror stories about those too getting tossed about by wind that it made me apprehensive about putting much money into one of those, so this umbrella will be a good alternative for now.
I've found most everything I need for the Lovelady room redo, so that will be happening in the next few weeks and I can't wait to share that makeover with you.  It's going to be an awesome makeover on a TINY budget.
Don't forget to check out Garage Sales Tracker when you get ready to hit the road on the weekend.  You may find some great sales in your area that you didn't know about.
So, now it's YOUR turn for the party this week! What have YOU found lately. Add your link to the Linky list and remember our guidelines for the party:
Add your permalink to the link list, which is the actual post that you did for this party, NOT your general blog url. To get the actual post, after you publish the post, just click on the title and THAT will be your party post url. Last year, I can't tell you how many links I had to fix. This year I might get mean & delete them, so PLEASE try to get the correct url in the first time! 🙂
Please add my button to your post or blog OR at least link back to this post in your post. That's all I ask. It's common courtesy to link back to the person having the party, so that all of your readers can find it too.
Please do NOT link to an Etsy shop or something similar (even if you think it's a fabulous deal) or I will delete the link. This party is for sharing thrifty finds from yardsales, thriftstores, or something along those lines.  If I see that your post is not really on track with this theme AND you don't link back, I'll delete your link.  Sorry, but I'd like to keep the party consistent!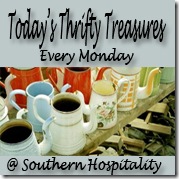 Let's have some fun this week with the Thrifty Treasures party
Don't Miss a Post, join my list!