Back with another Thrifty Treasures feature and y'all found some really cool things out there. I hope to be back on my game again in the Fall, when I might actually need something and can get out to the yardsales again.  Until I get in my house, I'm not at all sure I need a whole lot to fill in since I've got boxes and boxes all packed up waiting for the move to the new house.
For some reason, dishes and furniture made my list this week, as well as a few other eclectic finds. You just never know what you will find out there in thrifting!
Budget Design Girl found these adorable French style white ceramic farm animals at her local Goodwill for 99 cents each!  How cool will these be in her kitchen?
A side table for $6?!  Yes, indeed, Kelly scored this one at a sale.  It will be the perfect accent piece for a special spot in her house.
A gallery wall of blank frames is a fun way to fill up that empty space.  Add a pop of color and it really comes to life.  Megan found these at the Goodwill.
Live Love DIY helped her friend makeover this old rocking chair that she already owned.  With a modern fabric and fresh paint job, this chair has a lot of life left in it.  I love this piece!
Vintage pyrex is always a great find and these old pieces are so nice to have around for leftovers.  Sheila from Note Songs scored these pink beauties at her local thriftshop for $2.50 for all.  Deal!
Yardsales are the best place to find deals like this.  Darlene from Our Creative Life scored 2 of these for $7.50 each. They will be gorgeous when they are remade. I can see a modern fabric on them with no tufting on the back.  Hello gorgeous!
Italy, I love Italy!  And so does Barb at Grits and Glamour. She was out thrifting and found a whole set of Italian dishes for $135 and later found out that each plate sells for $65.  Her bloggy friends enabled her and talked her into going back and buying this set, after she originally passed it up because she didn't need more dishes.  That never stops a blogger, right?!  And that's what friends are for.
She spotted these on a cart at Goodwill and Parsimonia is back with some frugal finds in these Firestone jadite mugs.  Always a winner!
A $30 Craigslist vanity gets an Annie Sloan paint wash along with a little golden glimmer from Grandma glam painter, Salvage Collection.  Lovely piece!
So, what did YOU find this week?
There are a TON of parties out there to highlight all your projects, so please let's keep this one about thrifty finds that were bought 2nd hand! Not a great sale from the store, or a recipe, or just a plain project, but 2nd Hand finds only!
And please DO NOT go back in your archives to OLD posts and link up. Let's keep this party fresh and current! If you have already shared your find in a previous party, DON'T share it again! Please, girls, I don't want to have to delete links.

Add your permalink to the link list, which is the actual post that you did for this party, NOT your general blog url. To get the actual post, after you publish the post, just click on the title and THAT will be your party post url. PLEASE try to get the correct url in the first time!
Please add my button to your post or blog OR at least link back to this post in your post. That's all I ask. It's common courtesy to link back to the person having the party, so that all of your readers can find it too.
Please do NOT link to an Etsy shop or something similar (even if you think it's a fabulous deal) or I will delete the link. This party is for sharing thrifty finds from yardsales, thriftstores, or something along those lines. If I see that your post is not really on track with this theme AND you don't link back, I'll delete your link. Sorry, but I'd like to keep the party consistent! IF YOU SEE THAT YOUR LINK HAS BEEN DELETED, IT IS PROBABLY BECAUSE IT IS NOT IN LINE WITH THIS PARTY THEME.
Again this year, I'll be highlighting great finds from the party, so if you want your find highlighted, PLEASE link back to the party. Only those who link back will be considered for highlighting the next week. Thanks!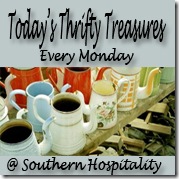 Don't Miss a Post, join my list!