Welcome back to another Thrifty Treasures party.
You all are scouring the thriftstores, yardsales, and antique malls for the bargains and wow, are you finding them.  I never have a problem finding a few to highlight, so enjoy the features today.
I just loved this pic from Somewhat Quirky Design.  It tells the story of a yardsaler and thrifter. How many times did I pick up stuff and bring home to admire, just like this!  Great stuff she found and all for $29.
Cleverly Inspired found an old barn door for $25 and turned it into a really cool desk.  Go see!
This cute little table was a steal at $8 and Delightful Eclectic Abode took it home.  I don't blame her. I'd paint this in a fun color.
The Frugal Homemaker gets the prize for best deal of the week.  This beautiful classic bedroom furniture set with 4 pieces was scored for $40.  I know!!  Can't wait to see what all she does with it, whether she paints it or refinishes the worn parts.  Either way, it will serve her well.
These glass jars with mercury glass stoppers are so pretty and unique, found by Helen and Her Daughters.  Love them!
Sally's $20 industrial cart was a real steal. These go for a lot more most of the time.
Tales of a 400 mile yardsale with Thistlewood Farm, she was hunting down some shutters and found them. The beauty of shopping thrifty! Now, let's see what she's going to do with them.
Carmel from Our Fifth House bought this chair originally at a consignment store and decided to give it a makeover recently.  Wow, did she do a great job with the white paint and leopard print.  Loving this and loving her wall to wall seagrass rug.
The Scribbler lives in Birmingham where I used to shop and got a great deal on this wicker rocker from an estate sale. She promptly painted it in a bright hue to bring it back to life.
A Salvation Army score, this chair was only $26 and The Junk House took it off their hands.
So, what did YOU find this week?
There are a TON of parties out there to highlight all your projects, so please let's keep this one about thrifty finds that were bought 2nd hand! Not a great sale from the store, or a recipe, or just a plain project, but 2nd Hand finds only!
And please DO NOT go back in your archives to OLD posts and link up. Let's keep this party fresh and current! If you have already shared your find in a previous party, DON'T share it again! Please, girls, I don't want to have to delete links.

Add your permalink to the link list, which is the actual post that you did for this party, NOT your general blog url. To get the actual post, after you publish the post, just click on the title and THAT will be your party post url. PLEASE try to get the correct url in the first time!
Please add my button to your post or blog OR at least link back to this post in your post. That's all I ask. It's common courtesy to link back to the person having the party, so that all of your readers can find it too.
Please do NOT link to an Etsy shop or something similar (even if you think it's a fabulous deal) or I will delete the link. This party is for sharing thrifty finds from yardsales, thriftstores, or something along those lines. If I see that your post is not really on track with this theme AND you don't link back, I'll delete your link. Sorry, but I'd like to keep the party consistent! IF YOU SEE THAT YOUR LINK HAS BEEN DELETED, IT IS PROBABLY BECAUSE IT IS NOT IN LINE WITH THIS PARTY THEME.
Again this year, I'll be highlighting great finds from the party, so if you want your find highlighted, PLEASE link back to the party. Only those who link back will be considered for highlighting the next week. Thanks!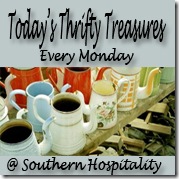 Don't Miss a Post, join my list!