It's been a busy week at my house with the new hardwood floors going in and can I just say:  I'm completely GIDDY with excitement over those floors.  If I could hug and kiss them without looking like a crazy person, I would.  I know I'm being a bit of a tease, but I'll show you on Tuesday, OK, with lots of pics and details!
So, let's get on with the party and you'll see the hardwoods very soon!  I cannot wait to show them off.
Oh, and the Good Bone, Great Pieces book giveaway winner is posted here and the winner has been emailed!
A very lucky $5 find at a yardsale by Simply Sophisticated, turned into this beauty of a chest.  Wowza now!
A nostalgic set of horse shoes found by Quirky Vistas for $6 was a fun find.
How many paint by numbers did I do as a kid?  I remember many of them and now they are collectable again.  I wish I had kept some, but Circadee scored this pretty horse, as well several other paint by numbers.
My friend, Roeshel, scored a pretty Victorian terrarium at an antique mall for $50 and it is really unique. Can't wait to see what she does with it.
Linda at It all Started With Paint made jokes about her fish on sticks, but I think they are pretty cute, especially for a beachy house vibe.  What do you think?  Would you use them?  Their color is even trendy.
Erin at DIY on the Cheap, scored a really pretty headboard for $16 and promptly painted it white.  Got to have some vision when you find those treasures out there.
Here's another vintage style headboard, a King-size found on Craigslist for $80.  Heather is mulling over what color to paint it and I predict it will be stunning when she is finished.
Rita at May Days is collecting vintage afghans. These are colorful and useful.
Now this I really love! Mommy is Coocoo found this pretty sweet vintage glider at a local sale, took it home and sprayed it red and then had custom cushions made with outdoor fabric.  How cute is this?!
Shout-outs to Hometalk again this week!  Have you joined the community of Hometalk yet?  Great place to ask questions, show off your projects, and get great ideas for yourself.  If you love decorating and everything about the home, you'll enjoy being a part of Hometalk.
Did you score something fun this week too?
There are a TON of parties out there to highlight all your projects, so please let's keep this one about thrifty finds that were bought 2nd hand! Not a great sale from the store, or a recipe, or just a plain project, but 2nd Hand finds only! And please DO NOT go back in your archives to OLD posts and link up. Let's keep this party fresh and current! If you have already shared your find in a previous party, DON'T share it again! Please, girls, I don't want to have to delete links.
Add your permalink to the link list, which is the actual post that you did for this party, NOT your general blog url. To get the actual post, after you publish the post, just click on the title and THAT will be your party post url. PLEASE try to get the correct url in the first time!
Please add my button to your post or blog OR at least link back to this post in your post. That's all I ask. It's common courtesy to link back to the person having the party, so that all of your readers can find it too.
Please do NOT link to an Etsy shop or something similar (even if you think it's a fabulous deal) or I will delete the link. This party is for sharing thrifty finds from yardsales, thriftstores, or something along those lines. If I see that your post is not really on track with this theme AND you don't link back, I'll delete your link. Sorry, but I'd like to keep the party consistent!

IF YOU SEE THAT YOUR LINK HAS BEEN DELETED, IT IS PROBABLY BECAUSE IT IS NOT IN LINE WITH THIS PARTY THEME.
Again this year, I'll be highlighting great finds from the party, so if you want your find highlighted, PLEASE link back to the party. Only those who link back will be considered for highlighting the next week. Thanks!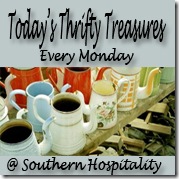 Don't Miss a Post, join my list!