There's a new girl in town.  Lovelady Thrift.
It was a busy weekend for me, starting on Thursday, when I stopped by this new store.  Brand new and located on Crestwood Ave. in Irondale, the new Lovelady Thriftstore is stocked for business.  I hope you local girls will check it out, as this is such a worthy cause, benefiting the Lovelady Center, which I've talked about many times before. 
I stopped in to take a peek and it's very well organized.
The girls at Lovelady center are working there and keeping it all organized and ready to sell. 
Purses
Plenty of clothes
A whole warehouse just for furniture.
This table would be a likely paint candidate for sure.
One of those Frenchy nightstands.
And a pair of blue ginger jar lamps. I think these just might be coming back around again.  I can see these with updated drum shades in a bedroom.
And this reminds me of the 60's with some of the bright colors popular then.
I found this pretty scalloped white plate for 99 cents to add to my ever-growing white dish collection.  This one would be nice hanging on the wall.
And this yummy white bowl by Anthropologie for 45 cents.
Original sticker was $10, so I got a deal.
I also found this pretty blue comforter which is perfect for layering across our bed, with ivory trim and a two-tone blue which complements the current fabrics I have in here. I had been looking for something blue just for this reason and at $7, it can't be beat.  And YES, I have washed it.  That's the first thing I did when I came home. Threw it in the washer and dryer!   You can see the slip covered white chair has a new home here in the master bedroom now.   And by the way, you might remember I was looking at new bedding a few months ago. I ended up getting another scalloped matelasse  coverlet and shams almost like the first one I had. 
On Friday, me and my friend, Debbie and her daughter, Tiffany, headed down to Petals from the Past's Antiques in the Garden (just south of Birmingham in Jemison, AL), which they have every spring.  Always fun to go to this beautiful nursery and with antiques, that's just icing on the cake.
Here, you can pick yourself up a gen-u-ine Redneck tire swing……there's the guy responsible sitting in the chair.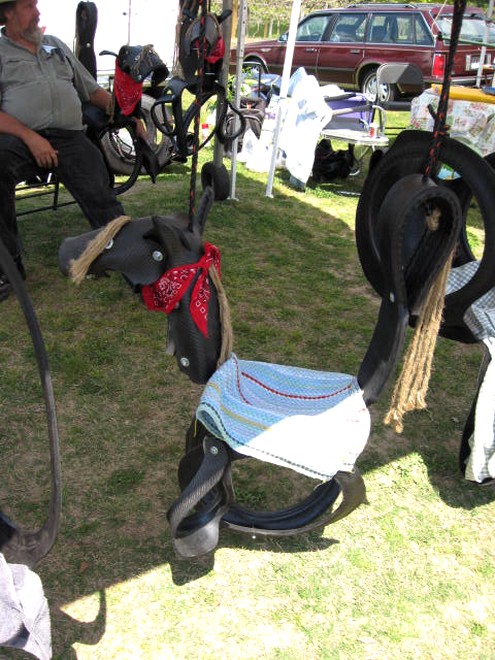 I had to laugh at these, he had all sorts of these unique creations.  That's about all I can say about those.  Only in Alabama!  Taaaarr swangs. 🙂
Petals from the Past grows some beautiful roses and if you haven't been here and you live nearby, you must visit their gardens.  Always inspiring!
More antique vendors, this one sold cute birdhouses.
More antiques and collectibles.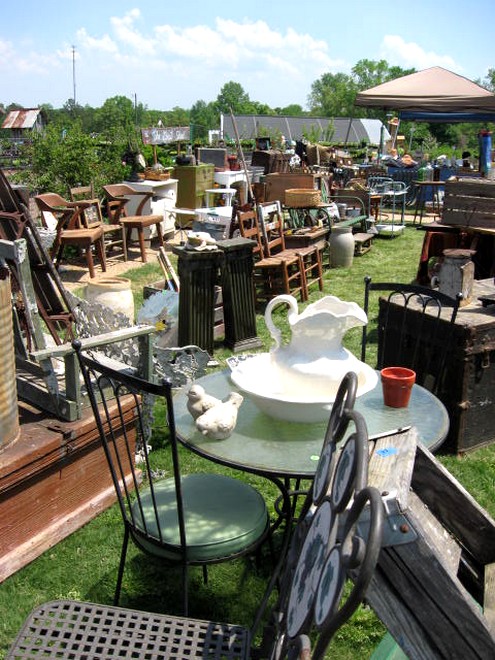 Gazebo at the gardens.
Tiffany and Debbie, the redheaded girls.
The wisteria was peak and those hanging clusters of purple blooms were breath-taking.  Ahhh, spring!  We headed out from Petals and stopped by the Jemison Antique mall, where I found a couple of goodies. 
This sweet old little framed print of Wall Street in NY was $5 and I just loved it.  It's now gracing my salon wall.
And this pretty aqua USA pottery vase was $15.  I adore this color in these old pieces.  I'll show you soon how I'm bringing this color into my living room revamp even more.
I found more goodies at the Saturday yardsales, but they will have to wait til another time.
So, now it's YOUR turn for the party this week! What have YOU found lately. Add your link to the Linky list and remember our guidelines for the party:
Add your permalink to the link list, which is the actual post that you did for this party, NOT your general blog url. To get the actual post, after you publish the post, just click on the title and THAT will be your party post url. Last year, I can't tell you how many links I had to fix. This year I might get mean & delete them, so PLEASE try to get the correct url in the first time! 🙂
Please add my button to your post or blog OR at least link back to this post in your post. That's all I ask. It's common courtesy to link back to the person having the party, so that all of your readers can find it too.
Please do NOT link to an Etsy shop or something similar (even if you think it's a fabulous deal) or I will delete the link. This party is for sharing thrifty finds from yardsales, thriftstores, or something along those lines.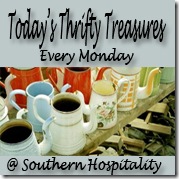 Let's have some fun this week with the Thrifty Treasures party!
Don't Miss a Post, join my list!