It was indeed a good yardsale Saturday and I had a lot of fun scoping out a few deals.  Found this chair, which I'm not sure where I'll put (probably one guestroom), but it called my name at $15 and I think it will look fabulous with a coat of paint and some new snazzy fabric, don't you?
It's got a great shape to it, not too fancy, but not plain either. 
Best of Earth Wind and Fire takes me back a few years, $1.
This mug is extra large with a wide mouth and I got it for my hubby, Peter. He loves birds too and it was only 25 cents.
Love this black wall sconce that I scored for $5.  It was originally wired to be mounted on the wall, but she had added a plug in to it, so I can hang it on the wall and plug it in.  So cute, I couldn't pass it up.
This nice sized Fitz and Floyd Christmas serving piece was $5.  F&F always makes pretty dishware. 
And last, but not least, these pretty and colorful old books were 25 cents each. I picked them mainly for their colors (great for stacking on shelves), but I love the old Picture story Bible.
So, now it's YOUR turn for the party this week! What have YOU found lately. Add your link to the Linky list and remember our guidelines for the party:
Add your permalink to the link list, which is the actual post that you did for this party, NOT your general blog url. To get the actual post, after you publish the post, just click on the title and THAT will be your party post url. Last year, I can't tell you how many links I had to fix. This year I might get mean & delete them, so PLEASE try to get the correct url in the first time! 🙂
Please add my button to your post or blog OR at least link back to this post in your post. That's all I ask. It's common courtesy to link back to the person having the party, so that all of your readers can find it too.
Please do NOT link to an Etsy shop or something similar (even if you think it's a fabulous deal) or I will delete the link. This party is for sharing thrifty finds from yardsales, thriftstores, or something along those lines.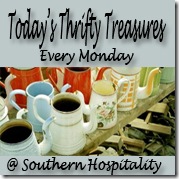 Thanks and let's have some fun this week with Today's Thrifty Treasures party!
Kelee at The Katillac Shack is having a cottage giveaway, so go over and sign up:
I'm trying that new picture linky on this party and I think it is self-explanatory, but let me know if you have any problems. I think having pics will be fun!
Don't Miss a Post, join my list!