Started by Mr. Goodwill Hunting himself, I Love Thrifting day was a big success last year and another outing was planned for this year, on July 7th.
We had a big turnout last weekend for I Love Thrifting Day and it was so much fun to go treasure hunting with a big group.  I loved meeting so many new bloggers (and non-bloggers in the Atlanta area).  We even had one sweet girl, Dana (who is renovating a fixer-upper too, check it out), drive down from Chattanooga to join us!  Now, that's dedicated thrifting.
We began our day at a local bakery, Great Harvest Bread Company, not too far from my new/old house.  They are a neighborhood bakery with some wonderful goodies for breakfast and lunch.  This will be one of my new fave places once I move.  We filled the place up!
My new friend, Cindy, is the owner of Great Harvest, along with her hubby, Bob.  If you are in the area, you must stop by.  Cindy came out to help us paint on one of our painting parties and  it has been fun to get to know her.
Fresh and natural ingredients, with no preservatives is what Great Harvest is all about.   I had a cinnamon roll with my coffee and it was fabulous!
After breakfast, we did a quick tour of my new house and then headed to the Goodwill in Kennesaw, right in my new neighborhood.  They weren't sure what was going on when all these women came swarming in, but they loved it.
Everyone took off and found some things to buy.  Lisa found some treasures!
Another Lisa and Kelly (with her sweet baby girl) had fun browsing and buying too.  We had some pretty diehard thrifters among us.
It was fun walking around to see what everyone was finding.
Julie and Lisa (I think!) cracked me up with this Donnie Osmond album.  Go Away Little Girl……what teenage girl back in the day didn't love Donnie. He's still a cutie!
They had the most hilarious story about this painting.  Julie told me an estate sale tale that was cracking me up and they dubbed this painting Charlotte (said in a reaaaaal Suthuuun drawwwwllll) after her estate sale story about a snooty Southern lady.  I was dying laughing at them.   They have booths in antique malls and were buying to stock up, so those 2 racked up on the finds and their SUV was packed to the gills.  They were nice enough to bring home one of my furniture finds that I couldn't fit in my car.
Our group in line waiting to pay.  I'm so sorry I don't have everyone's names.  I wish I had brought name tags to keep up with everyone and on who had blogs too.  It was a fun group!
Next stop, Queen of Hearts antique mall, which is getting ready for a big move over to Sandy Plains Rd. in the old Big Lots.
They were nice enough to have coffee and donuts for us.  Many folks bought here too.
Across the street was Bargain City and we enjoyed this stop as well.
Heidi and I were cracking up at this monstrosity.  Who in the world would make this?  We thought it must be hat boxes made to look like a wedding cake with all that lace and flowers.  It's just hideous to me, but someone must have thought it beautiful at one time.  Please don't tell me your mother made that.
Me, Kelly, Lisa, and Heidi at Bargain  City.  Heidi has more about Thrifting Day at her blog too.
Another thriftstore across from the Big Chicken (oh, I should have taken a pic of that for ya'll).  I found one to show you from online……
Marietta's Big Chicken!  Have you ever seen anything like this?  I grew up with this Big Chicken, so  it is perfectly normal to me.  It was almost torn down due to disrepair back in the early 90's and we natives rallied and got it saved from the wrecking ball.  It started out as an independent chicken restaurant way back when (I don't ever remember it not being in this location) and then KFC bought it and restored the chicken.  We are forever grateful.  Marietta would not be the same without our Big Red Chicken!  HIs beak moves up and down.
So, back to the thriftstore across the street.  Inside, I thought this bamboo-like table and chairs was a pretty cute item.  At $200, it could easily be painted and the chairs recovered and brought up to date.  Looks very 60's to me and a fun find.
Those diehard thrifters found something here too.   And so did I!  I told them not to let me buy any furniture, but what did I find?
This cute end table for $45.  I opened the drawer and it's an  old Ethan Allen piece.  I'm planning to make it over for my den with Annie Sloan chalk paint.  That was a bargain for this solid wood table.   I did sell  my old end table when I moved, so I really do need another one.  It will probably be painted Duck Egg Blue and I think I'll sand down the top and stain it Dark Walnut for a mix of tones.  There were 2 of these tables, but I only bought one.
This pretty white ceramic planter for $5+ came home with me too.  It will be perfect for a plant.
I seem to love white ceramics and this one was about $3 and will also hold some plants.
These orange and white Pier One placemats were $5 for all 4 and will look great on  my new porch.
At the last Goodwill stop, I found these 2 cute pillows at $1.91 each.
This fabric with chocolate brown gold and turquoise will also look nice in my den.  Yay, back to thrifting feels good.  I love finding treasures that I can use in my new house.
So, what did YOU find this week? There are a TON of parties out there to highlight all your projects, so please let's keep this one about thrifty finds that were bought 2nd hand! Not a great sale from the store, or a recipe, or just a plain project, but 2nd Hand finds only! And please DO NOT go back in your archives to OLD posts and link up. Let's keep this party fresh and current! If you have already shared your find in a previous party, DON'T share it again! Please, girls, I don't want to have to delete links.
Add your permalink to the link list, which is the actual post that you did for this party, NOT your general blog url. To get the actual post, after you publish the post, just click on the title and THAT will be your party post url. PLEASE try to get the correct url in the first time!
Please add my button to your post or blog OR at least link back to this post in your post. That's all I ask. It's common courtesy to link back to the person having the party, so that all of your readers can find it too.
Please do NOT link to an Etsy shop or something similar (even if you think it's a fabulous deal) or I will delete the link. This party is for sharing thrifty finds from yardsales, thriftstores, or something along those lines. If I see that your post is not really on track with this theme AND you don't link back, I'll delete your link. Sorry, but I'd like to keep the party consistent! IF YOU SEE THAT YOUR LINK HAS BEEN DELETED, IT IS PROBABLY BECAUSE IT IS NOT IN LINE WITH THIS PARTY THEME.
Again this year, I'll be highlighting great finds from the party, so if you want your find highlighted, PLEASE link back to the party. Only those who link back will be considered for highlighting the next week. Thanks!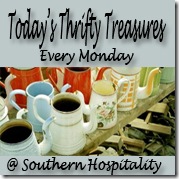 Don't Miss a Post, join my list!