First, the 2 giveaway winners!
Georgetown Cottage Crafts winner is #49 – Gail who said she loved the blue shellbox.
Thermacell lantern winner is #70 – Linh C – who said she sweats a lot and would love to try it. 🙂  I think Linh lives here in Birmingham.  Congrats to you both!!
Ya'll really got excited over that Thermacell skeeter lantern and I can understand why. I was so happy that it's working for me so I can enjoy that porch now. I will show you the refills that I just bought.

Our Academy stores have refills, so I got this box from them, at $19.99, there are 4 cartridges and 12 mats, so this should last me the rest of the summer, I hope.  One thing I do want to mention.  Each cartridge is supposed to last 12 hrs., but it didn't last that long for me.  My cartridge probably lasted 5-6 hours at most.  So, that was my experience and I wanted to let you know that up front.  But I think this combo pack is not a bad price, once you get the lantern. Totally worth it to repel those bad boys!
The mats slide into the top of the lantern and start off blue when they are new. You change them when they turn white.  My kit came with one cartridge and 3 mats and I forgot to change the mat, so I have extras now, but it's probably important to notice that too and change when needed.
The cartridges screw up inside the lantern and release the repellent through the mat.  So, that's how it works, just wanted to pass that along.  I hope it works for all of you too, if you do decide to try it.  I'm very pleased with it.  The skeeters disappeared within about 5-7 minutes of turning it on.  The good thing is you can turn it on and off and save the repellent for when you are outside.  Now that I know how long it lasts, I will be more careful with turning it off.
I took a little break this weekend from yardsaling (I know, imagine that!), but will share last weekend's fun.  Here's my thrifty treasure for the week though.  Remember that pottery class that we got to participate in?   Well, we finally got them back and this is the final of my 3 pieces of pottery that I got to do in class and I love how it turned out.  WOW, what a difference the glaze and firing does to that lumpy clay.   It was fun to go back to my post and see the before shots of the clay.  Very proud of my little pieces, I am!  And this pic was taken with my NEW camera! I am loving the shots that are coming out of this camera, so stay tuned for more.  Right now, it will be a mix of new and old camera shots.
All the rest of these following photos are from my old Canon camera.
This is Wendy, one of my online decorating friends from way back. We were both on a long-time decorating board for several years, which is still together, but much smaller and less active than it used to be.  I don't have time anymore with blogging taking over.  Wendy is a California girl (Orange County) and was in Atlanta on business last week, so she drove over to Oxford/Anniston, AL to meet up with me and we had fun browsing around a few antique shops and catching up on news.  We have met up several other times before over the years.  We started at Starbucks for coffee and then headed out.
This is an antiques store in downtown Oxford and we browsed in there first.
Lots of pretty pieces in here and some good candidates for a paint job.
You never know what you'll see in an antiques store.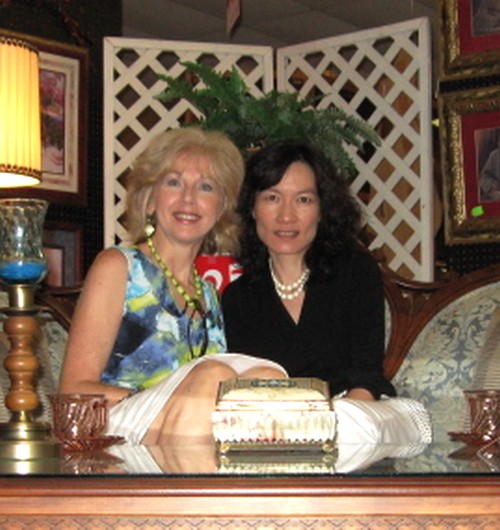 Me and Wendy.
We then moved on to Apple Barrel Antiques, a small mall which was full of lots of things.
Loved the old fashioned appeal of this vintage fabric.  Wouldn't this be pretty on a porch?
There was one whole area of white shabby chic furniture that you shabby chic girls would have loved.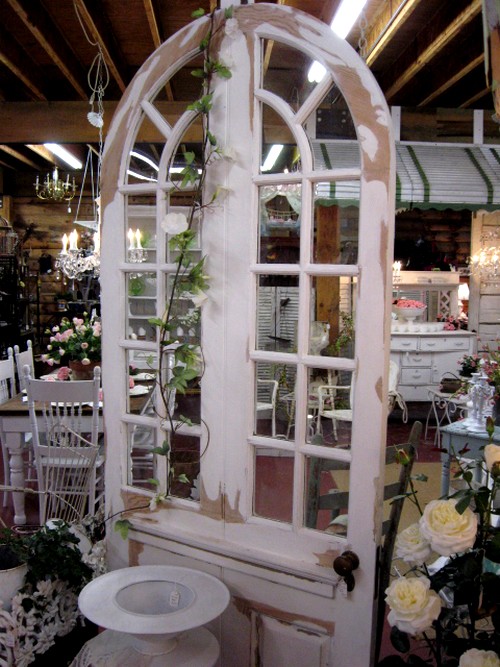 Love, love this old door!  I should have checked the price on this. 
Chippy white shutters.
Lots of pretty eye candy.
Shabby chic galore.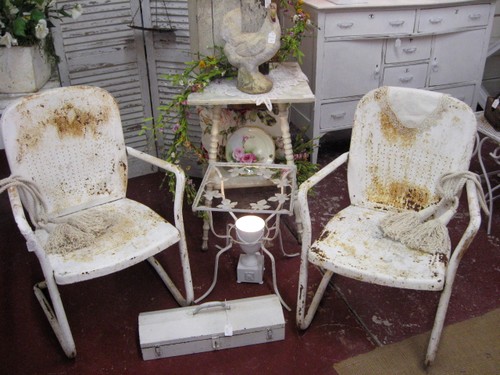 These old vintage chairs were cute too.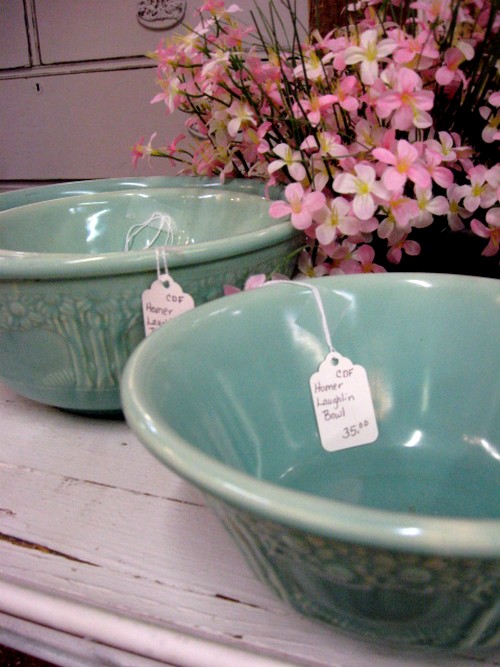 Lovely green bowls.
A pretty white painted bed.
I adored this old bamboo table.  So cute!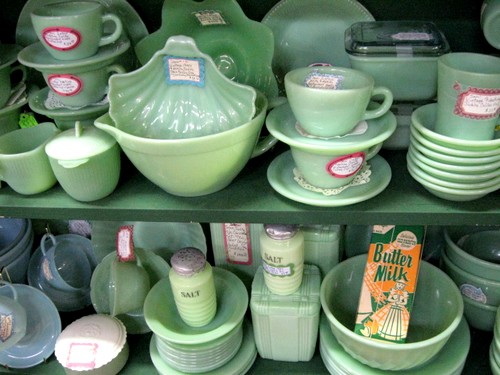 Jadite for the collector.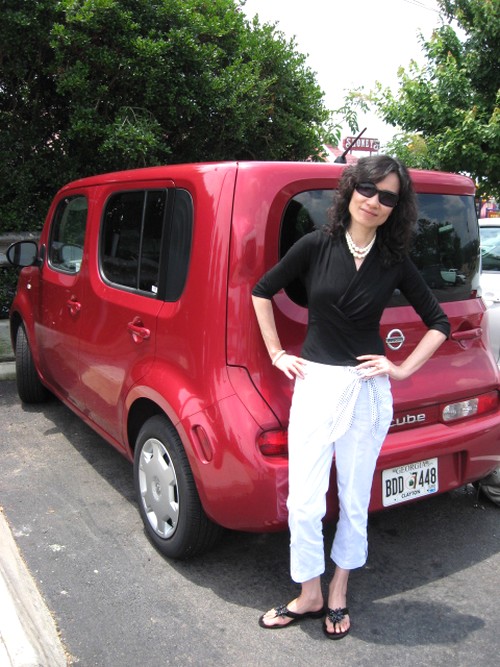 And then Wendy had to say goodbye and drive back to Atlanta to hop on a plane back to California.  It was great to see her again, always fun to catch up with old friends!  Wendy's job is an engineer (she is a brainiac!), but she is also a fabulous decorator too.   Check out that Nisson Cube, have you ever seen one of those?  I hadn't, they are cute. 🙂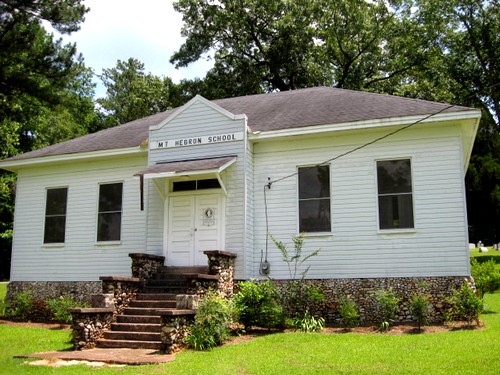 On the way back home, I stopped at this old little school that I had seen many times on Hwy. 119 after you go through Leeds and it has always caught my eye, so I decided to stop and take some pics.
Looks like Little House on the Prairie one-room schoolhouse doesn't it?
1916 is the date it was opened.  Love this little old school.
So, now it's YOUR turn for the party this week! What have YOU found lately. Add your link to the Linky list and remember our guidelines for the party:
Add your permalink to the link list, which is the actual post that you did for this party, NOT your general blog url. To get the actual post, after you publish the post, just click on the title and THAT will be your party post url. Last year, I can't tell you how many links I had to fix. This year I might get mean & delete them, so PLEASE try to get the correct url in the first time! 🙂
Please add my button to your post or blog OR at least link back to this post in your post. That's all I ask. It's common courtesy to link back to the person having the party, so that all of your readers can find it too.
Please do NOT link to an Etsy shop or something similar (even if you think it's a fabulous deal) or I will delete the link. This party is for sharing thrifty finds from yardsales, thriftstores, or something along those lines. If I see that your post is not really on track with this theme AND you don't link back, I'll delete your link. Sorry, but I'd like to keep the party consistent! IF YOU SEE THAT YOUR LINK HAS BEEN DELETED, IT IS PROBABLY BECAUSE IT IS NOT IN LINE WITH THIS PARTY THEME.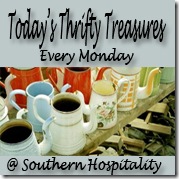 Let's have some fun this week with the Thrifty Treasures party!
Don't Miss a Post, join my list!