With our big adventure in Seattle, of course yardsales took a backseat this week, but I do have a shopping trip to share that Debbie and I took a few weeks ago. She had read about a little resale shop over in Leeds, so we went over there to check it out.

Called Second Time Around, it's owned by a nice lady and her son and other relatives help her run the place.  They had some nice things and Debbie found a few thing for herself and her son's new house.  I found one little treasure I'll share with you.


This is Josh, the owner's son and we had fun chatting it up with him.


Check out this old folding screen with the trendy lattice wallpaper on it.  I do believe this was probably done years ago when this lattice pattern was popular then. It would be so cute in the right spot.


A pretty dining table and chairs with lots of potential.


Cute chair sitting outside the shop.


Lovely old vintage wicker planter.


This metal bamboo piece didn't have glass, but these pieces are really popular again and would be pretty painted a bright color.


A pair of vintage dining chairs.


Loved this precious Staffordshire-like lamp.  I didn't ask the price, but they were pretty reasonable on things.


This vintage marble table was $100, which I thought a pretty good price.  It had a gouge out on one side, but would be a pretty outdoor table.


Here's what I found for $10.  This pair of perched brass birds with a nice patina will go on my new porch.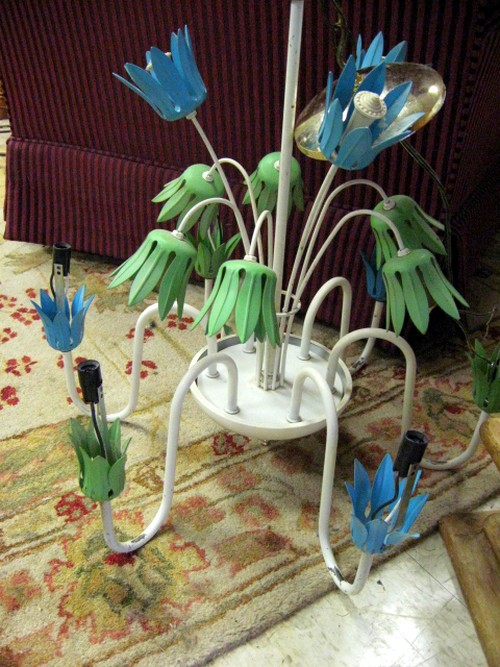 Debbie found this cute chandy which will go in one of her guestrooms.  I loved the rug it was sitting on too.

I loved this iron-like bamboo table (with wood top) and chairs too. They were also $100, which I didn't think was bad. Lots of character in this set.
Now it's YOUR turn for the party this week! What have YOU found lately. Add your link to the Linky list and remember our guidelines for the party:
Add your permalink to the link list, which is the actual post that you did for this party, NOT your general blog url. To get the actual post, after you publish the post, just click on the title and THAT will be your party post url. Last year, I can't tell you how many links I had to fix. This year I might get mean & delete them, so PLEASE try to get the correct url in the first time! 🙂
Please add my button to your post or blog OR at least link back to this post in your post. That's all I ask. It's common courtesy to link back to the person having the party, so that all of your readers can find it too.
Please do NOT link to an Etsy shop or something similar (even if you think it's a fabulous deal) or I will delete the link. This party is for sharing thrifty finds from yardsales, thriftstores, or something along those lines. If I see that your post is not really on track with this theme AND you don't link back, I'll delete your link. Sorry, but I'd like to keep the party consistent! IF YOU SEE THAT YOUR LINK HAS BEEN DELETED, IT IS PROBABLY BECAUSE IT IS NOT IN LINE WITH THIS PARTY THEME.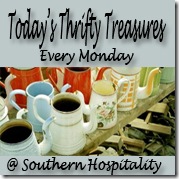 Let's have some fun this week with the Thrifty Treasure's party!
Don't Miss a Post, join my list!