Over the last 4 years of blogging, I have met some of the nicest bloggers that are out there and Traci, from Beneath my Heart is one of those who is near and dear to me and right at the top of the list.  Traci has a wonderful spirit.   Caring, compassionate, and beautiful, she exudes such a sweet heart.  I had the pleasure of meeting Traci last year in Nashville and getting to spend some time with her this year was so fun.  She is the real deal, loves to laugh, and is a down to earth Southern girl. My kind of friend.
(Traci and I hamming it up at an antique store in Nashville, grrrrrrr) 🙂
Traci is stopping by today to share her patio transformation that she did last year.  Outdoor spaces are so much fun and I followed along with her patio redo with anticipation along the way, as it turned from a plain concrete pad to a stylish space ready for outdoor entertaining.
Hi, Ya'll!
My name is Traci, and I am so glad to be here at Rhoda's wonderful blog, Southern Hospitality.
Rhoda holds a very special place in my heart.
She is one of the reasons I started blogging two years ago.
See, my precious mother found Rhoda's blog online and fell in love with it. She said, "Traci, you have to check out this blog! You would love it!"
My response was, "What's a blog?" 🙂
Well, I did check it out, and I was hooked. I fell feet first into blogland, and my life hasn't been the same.
God has blessed my socks off!
One of those blessings is Rhoda's friendship. She really reached out to me after my mom passed away a year and a half ago. I met Rhoda in person at Blissdom a few months after my mom had passed, and she took me under her wing and made me feel right at home with the other home bloggers. I am forever grateful to Rhoda. I tell her she was my little "angel" during that time in my life.
Now I am so blessed to call her my friend. And I know my mom would be beside herself to know that her little bloggin' daughter was guest posting on Southern Hospitality today! Isn't God good?
Well today, Rhoda and I are talking about Outdoor Spaces on our blogs.
I am going to share with you my Back Patio Makeover I completed last summer. It was my favorite project of the year!
And over at my blog, I am spotlighting Rhoda's fabulous deck makeover she completed last year. I absolutely love it. So please feel free to hop on over and see me after you finish reading this post. 🙂
When we moved into our home almost 7 years ago, there was an unfinished sunroom on the back of the house.
We left it like that for about a year, but we did not enjoy it. It was like a huge bug collector, and it would get scalding hot in there!
So my hubby and I tore down the walls of the sunroom and built columns to create a covered back patio.
We LOVED it!
It stayed that way for about five years, and it has been a great spot for summer cookouts and family get-togethers.
But last summer, I was getting tired of the gray concrete floor on our back patio. There were several stains we could not get rid of, and the concrete just left the patio looking bland.
I wanted to tile the patio, but we didn't have the money.
So I decided to stain the patio to look like tile. (Actually, Rhoda put the idea in my head, and then I researched it online.) Thanks, Rhoda!
We cleared everything off the patio…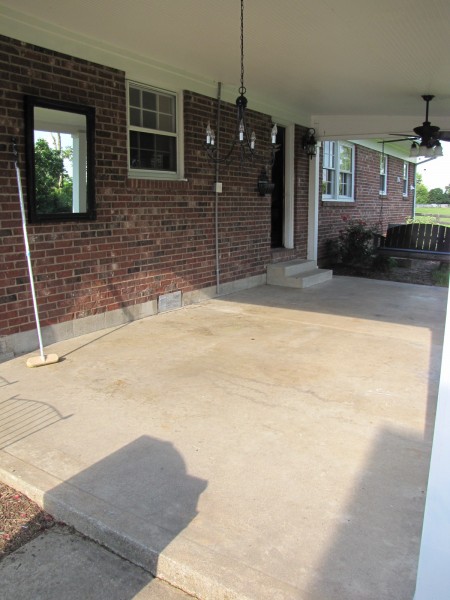 Then we measured and taped off the patio using1/2 inch automotive tape to create squares. This part really wasn't as labor intensive as you may think. (Just a little hard on the knees.) 😉
Next, we covered the patio with a concrete stain and sealer from Lowe's.
After it was dry, we removed the tape and had this!…
We loved it!!
To see the complete tutorial of how to do this project on your concrete patio, click HERE.
We added our furniture back on the patio with a little bit of a different color scheme.
I added drop cloth curtains to the corners of our porch to add softness and help shield the sunshine during the day.
We have spent so many wonderful days and evenings out on this patio. I truly treasure it!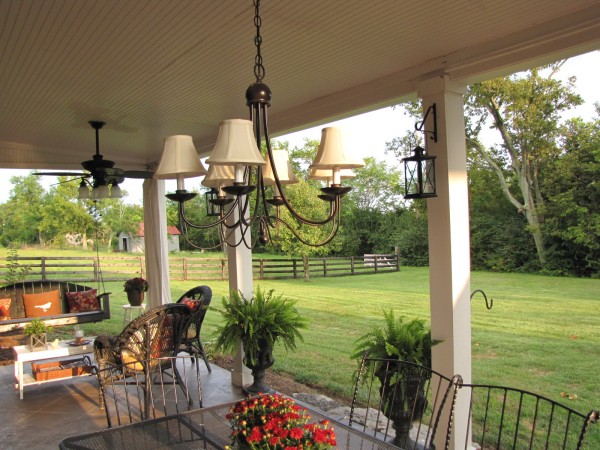 The "faux" tile was the perfect touch to dress up our patio!
Thank you, Rhoda, for letting me share my makeover with your readers!
Now I would love for you all to hop on over to my blog to check out Rhoda's fabulous deck makeover! I'll see you there!
Have a blessed day!
Traci
Traci, thank YOU so much for stopping by!  Outdoor projects are some of my fave and your stained faux tile patio is at the top of the list too.  I am a sucker for stained concrete!  If I had a house with carpet over concrete, I would rip that carpet up SO fast and stain the concrete. It is such an inexpensive and beautiful fix for concrete, whether it is inside or outside the house.
Are you doing any outdoor projects this year?  Tell us about it!
Don't Miss a Post, join my list!