I hit a few yardsales and the Briarwood Flea Market, which I went to last year and found just a few things this week.
From one yardsale, I found this incomplete set of green acrylic handled flatware for $1.  I figured for that price, these would be great for a picnic or eating outdoors.
At another house, I spotted this cute folding bamboo table tray.  He had it marked at $10, but when I admired it, he quickly said he'd take $5.  How could I pass it up for that?  I didn't!  This could come in handy on the porch when we are entertaining out there.
At one house, I found these cute Michael Kors lime green wedge shoes for $2 and some Gap white cotton cropped pants for $1. 
With all my lime green, these shoes will come in handy.  I wore the pants to church today so that's why they look wrinkled already. They are a nice crisp cotton/spandex and fit very nicely.  I love paying $1 for pants.
At the flea market, I found the vintage bullseye block for $2, and the small plate for 35 cents.
The taller Floraline vase was from another yardsale and was only 25 cents.
So, that was my week!  As I mentioned in yesterday's post, I'm definitely going to have a yardsale of my own sometime soon, probably September, so you Birmingham girls who are interested in stopping by, let me know.  I have to clean out some of my stash.
I've also been working on wallpapering and painting in my office nook this past week and it is looking SO gorgeous!  I'll be sharing that with you this week too.
And finally, the winner of the Arise Shine $50 giveaway is Kim #59, who said: "The trust charm is my favorite! I would also like to have the Children are a Heritage of the Lord boy charm."  I've emailed Kim to tell her the good news.
Now it's YOUR turn!  What have YOU found lately? Add your link to the Linky list and remember our guidelines for the party:
Add your permalink to the link list, which is the actual post that you did for this party, NOT your general blog url. To get the actual post, after you publish the post, just click on the title and THAT will be your party post url.  PLEASE try to get the correct url in the first time! 🙂
Please add my button to your post or blog OR at least link back to this post in your post. That's all I ask. It's common courtesy to link back to the person having the party, so that all of your readers can find it too.
Please do NOT link to an Etsy shop or something similar (even if you think it's a fabulous deal) or I will delete the link. This party is for sharing thrifty finds from yardsales, thriftstores, or something along those lines. If I see that your post is not really on track with this theme AND you don't link back, I'll delete your link. Sorry, but I'd like to keep the party consistent! IF YOU SEE THAT YOUR LINK HAS BEEN DELETED, IT IS PROBABLY BECAUSE IT IS NOT IN LINE WITH THIS PARTY THEME.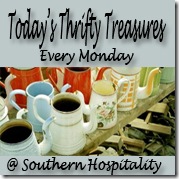 Don't Miss a Post, join my list!