Valentines Day is meant for sharing love with those people in your life who mean the most to you, so it's a well celebrated holiday that sometimes can be so commercialized.
I will fully admit that for the last few years, I have completely skipped over Valentines Day and all the sentiments that the day brings.  I've really just ignored it, because when you don't have a special someone in your life, that day is just like any other.  In fact, it's sort of depressing if you are single.  I think women get into celebrating Valentines Day more than men do, but there are many romantic men out there who like to express their feelings on this special day.
This year, since I will be celebrating Valentines Day with my special beau, I thought it would be fun to share some Valentines Day ideas in crafts and food with you today, some things that caught my eye via Pinterest.  I think most crafts for this day are pretty cutesy, so you have to decide if that is something you'd make for your guy.  For me, probably not, I'm not so into cutesy.  It's always nice to come up with something unique to show how much you care, but it can be shown in many different ways, from food, to endearing cards, to special personal gifts.
Amy from I Heart Naptime, decorated a side table with all things Valentines in pinks and reds, the color of the holiday.  Pinks and reds are great this month, since most of us are experiencing dreary weather.  Bring on the pink and celebrate!  I think a lot of blog moms tend to decorate for their kids and this is a fun way to celebrate with them, with candy in a glass jar, fresh tulips and a sweet hanging heart and banner.
You can never go wrong with sweets, in my opinion.  Most men love sweets and these lovely pink cupcakes are pretty as well as delectable.  Recipe at I Heart Naptime.
What a great way to start Valentines Day with a heart egg in the hole, from Cool Mom Picks.
I thought this idea from Cakewhiz.com was so cute!  Using edible markers, she wrote cutesy messages for her children and/or husband.  What fun to open up your lunch bag and find this!
This button canvas idea from From the Woman Cave is sweet and romantic. Collecting red buttons would be a challenge, but it sure looks nice as a sweet little Valentines Day reminder.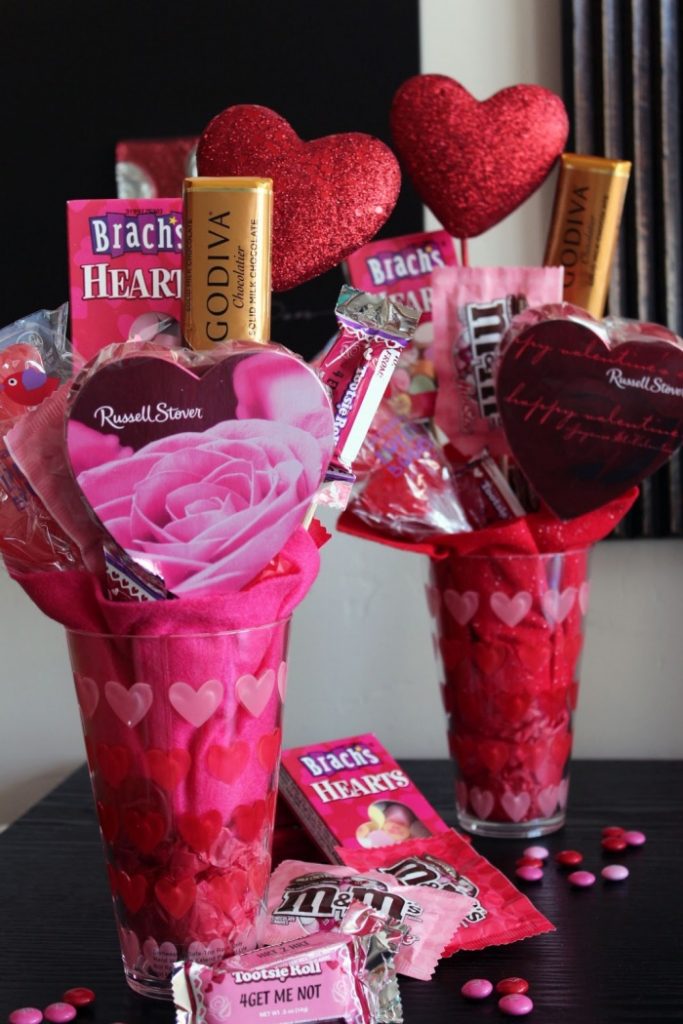 From Worth Pinning, fill up Valentines glasses with his favorite candy and add some felt and a cute heart pick.  Men love getting candy too.
Pink tulips and color matching M&M's, what a great idea for a Valentines table or centerpiece, from Evolution of Style.
All you need is a heart shaped cookie cutter to make any meal Valentines Day worthy!  Cute idea from Viralnova.
How about this sweet treat at home, Chambord Creme Brûlée?  From NYC's Manhattan Monarch Rooftop & Indoor Lounge, Executive Chef Daniel Billheimer will introduce a Chambord Crème Brulee at Monarch on Valentines weekend. The recipe can also be prepared at home, a simple way to surprise your sweetheart with a treat that is sure to impress.
I've never made Creme Brûlée at home, but it's one of my favorite desserts ever!  Wonder if you can use one of those long lighters for the torch?  Have you made it at home?  Recipe below!
Chambord Crème Brulee
Yield: Nine 3.75oz. ramekins
Crème Brulee Ingredients
7 egg yolks
24 oz. heavy cream
4 oz. sugar
3/4 tsp real vanilla extract
1/2 tsp salt
7 Tsp Chambord cordial
Garnish
Raw sugar
Mint sprig
Blackberry or black raspberry
Directions:
Preheat oven to 325 degrees. If convection, turn to low fan.
In a small pot combine cream, vanilla and salt and heat gently on medium high. Keep an eye on cream mixture so it doesn't boil over. Separate egg yolks into a medium mixing bowl and whip in sugar until creamy. Once cream mixture is gently simmering, remove from heat and temper it into the yolk/sugar by whisking the two together slowly, so as not to scramble the yolks. After the cream mixture is totally combined with the yolk mixture, whisk in the Chambord.
In a half hotel pan, place nine 4oz. ramekins and fill them with the crème brulee mixture leaving 1/2 inch. Add boiling water until it reaches half way up the ramekins. Gently place the pan in the oven and set a timer for 20 minutes. The cooking process might take a little more time depending on the oven, but remove the pan when the custard is set up and just barely jiggles when the pan is shook. Remove the ramekins from the water bath on to a sheet pan and place in refrigerator to cool, about 2 hours.
When ready to serve, apply a layer of raw sugar to just cover the custard. Gently caramelize the sugar with a hand torch rotating the crème brulee slowly to caramelize evenly. **As an alternative to a hand torch, set your oven to broil and place the rack just underneath the element/flame. Make sure the creme brulees have set (preferably overnight) and the ramekins are cold before placing them under the broiler for 10-15 minutes or until the sugar begins to caramelize.
Garnish with mint sprig and one berry for accent and serve.
How about you?  Do you celebrate Valentines Day with your sweetheart or your kids and family?  Tell us how you celebrate! 
Don't Miss a Post, join my list!