Hey there friends!  It's Christmas Eve and I'm sure you all are scurrying around like we are, with family gatherings and Holiday festivities all around you. It's such a fun time of the year as our loved ones are drawn closer and we are thankful to have them all in our lives another year. We are having Mark's family over this afternoon for a shared meal and fellowship and we're looking forward to welcoming them into our home. Tomorrow we'll be with my family, enjoying Christmas breakfast and lunch at my sister's house with Lauren and her precious girls. Christmas sure is more fun with these little ones in our lives!
Today I wanted to share a little bit of our trip to Franklin, TN recently. We went up there for a little Christmas break and to see that quaint small town again. It's always a fun place to visit.
It was a little rainy and drizzly while we were there, but it was still a fun trip. The roundabout in Franklin is so pretty, decorated with a big tree and looking all festive.
We were starving when we got into town and went immediately to 55 South, where I ordered this off their menu, a meal I had almost 2 years ago and have been thinking about since then.  These are Garlic Crab fries and a wedge salad.  Perfection! They have really good food and I've eaten here several times. We also had dinner one night at Cork and Cow, which is affiliated with 55 South, I think. Upscale and very good food too.
I always love seeing this beautiful historic Presbyterian church in Franklin. Such a beautiful and stately church.
Downtown Franklin was adorned in much Christmas finery and we strolled in and out of many of the shops.
I found Christopher Radko Shiny Brights in this shop and added a box to our collection.
I always enjoy browsing the Iron Gate on Main Street.  It's such a pretty shop and I thought this was such a pretty display, the feathers and glass with faux snow.
This was a dressmaker former with a Christmas tree skirt.
And have you ever seen a chandelier made of nothing but knives?  Me neither, but it sure is eye catching!
This is the only pic we took of ourselves.  We were dodging raindrops most of the time.
We hit a few antiques stores too and saw lots of interesting things. One of them was called Tag Treasures in Franklin, but not downtown.
We also went to Leiper's Fork, a cute little community not far from Franklin and browsed the shops there, as well as grabbed a BBQ sandwich at Puckett's Grocery.  Puckett's is well known in Franklin, such a charming spot to visit. There's also a Puckett's in downtown Franklin to and we ate there on Friday night and took in the live music.
A shop in Leiper's Fork.
I think these pics are from Tag Antiques, above and below.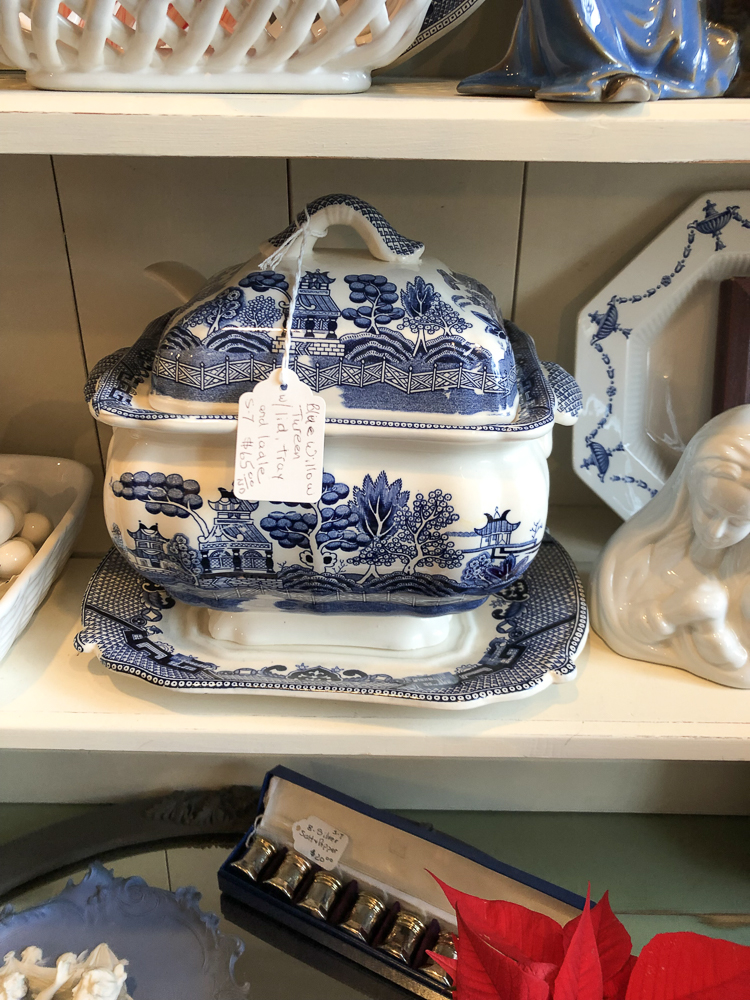 We also went to a big antiques mall closer to Nashville, Gaslamp Antiques and Gaslamp Two, both great places to browse.  This is a consignment store near those places too. I spotted these pineapple motif bamboo chairs.  They were pretty, but I don't have room for them! We did enjoy browsing them all though!
We stayed at a cute Air BnB called the Farmhouse at Spencer Creek and it was a great place to stay. It's a guest house behind the owner's home, renovated into a spacious guest house with a Queen bed, living room and dining area, all open concept with a complete kitchen. Very cozy and comfortable place to stay and so reasonable too.  If you're going to Franklin and want a cozy place to stay, I'd highly recommend it.
We enjoyed a couple of days in Franklin and loved seeing it all decorated for Christmas. The first night we were there, we saw a Christmas show at the Franklin Theater and that was so fun, such a festive way to start our trip.
Franklin looks good at Christmas!
I wish for all of you, my dear sweet readers, a wonderful Christmas with your families and friends. It's a time to be thankful that we have our loved ones and to treasure the time we have together. I know that we sure do this in our family, as we know that the coming year can bring change that we may not know is coming. With our aging parents, we know that we can't take this time for granted, we must treasure it in our hearts and make the most of each and every Christmas we have with them.
I'll be back later this week, but will be taking a few days off! Merry Christmas my friends!
Don't Miss a Post, join my list!