Growing up in the Atlanta area, of course I knew all about Athens, GA and the fact that it's home to the University of Georgia, a college town in all the best ways. I've never spent much time in Athens, even though Lauren graduated from UGA and went on to law school there, so 7 years of her life was spent in Athens. I only went for her graduation and she gave us a quick tour of campus, which was in 2004 and I didn't remember much about it. She loved it and really didn't want school to end, but she has gone on to have a wonderful career in law in New Orleans.
So, what's the appeal of Athens? I didn't really know all the charming facts about Athens until I recently spent 2 days there. And let me tell you, there's a lot to love about Athens, GA. It's obviously home of UGA and the Georgia Bulldogs, but it's also a whole lot more. You fellow Georgians will be aghast to know that I've never been to a Georgia football game! It's true! Honestly I'm not a die hard GA football fan like so many I know that grew up here. The last time I cheered earnestly for UGA football was when Hershel Walker was there and that's been SO many years ago. I digress.
Come along with me and I'll share a recap of 2 fast moving days in Athens!
Southern Living magazine says it this way, "If heaven is full of artists and hipsters it will probably be something like Athens."
Yeah, there's something about Athens that just draws you in.
I was there as part of a group media tour and we were escorted around town, seeing the highlights and attractions in a short amount of time, but I thoroughly enjoyed this short, but informative view of Athens the college town. We were hosted at the brand new Homewood Suites in downtown Athens. It was a nice place to rest after the day's end and perfect if you're heading to Athens for a ball game or events, as it's close to everything downtown.
Below is a recap of things we took in, excursions, food, and more that we saw and tasted while in Athens. I hope you get some ideas of your own if you've never been to Athens and want to spend a weekend there. There's plenty to do, the food is outstanding and you'll enjoy the college atmosphere. There's something about seeing college students scurrying around that just made my heart happy. Young people in the prime of life, figuring out what they want to do with their lives.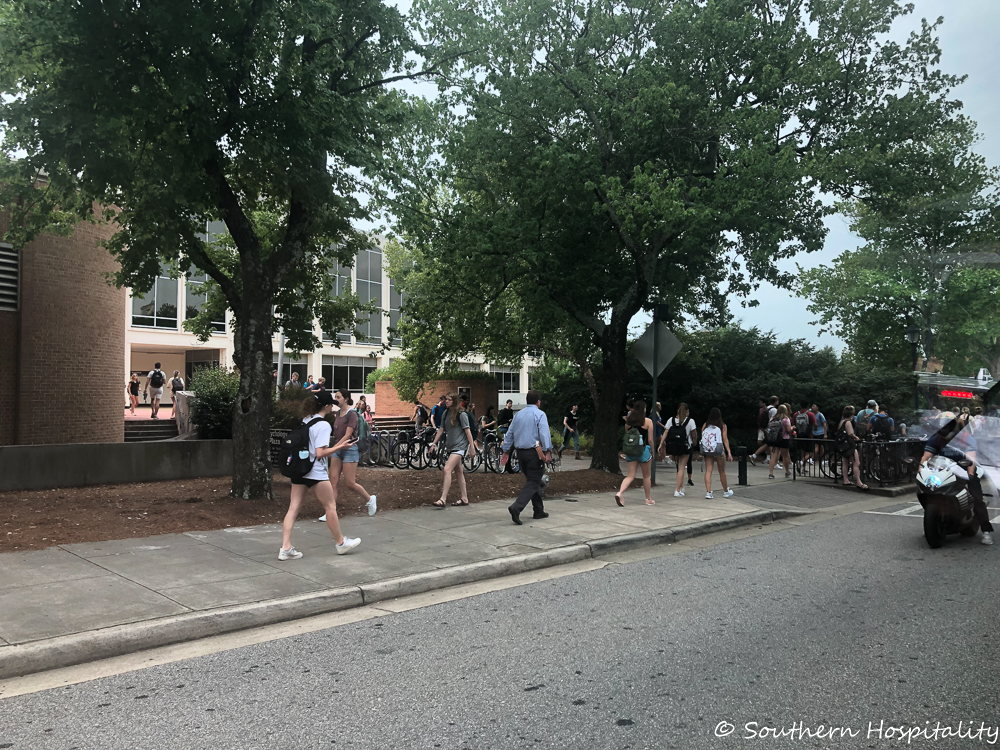 I didn't graduate from college, I only went for 2 years and never really knew for sure what I wanted to be when I grew up. But I made it fine without a college degree and then blogging found me later in life, so that's been a bonus. All's well that ends well!
Here are 10 things to do in Athens. If you only have a short weekend to take in the sights, make the most of it and these ideas will get you started. If you go to Athens though, I do hope you'll get to see a UGA football game. I know it must be exciting, I've heard all about it for years!
1.  Take a Tour of UGA's Historic North Campus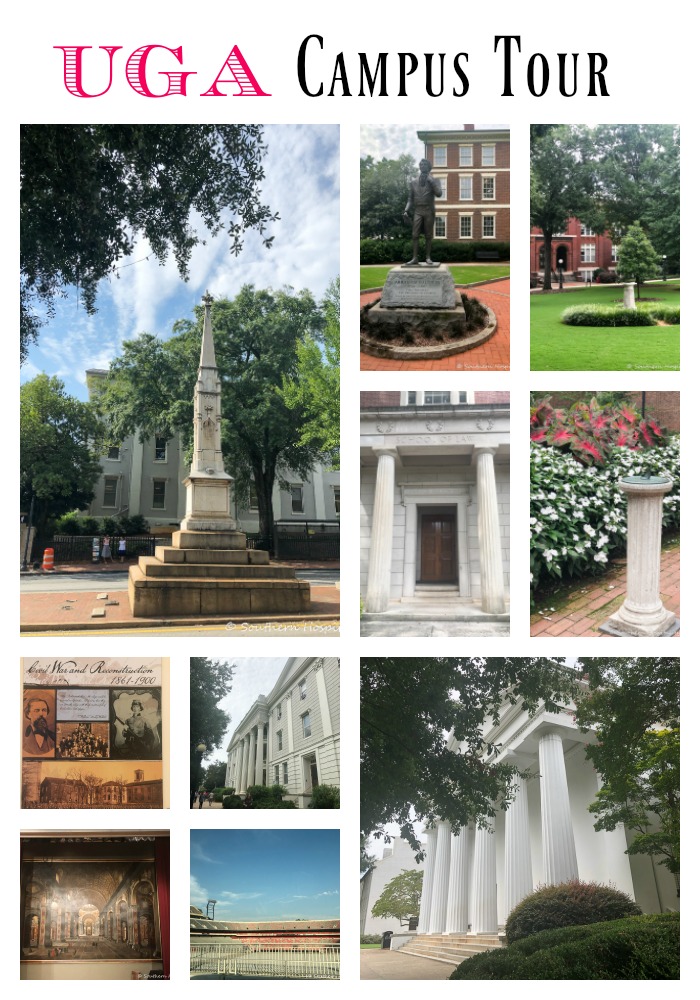 The UGA campus is so pretty to me. Of course, I haven't been to a lot of college campuses, so my knowledge is limited, but I loved the feel of Georgia, walking on those hallowed grounds that so many students have been to over the many years UGA has been in existence.
The street outside the famous arch.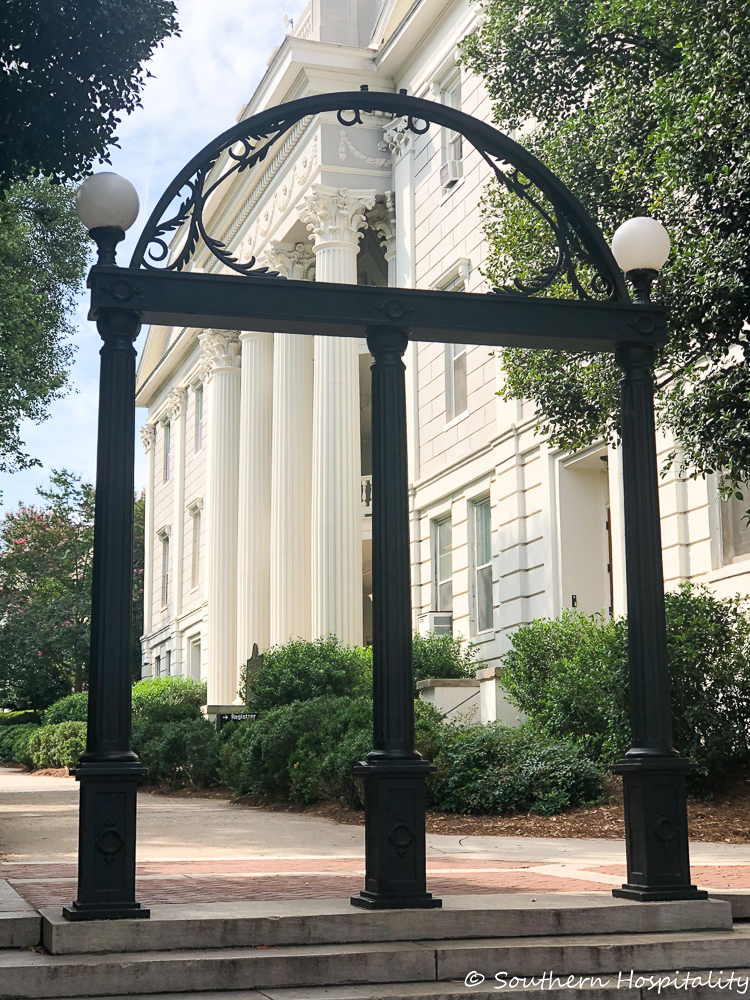 This is about the only part of visiting Athens when Lauren was in school that I remember. She took us to the famous Arch, which is the part of town that signifies the beginning of the college. On one side of the arch is the town of Athens and through the arch is the college campus. It was fun to see it all again and to stroll the grounds.
The Arch is designed after the State of Georgia seal with the three columns representing the motto of wisdom, justice, and moderation. It's one of the most photographed spots on campus.
History plaque of the University of Georgia.
Herty Field, site of the first UGA football field.
I was texting Lauren pictures as we strolled around campus and she was loving that. She has lots of fond memories of UGA. This is my cousin, Howard, who blogs at Back Road Planet and who I've introduced before, but he was on the tour as well and we took an obligatory photo in front of the Law School building for Lauren.
I walked inside to see the building and it was beautiful, as Lauren said it was.
2. Take a Music History Tour
The music scene in Athens is dare I say, world renowned. It wasn't necessarily the kind of music that I love, even though it was my era,but I know countless people revere and love REM, the B-52's, and Widespread Panic, the top bands that have come out of Athens. Hundreds of bands still call Athens home is what I've read.
With that said, doing a tour of the music history of Athens was still very interesting for me even though my own preferences in music don't lean that way. We took a bus tour with a guy named Paul (seen below), who came to Athens back in the 70's to college from Decatur, GA and never left (as an aside, I asked him where he came from and when he said Decatur, I found out he and Mark both graduated from the same S. Dekalb High School, although he was younger than Mark). He was full of knowledge and passion about the Athens music scene, the history, and what's happening now. We saw some of the landmark buildings where REM played as well as many other famous bands and how Athens has grown into being a mecca of great bands and music.
Rock, hip-hop, Americana, Indie and classical music play almost every night of the week. With affordable music venues and diverse talent, Athens was called "Live Music Central" by the New York Times.
There's Paul!
REM gold records.
3. Stroll the State Botanical Garden of Georgia
I had no idea there was a Georgia State Botanical Garden in Athens. Established by the University of Georgia in 1968, the botanical gardens is a beautiful place to stroll and take in the beauty of nature. The garden is 313 acres with 5 miles of walking trails, and is meant for the study and enjoyment of nature. The Alice H. Richards Children's Garden just opened in March of this year and a new Porcelain Museum is scheduled to open later on.
I thoroughly enjoyed seeing the botanical gardens and taking in just a part of what they have to offer. We didn't have a lot of time there, but I'd highly recommend visiting. Lauren said she loved going there when she was in school.
4. Tour a local Athens Ceramics Studio
Athens has a ceramics studio that was a pleasure to visit. Rebecca Wood came to UGA in 1975 during the arts and music heyday and never left. She began as an artist and then evolved her business, R. Wood Studios into one of the largest pottery studios in America. Employing 6 artists who oversee the working of the studio allows Rebecca to pursue her creative interests. She's also a photographer and a blogger.
5. Dine out and partake in delicious bites.
Dining out and the food scene is big in Athens. With restaurants Five and Ten, The Last Resort, Weaver D's, home-made and more popping up each year, Athens has some star attractions. The influence of Hugh Acheson, a two time James Beard Award winner, he has put Athens on the culinary map with Five & Ten (which we sampled), as well as an expanding list of restaurants opened by chefs trained by him.
Peter Dale has had great success with The National, Seabear Oyster Bar, Maepole and Condor Chocolates. We ate dinner at The National and had chocolates at Condor and I can vouch for both!
Mimi Maumus is getting some national attention at home.made, drawing from her New Orleans roots. We also had lunch at home.made and I enjoyed every single bite.
All the meals we had in Athens were truly delicious and a treat to enjoy!
]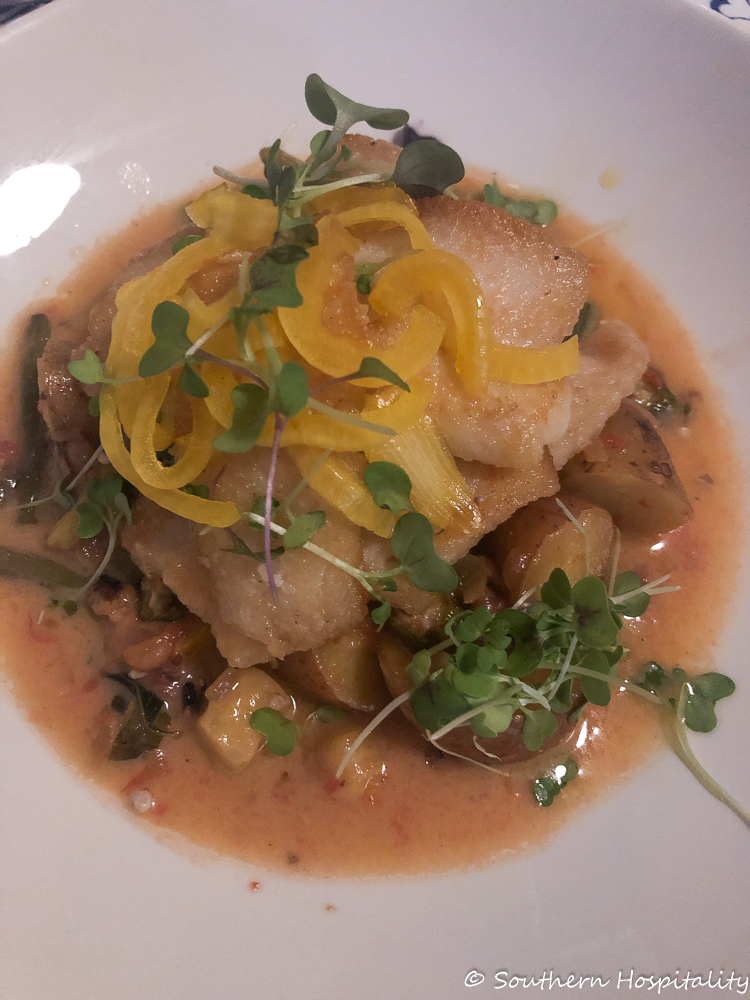 My entree at The National, so delectable.
Many of my readers were telling me to go to The Last Resort and I was so happy to see they were one of our stops.
The atmosphere was so fun and it's in such a neat building.
Fried green tomatoes appetizer was delicious.
I got their ravioli special of the day and it was outstanding! I would totally get this again.
I don't know how I had room to eat this pie, but I somehow managed. Such tasty bites!
Another great stop for lunch one day.
As you can see, we tried some appetizing food along the way. It was all so so good!
We had dinner here the last night and it was amazing as well. This is the Hugh Acheson restaurant in an old house.
My entree fish dish was amazingly delicious.
The sorbet was such a treat too.
While I was sharing on Instagram, many of my readers were telling me that the day we were there was rush day with the sororities. I don't even really know what all that means, but I think it's the actual day they all find out if they are in the sorority of their choice. I kept hearing "look for the girls in white dresses". Well it was raining like crazy that night, but right next door to Five and Ten where we had dinner, were several sorority houses waiting for the new girls to get there. I saw a big bus drive up and drop girls off and they were all scurrying around with umbrellas trying to stay dry, so I did get a glimpse of the white dresses. You could feel the excitement in the air!
6. Tour the local craft breweries. 
The first day in Athens, we stopped by two local breweries. Even though breweries aren't my thing, they have captured a huge audience. We have a new one coming to Acworth soon, so I know they are big destinations for the younger crowd.
Howard and I doing a selfie at Creature Comforts Brewing Company.
Our Athens media group enjoyed the tour and tastings at Creature Comforts. Three Athens breweries are producing award winning craft beer with happy hour tours and tastings.
7. Art and Culture
As part of the University system we also toured the Georgia Museum of Art. Founded in 1945 it is the state's official museum and hosts a permanent collection of more than 10,000 works of art as well as a variety of traveling exhibitions. There are many established artists featured over a wide range of cultures and historical periods.
This beautiful home is the Lyndon House Arts Center and I loved the exterior so much. The visual arts complex that's attached to the back of the house includes large airy galleries, a children's wing, artists' workshops and a gallery shop.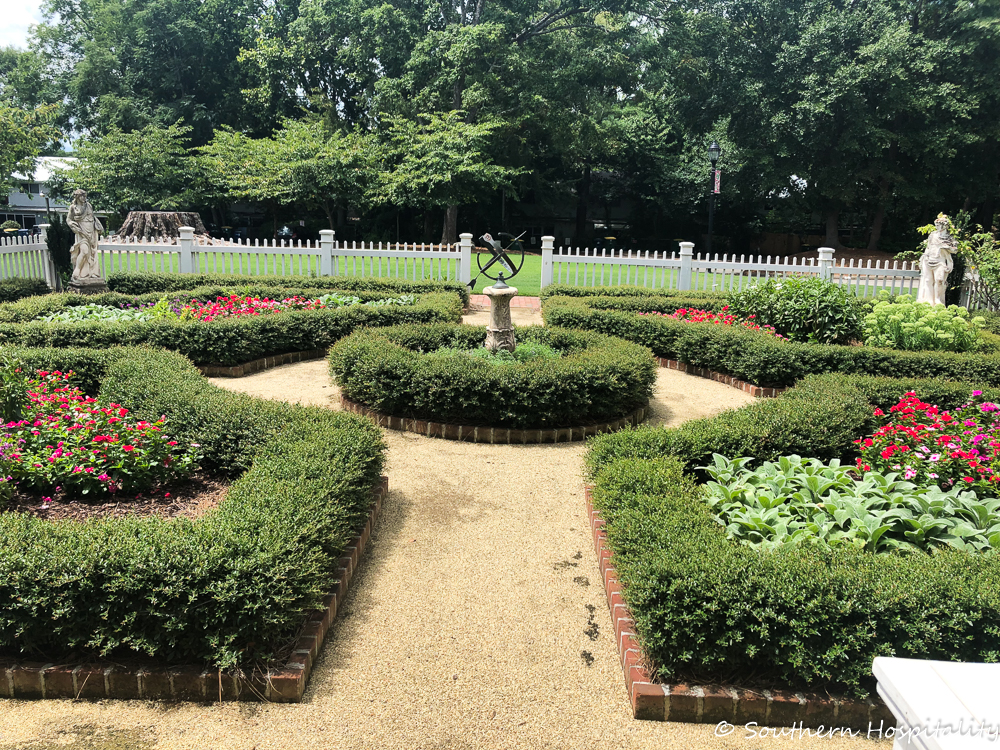 8. Stroll and Shop Downtown Athens
We had a chance to spend some time downtown Athens and visited Condor Chocolates. There are lots of walkable shops and restaurants in downtown.
Condor Chocolates is owned by brothers Peter and Nick Dale, who were born and raised in Athens. Their parents' love story began in Ecuador, where their American father met an Ecuadorian woman while backpacking.
Eduador, home of the finest cacao in the world, Condor makes small batch bean-to-bar chocolate bars, truffles, chocolate, hot cocoa, gelato, and a variety of confections.
I can vouch for the deliciousness of the chocolates!
Avid Bookshop is another stop on our tour and is such a charming homespun shop. An independent community focused book selling shop in Athens, Avid has two locations.
Founded by Janet Geddis, Avid has been named by Flagpole readers as Athens' Favorite Local Business for six years in a row.  And Avid has been on the Bulldog 100 list 3 years in a row, indicating that Avid is one of the fastest-growing businesses owned/run by a University of Georgia alumna/alumnus.
I wanted to peek inside Red Dress boutique, but they were closed the day we were there. I've heard about them and follow them on Instagram.
9. Take in the Beautiful Historical Homes & Gardens
I didn't have a lot of time to explore Athens historic homes, but I couldn't help but notice an abundance of them, like the Taylor-Grady house. We had a car and Howard and I took the time to drive by here and see it closer.
Antebellum Athens represents four historic house museums which all show distinct architectural styles from different decades of the 19th century. Represented are the Federal, Greek Revival, and High Victorian periods. Tours are available through Classic City Tours at the Athens Welcome Center. I would definitely enjoy going back and touring some antebellum homes, one of my favorite things to do.
UGA President's house is an absolutely stunning home built in 1857.
So many beautiful homes line the streets of Athens.
What really amazed me were the number of sorority and fraternity historical houses. Such grand and elegant homes now house college students. I hope they take care of them and keep these houses up. Who owns them and takes care of them? I'm sure there are stories behind each of these homes, but I know nothing about sorority or fraternity life, since I didn't experience a college like this. Lauren did not join any sororities either so I didn't hear stories from her time at UGA. I'm sure some of you could tell me more about this part of college life!
10. Watson Mill Bridge State Park
This last stop is not in Athens proper, but about 30 minutes out in the country, Watson Mill Bridge State Park. This beautiful covered bridge is a park that Howard wanted to visit, so I tagged along too. It's definitely worth seeing in person. He was doing research for a North Georgia Swimming Hole story on his blog, so you might want to check it out too.
As the sign says, it was a once thriving mill town and this is the remnants.
The old covered bridge was picture perfect that day with blue skies.
Several people were swimming in the water.
And it was a great spot for a photo.
I hope you enjoyed this pictorial tour of Athens, GA. As I mentioned, it was a fast 2 day tour and you can see we covered a lot of ground in those 2 days. I can definitely see why Athens is a beloved city in our great state of Georgia and I would enjoy going back for more adventures one day. And maybe a football game with those Dawgs, who knows?!
I'm sure Athens is near and dear to many of you, so feel free to leave your comments, I'd love to read them!
This media trip was hosted by the Athens Visitors Bureau and our expenses were covered. It was my pleasure to be there! 
Don't Miss a Post, join my list!