It was my pleasure again for the 2nd year, to be invited back to the Omni Grove Park Inn as a judge in the 23rd annual National Gingerbread House competition which has a rich history at the inn.  I absolutely loved being there again, they treat us so nice and make us feel right at home and getting to experience this historical inn for a few days and nights is such a treat.  I took my niece, Lauren, along with me again and it is something that she looks forward to now. She has long loved this competition and has always wanted to see it in person.  That I get to include her in this fun event is a wonderful treat for me too.  We had some fun aunt/niece time together, which we don't get often these days.
I always have to go out on the terrace at the Grove Park Inn and take a picture of this view.  Oh, this view is amazing!  Those mountains and surrounding countryside is just breathtaking and you can see downtown Asheville from here.
The inn has been added onto over the years, with 2 wings on either side.
They've done a great job with it all and out here on these terraces, it just has such a great feel and ambience, especially when the sun is out, like it was on our first day here.
Blue skies and that beautiful stone inn is a gorgeous sight.
Looking down towards the spa area, which is very well known.  Lauren and I got to experience a spa day again, with the hot tubs, indoor swimming areas, steam and sauna.  They have areas where you can just relax and read a book, while waiting on a treatment. I had an 80 minute Classic massage, which was heavenly.  I don't often experience spa visits, so this is an extra special treat for me.
Looking back towards the Inn.
The Vanderbilt wing is where we always stay.
Inn and Vanderbilt wing and you can see those beautiful terraces with chairs to sit in and enjoy the view.
I'm sure this area is busy during the spring and summer months, with folks just hanging out and enjoying the scenery. That's the beauty of NC and the mountain views.
There's that cute niece of mine, Lauren, looking elegant as usual.  She loves hats, capes, coats, and boots.
Under the terrace outside the great hall of the inn.
Inside the great hall are these magnificent stone fireplaces on either side of the hall.  It's hard to capture the magnitude of how big they really are, but a man can walk inside the fireplace to add wood.
The Grove Park Inn was all decked out for Christmas this time of year and that gets me excited for the season.  There are several huge trees all around the Inn.
Massive columns and plenty of seating are part of the Grove Park Inn experience.  See those rocking chairs in front of the fire? You have to stalk them to get a good spot, which we did a couple of times.
Outside the inn, this beautiful tree awaits guests coming in for the first time.
We took another picture opportunity here in front of the big tree again this year.
Close up of the tree.
So, the entire day on the Monday we were there was devoted to the Gingerbread House competition.  We met as the judging team and narrowed down our choices to our favorite top 10 in each category.  As a reminder, the categories are Adult, Teen, Youth, and Child and there were 160 entries combined this year in all 4 categories.  I went through and took pictures of some of my favorites and several of them won top spot.
Our judging criteria consists of overall appearance, originality/creativity, difficulty, precision and consistency of theme.
Loved this teapot, but it didn't place.
This adorable chicken coop came in 3rd place in the Adult Division.  I talked to the lady who made this one and she mentioned that the sheep is pulling 3 French hens and that is so cute.  The hens are wearing berets and there are wine bottles and a baguette in the cart.  So cute!  It won my heart.
This is a not so great iPhone pic, but look at the detail inside this little chicken coop!  It's amazing! See the cracked eggs to the right?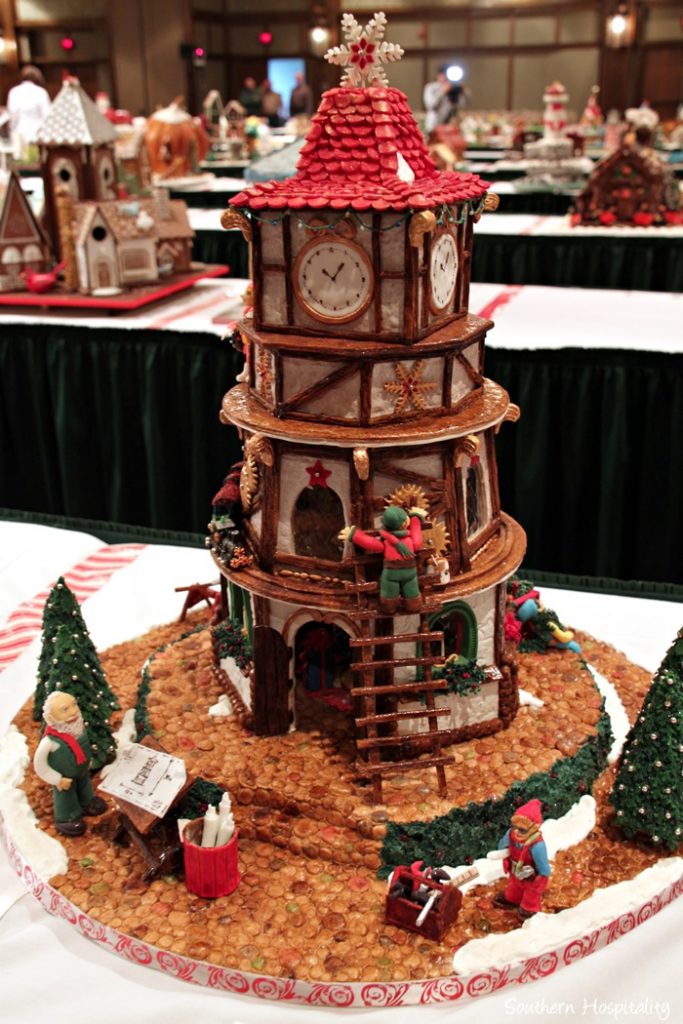 Another top 10 winner in the Adult division.
Loved this Santa, it got in the  Top 10.
The judges are really great people and we have enjoyed getting to know them all. Most of them have a background in culinary/pastry/cake decorating, but not all.
This beautiful creation got the First Place prize in the Adult Division.  It was so intricate and detailed.  Made by Jennifer Elmore and Mike Willauer from Chapel Hill, NC.  The grand prize winner receives $7,500 plus a stay at the Inn, I think.
Two of the judges checking out a house.  They, of course, are much more intricate than I am in the judging process.  It's good that they have the eye for precision and detail.  I just look at what appeals to me and that seems to work out.  I ended up picking 7 out of the top 10 in Adult and 8 out of the top 10 in the other 3 divisions, so I did pretty well keeping up with the other judges.  I was very happy with the #1 winner in the Adult division (and really, all of them).  I had chosen all of them as my favorites too, just didn't know how they would place.
Loved this pretty pumpkin house.  It takes a lot of skill to make something like this and I applaud all who do this competition.  It's not something that I would have a clue how to do.
This was the 2nd place winner in the Adults.
Loved this elf and Santa scene, it made the Top 10.
As did this beautiful white snow girl.
Another cute one, but it didn't make the Top 10.
Loved this one, but it didn't place either.  So intricate and pretty.  This was Lauren's personal favorite.
A detailed owl.
Cute buse and camping scene.
Birds on a fence. Look at how real it all looks.
These mice were cute too, but they didn't place.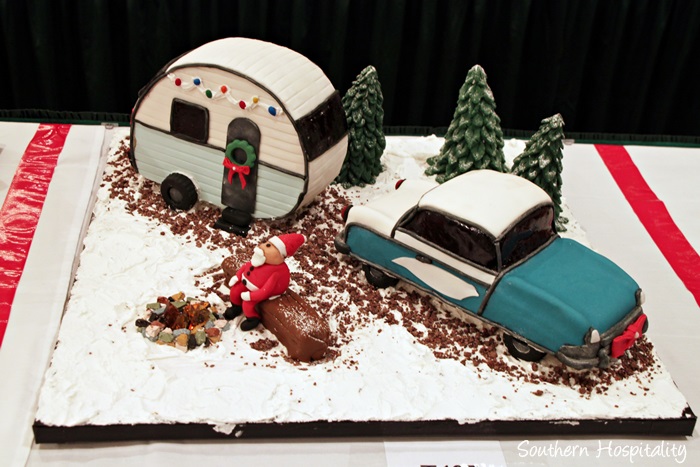 Loved this Santa and camping scene.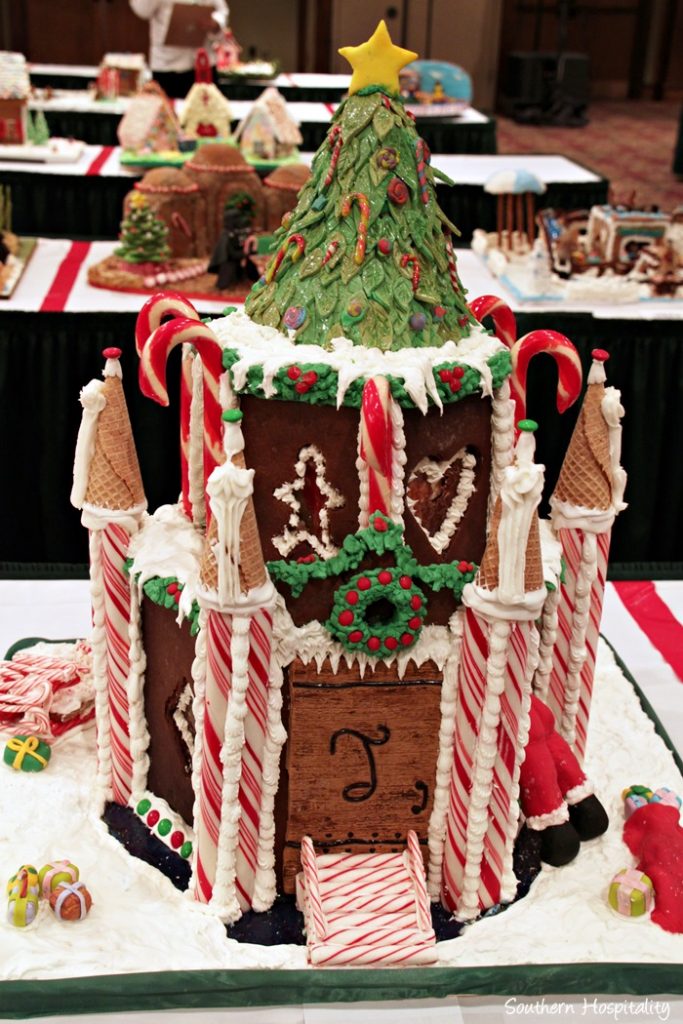 The kids and youth categories had some really nice entries too.  Amazing what these kids can do!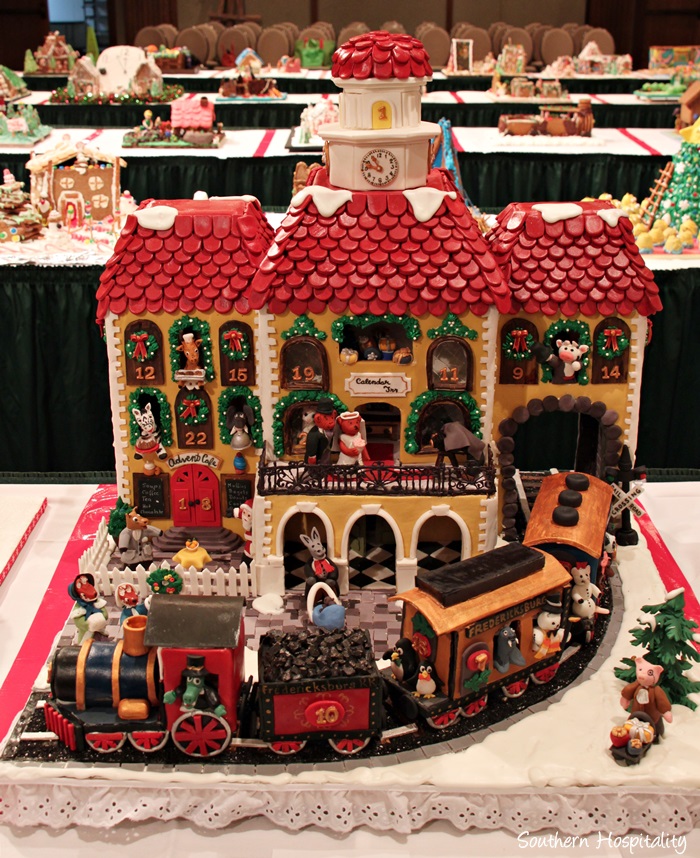 This was the #1 winner in the Teen Division.  Such a great job!
This was the #1 in the Children's Division.
The judges looking all official doing their job.
They all made me feel so welcome joining them again this year and I felt very much at ease in the judging part.
We took a photo of all the judges out on the terrace, all great people.  For more pictures of all the winners from the professional photographer, visit this link!
We had one free day on Saturday and decided to hit downtown Asheville.  We barely made a dent in seeing a lot, but we enjoyed the area so much.
We did stumble into Mast General Store, which was fun.
It's a throwback to the old stores of days gone by, packed full of interesting items.  I loved the window displays which reminds me of the old stores on the Marietta Square that I grew up with.
They had one corner filled with unique candy that you don't see much anymore.  Love this!
I stopped by the big red bus for coffee, a unique double decker bus that sits permanently in this location. You go inside the bus to order and then outside is pickup.
We had time to hit one of my favorite spots, The Screen Door.  I love going in here.
I saw a couple of unique things that I took pictures of, like this map made of old blue jeans.  Cute, huh?
And a Christmas tree on old tin tiles and Christmas balls.
It was such a fun experience and we loved every minute of it! Asheville is such a beautiful city.
Note:  The Omni Grove Park Inn provided accommodations and meals for all the judges. 
Don't Miss a Post, join my list!