Since I did my major house renovation on my 1979 fixer-upper and now just this year have begun to work on the exterior of my house, I thought it would be fun to share ideas on how to update the exterior of your home, not only creating curb appeal but also adding value to your home.  I've often read and heard that outdoor projects can drastically increase a home's value and I'm sold on that idea.  There are many things that you can do to the exterior of your home to give it a welcoming feel and presence on the street.  When folks drive by your home or come to your front door, you want them to have a nice first impression.  We've all seen unkempt houses that have no curb appeal and there's a drastic difference in one that is well cared for and one that has been neglected.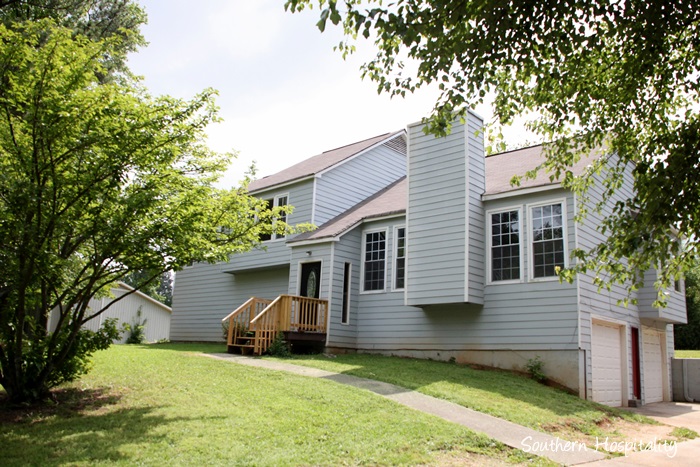 We'll start this post with the drastic exterior changes in my own house.  My house, BEFORE. Sad and totally lacking in curb appeal.  But, as I said, I had a vision for what this house could be not to mention, it was what I could afford to buy.
And AFTER.  Yes, I promise it's the same house!
Front Porch BEFORE.  Sad neglected and just plain UGLY, I'll go ahead and say it for you.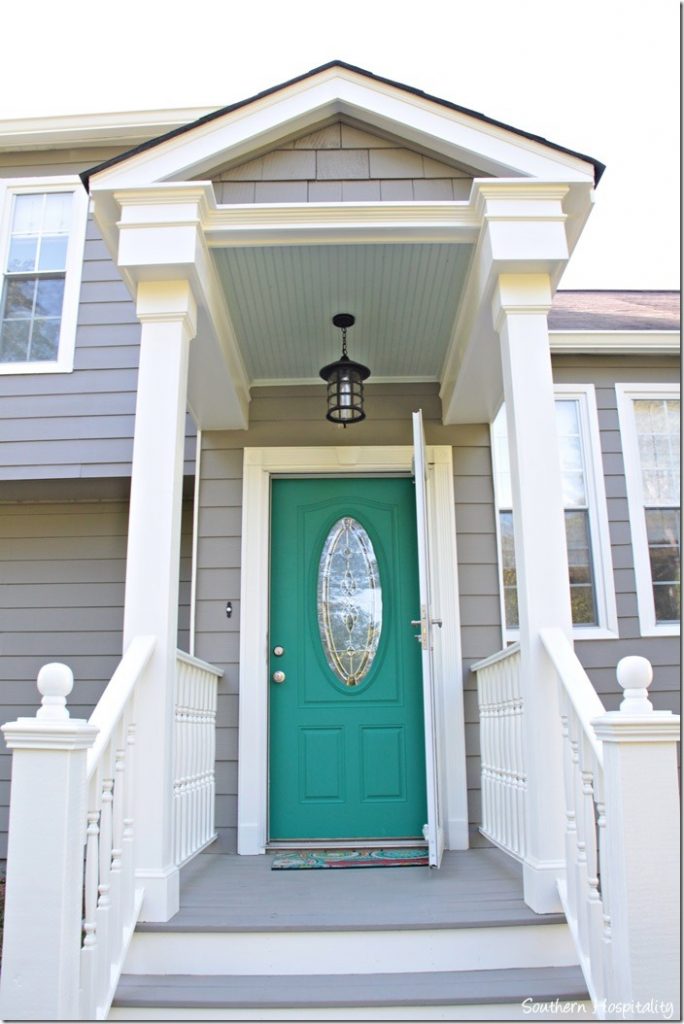 Front Portico (yes, I changed the name!) AFTER
So, today I'm talking about ways to improve that curb appeal, which is sure to help increase a home's value too.  I did a little research before writing about this and these seem to be the biggest bang for your buck in exterior home improvements and curb appeal too. 
I'm collaborating with Allstate in writing this post and had the chance to ask their information team some questions about exterior home improvements, so I'll be adding their input in the post too.

1.  Landscaping
There's nothing that is more noticeable and gives greater curb appeal than the careful and thoughtful landscape of a home.  I love a manicured and well-kept front yard and homes like the ones below draw me in every time.  A home with overgrown shrubs and trees is not appealing when it blocks windows and just looks unkempt.  Keep shrubs and trees trimmed for maximum curb appeal. 
My home is not quite this tailored on the outside yet, but I hope to keep making it better and better.  I might have to hire someone to weed for me though, that's not my strong suit.
2.  Painting the Exterior and Front Door
3.  Adding a Porch
Adding a porch where there is no porch or updating an existing porch, is a wonderful update to an exterior of a house.  My house is proof of that!  I can't get over the difference my small front porch made to the look and curb appeal of my house.  Porch details are so inviting, with columns and curved peaked rooflines.  Keeping visitors out of the rain would be the first thought, not to mention, they are just so darn pretty!  Don't forget to add beautiful lighting to the porch too. First impressions are so important. 
4. Hardscape
Adding walkways, stone retaining walls, brick steps and any hardscape to your yard will greatly enhance the curb appeal too.  I love a meandering stone walkway that leads right up to the front door.  I currently have concrete on my sidewalk, but anytime natural stone can be integrated into landscaping, it will certainly kick up the interest and curb appeal to the max.
(via Homedit)
A brick sidewalk is so classic and traditional, brick has been used in hardscape for centuries.  This inviting entry and classic Cape Cod feel, is so warm and welcoming.  Notice the curved landscape beds too.  Ahhh!
(via Homedit)
Slate pavers on this walkway kicks the curb appeal off the charts, not to mention the addition of the stone column with gaslight lantern.  It all makes a difference.
(via Homedit)
There are certain areas that a retaining wall makes sense.  Got a sloped area in your yard?  A beautiful stone retaining wall adds visual curb appeal and helps with erosion too.  It tidies up the space and gives such beauty to a home.  I love retaining walls!  Some retaining walls are an easy DIY project too.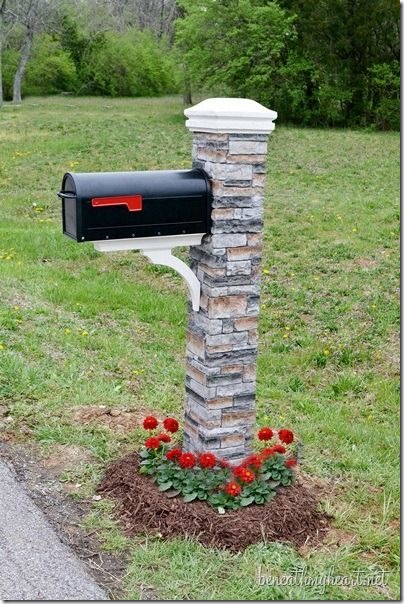 (via Beneath my Heart)
Don't forget the mailbox!  Adding a decorative mailbox can really change the curb appeal of your home. Don't let a rusty old mailbox be the first thing your guests see when they arrive at your home.  Make it pretty!
5.  Outdoor Lighting
The addition of outdoor lighting can really enhance a home at night.  Adding landscape lighting along a sidewalk or in a landscaped bed creates a glow at night for those walking by.  Gaslights and overall lighting on trees and landscaping can totally enhance a house during nighttime hours.  Drive by a house at night with landscape lighting and see the difference.  It's pretty amazing what lighting can do!
(via Pegasus)
This pic shows how a beautiful stone walkway, lush flowers and landscaping and outdoor lighting can enhance a home from the street to the entry.  Just gorgeous!
I hope that all of these ideas gets your creative juices flowing on how to better enhance the outdoor spaces of your home, creating curb appeal and adding value as well. We all want to take care of our homes and do the things that will not only make them more beautiful, but in the long run add the biggest bang for your buck in home improvements and value.
Beautiful curb appeal and inviting house exteriors create a lasting first impression on anyone who comes to your house.  Let it be a great first impression, not just an average one! That's what I want for my house and I'm sure you feel the same about your house too.
Disclosure:
SaveSave
Don't Miss a Post, join my list!