Hello my friends!  We are starting to get moving around here and figuring out what's next in our new to us house.   I'm very grateful that our 12 year old home is in great condition, was move-in ready, and just waiting for us to put our stamp on it.
Getting motivated to change out so many things at least can wait until we decide we want to get to them and nothing is really calling out to us to rip it out immediately. In a house that's nice,  functional and newish, but everything isn't pretty yet, we get to decide what we want to do next, not based on we just can't stand this space one more moment.  Everything in here is just fine, just not what we want to live with forever.  It's very much builder's basic beige so to speak, so one space at a time, we'll start to add our stamp and get things looking the way we want.
We have 3 bathrooms that are so boring and beige and these bathrooms will definitely get some love this year after we figure out what we really want to do in them.  And we don't have any of that completely figured out yet, so it's fun to look at what other bloggers have done to spruce up their bathrooms.  So, today I've got 50 bathroom updates for you to see from my fellow blogger friends.  From $100 makeovers to way more expensive complete bathroom renovations, there's something for everyone, so if you're in the mood for bathroom remodeling this year, hopefully this will help you too!  I couldn't just share a few of them, there were so many styles shared with me that I can't wait to share with you too.
Bathrooms are spaces that need to be functional, but there's no reason not to make them beautiful as well. Treat those small powder rooms or bathrooms as little jewel boxes and have fun with them!  I can't wait to beautify our bathrooms.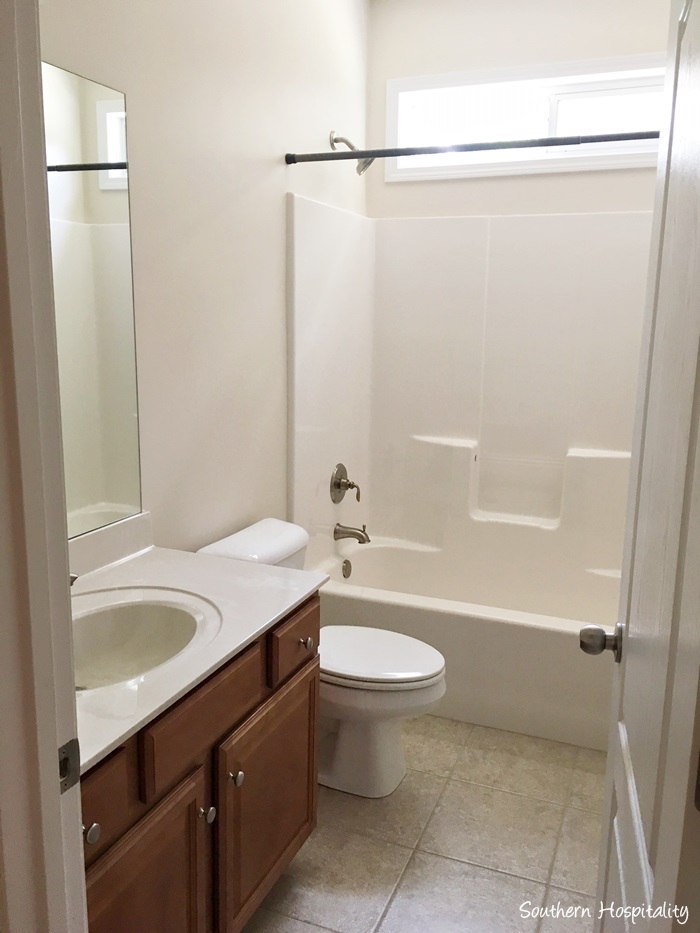 Here's what we're working with in our downstairs bathroom and the other 2 look just like this one.  Clean, functional, but totally uninspiring!  That will be changing soon, I hope.  This one may get a cosmetic makeover, keeping what we have but enhancing with paint and accessories.  We will see what happens after we get going.  I'd love to at least get a new tile floor in here (something much more snazzy) and paint that vanity (or maybe get a pretty new one) and get a new countertop/sink combo.  This space won't take much to update and add some pretty details.
Click on each post to go to the blogs which share all the Before and After pics, which is so inspiring!  Please pin from the original blogs too, so that you can save their posts with all the details.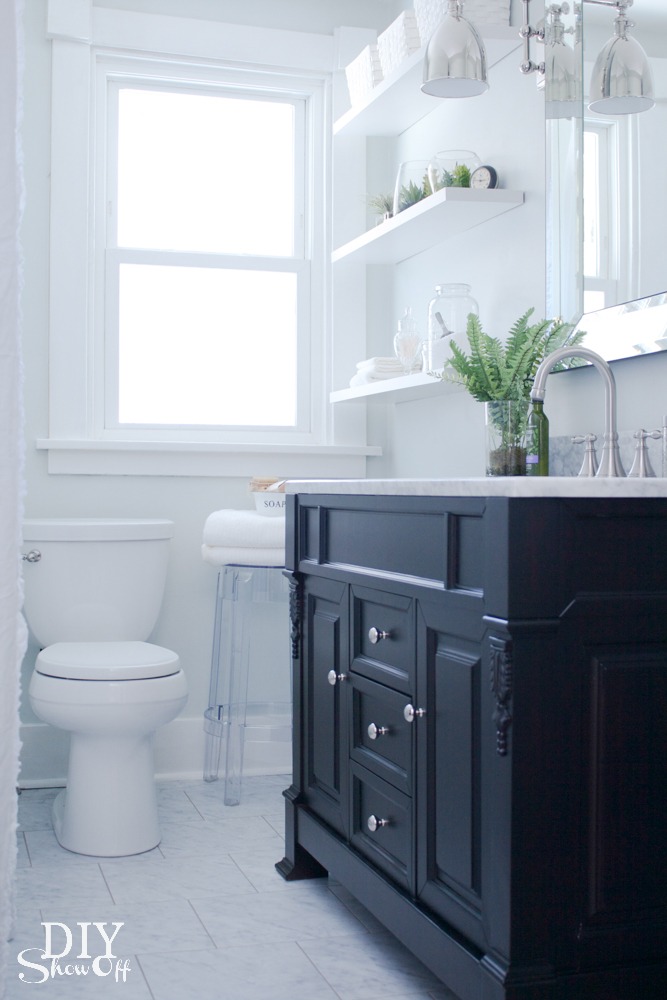 Roeshel from DIY Show Off shares a beautiful makeover that's very neutral and soothing.  New vanity, flooring, lighting, and mirror makes a huge difference in this space.
Stefanie with Brooklyn Limestone helped a friend with this powder room makeover, with an industrial and farmhouse vibe.  White shiplap walls and those trendy black and white concrete tiles makes a huge statement as well as the black hardware.
As much as I love these black and white concrete tiles, I don't think I'd have the nerve to put them in one of my spaces, because they will get dated pretty fast, just my opinion. But don't get me wrong!  I think they are beautiful for now.  If you like to live on the edge with your design styles, then go for it!
Lauren, from Blesser House opted for a mini-makeover in her kid's/guest bath for now using mostly paint, lighting and a few new accessories to tide her over until a bigger remodel can be done.  Again, the power of paint and freshening up a space with a few things is powerful.  For just under $500, great budget makeover.
Here's a fresh, modern makeover on a small master bath from H20Bungalow.
This small powder room from A Blissful Nest adds a lot of punch with board and batten and this impactful blue and white wallpaper.  I'm thinking something like this for our downstairs bathroom might be what I want.
Blue I Style does a very graphic and bold black and white tile in her master bathroom renovation, along with lots of other projects in this space, so check out all the details.
Dana from Bella Tucker has been really busy the last couple of years with some fabulous bathroom makeovers.  Dana's a friend of mine in Franklin, TN and I've actually stayed in this downstairs guestroom and used this guest bath, so it's been fun to see this makeover!  Her husband, Brooks, is a decorative painter and did all the painting on the walls.  This is a very cool makeover utilizing new tile on the floor and fresh everything!
Boxy Colonial created a vintage modern bathroom in their 80's era Colonial home using lots of black and white and keeping many of the original elements in the bathroom as they were.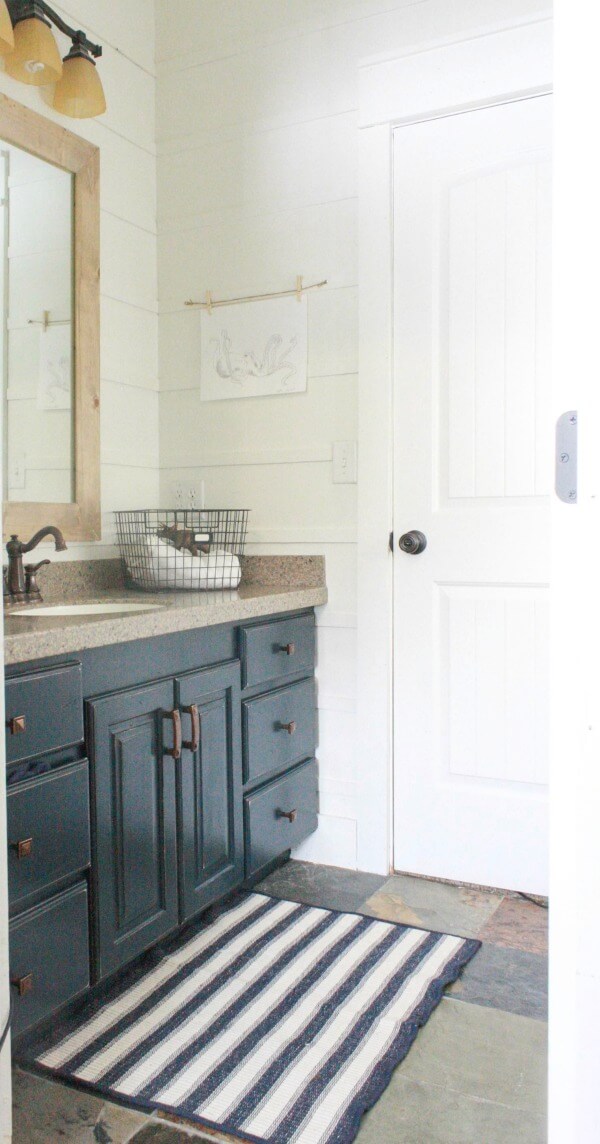 Twelve on Main shares a budget friendly boy's bathroom renovation.
This master renovation from A Home to Grow Old in is very pretty and French inspired. I'm really liking that blue and white wallpaper from Anthropologie.
I really love Tamara from Citrine Living's new master bathroom renovation.  She added extra molding all the way to the ceiling, new fixtures, window treatment, a new gray with marble top vanity and lots of brass details, making this such an elegant space.
This complete large master bathroom renovation completed by Leslie from Deeply Southern Home is really amazing!  She did it all from top to bottom and it's gorgeous.
This cottage bathroom makeover from The Heathered Nest is so pretty and classic.
This cute powder bath got a fun and fresh makeover with subway tile and wallpaper, from Fancy Ashley.
Farmhouse style continues to be so popular and this is a cute $100 farmhouse powder room makeover from Farmhouse Made.
Here's another cute farmhouse bathroom redo from Farmhouse on Boone.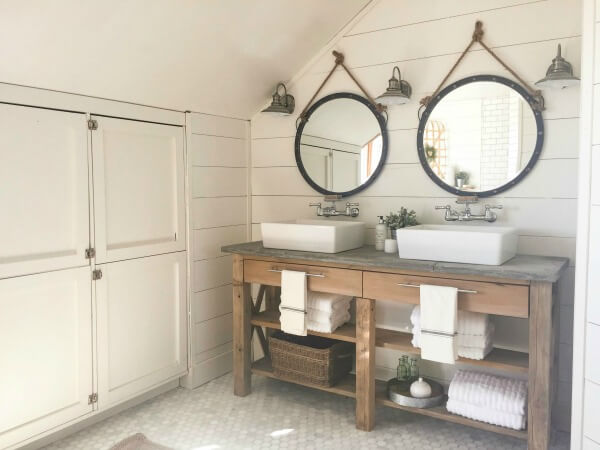 And yet another farmhouse inspired bathroom from Farmhouse on Main. As you've probably noticed, farmhouse style is still trending  for the last few years.
Adding beadboard, paint, rug, and accessories are all this makeover needed to freshen up this space at DIY Decor Mom.  Love how just a few things can freshen up a room.
Making it in the Mountains shares a lovely farmhouse style bathroom renovation, featuring shiplap, another super popular design element that's been going strong.
The Bowers of Bower Power did a wonderful master bathroom renovation in their house. I'm a fan of tile on the wall behoine the vanity and am taking notes.
Courtney's French Country Cottage bathroom renovation definitely has a vintage French feel and oh so pretty.
Love what Ashley and Jamin of The Handmade Home did in their master bathroom renovation, so classic and timeless.
Very nice master bath update from Hunt and Host complete with a brick wall.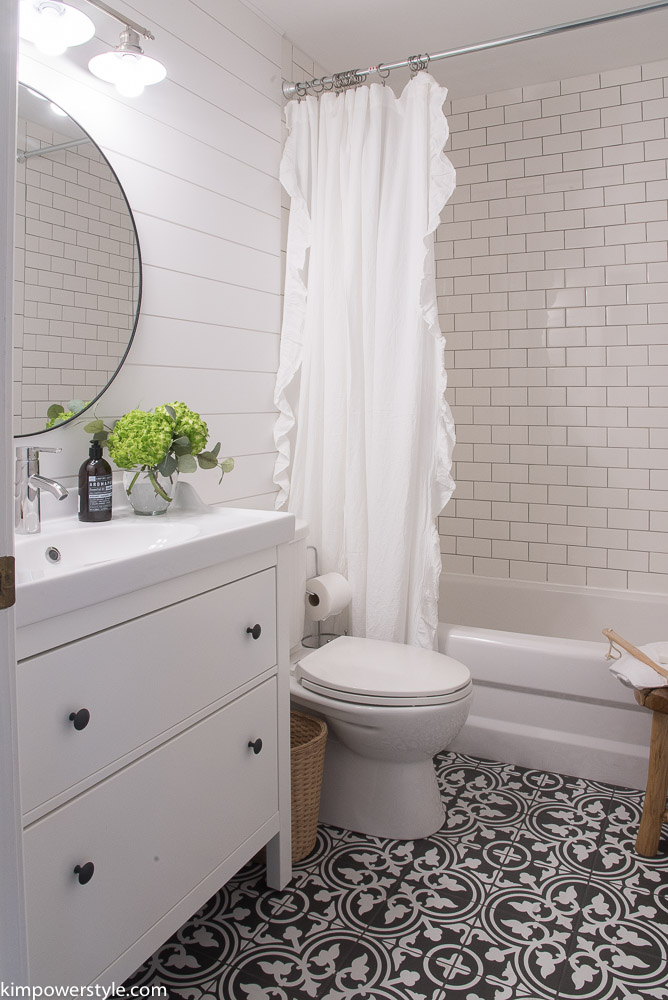 More high impact black and white concrete tile from Kim Power Style. Such a pretty space.
Knock It Off Kim updates a powder room bath for only $100!
Lovely Etc shared a pretty fresh in blue and white modern farmhouse bathroom.
This Jack and Jill bathroom from Maison de Pax is so fresh and pretty, love all the details!
Mallory with Style Your Senses did a fantastic makeover on her 2 girls bathroom, in lilac with black and white accents.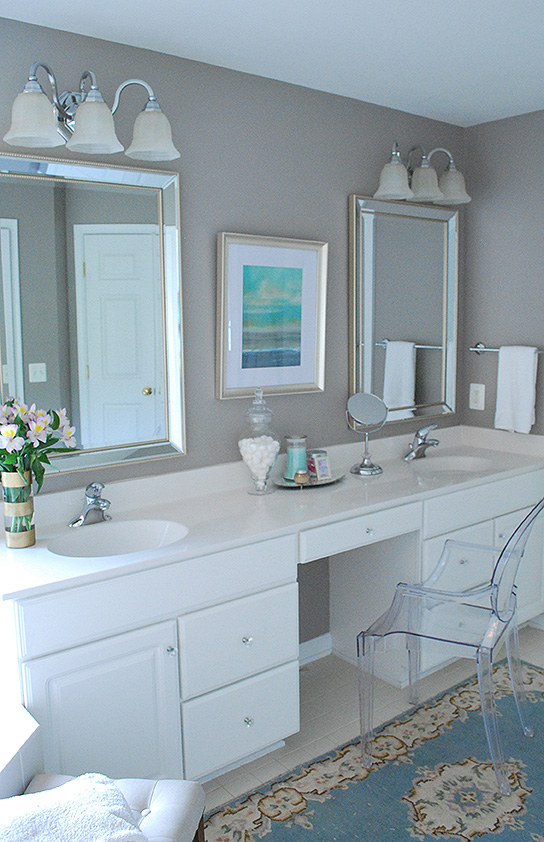 Amy from 11 Magnolia Lane did a makeover on her bathroom without gutting it all, but a few changes made a difference, like the 2 mirrors instead of one big ole' mirror over the vanity.  We plan to do two more decorative mirrors in our master bath eventually too. Makes a difference!
Another modern farmhouse renovation from Amy at My Life From Home, features more of the black and white concrete tile.
I noticed lots of blue vanities and blue and white bathrooms, so blue continues to dominate, which is fine by me since I love blue too.  Sarah from Life on Virginia Street shares a pretty makeover and also tips on painting thermofoil cabinets.  Any cabinets can be painted with the right primer!
Here's another light and bright bathroom makeover from One Mile Homestyle for $100.
Makeover with concrete tile, and neutrals from Love Your Abode.
Another light and bright bathroom from Pink Peppermint Design is so pretty with that floor (concrete tile again), the added molding on the walls, and such a fresh and clean feel.
Here's a small master remodel from Postcards from the Ridge, with a new shower and floor, as well as an antique dresser used as a vanity.
This DIY coastal bathroom from Chris at Just a Girl is  a great budget makeover.
Here's a fun makeover for under $1,000 from Bre with Rooms for Rent.  Using beadboard wallpaper painted in a darker shade, it really pops with the white above. I love this look!
Kim with Savvy Southern Style did a major renovation in her master bath with new tile and lots of new details, from the floor to shower.  She hired out part of it and some of it her hubby did. It turned out gorgeous!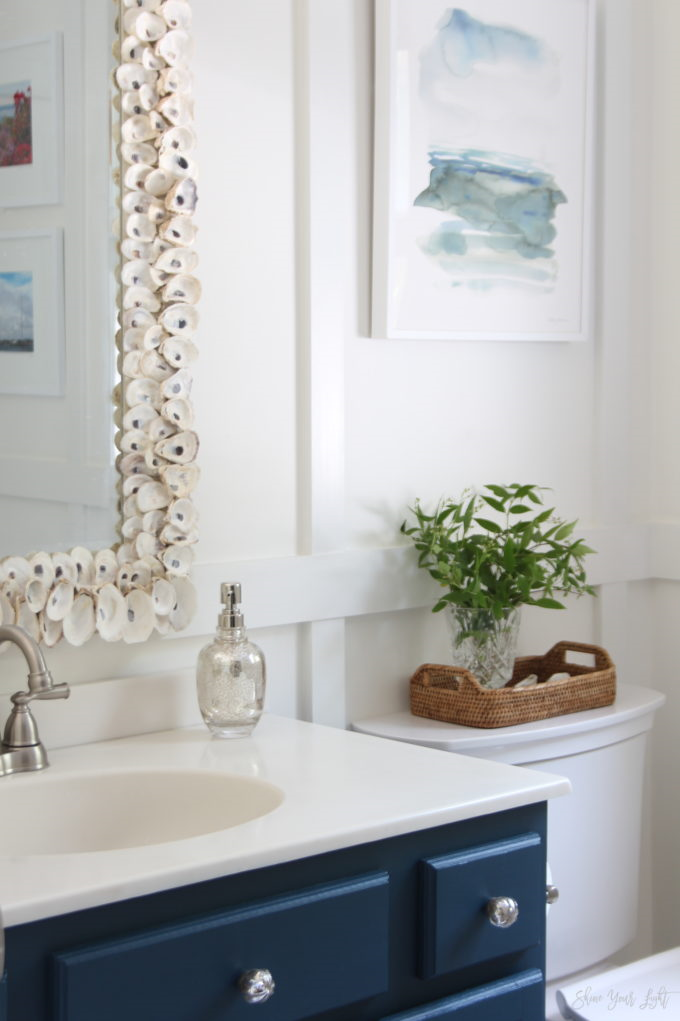 Lisa with Shine Your Light added some great details in her master reno, like this DIY oyster shell mirror and the boxed board and batten, marble on the floor too.
Another great bathroom from my friend, Dana at Bella-Tucker, this one in marble and shiplap in the master.
Here's a beautiful renovation from Simple Stylings, a modern and classic look.
French inspired bathroom reno from So Much Better with Age is lovely with the black and white basketweave tile, a personal tile fave of mine.
This powder bath from The Aspiring Home got a makeover with black and white tile and that deep blue shade on the wall. It's fun to go dark and moody in a small space!
Old dresser as a vanity and some fun updates in this bathroom from Tidbits and Twine. 
Beth from Unskinny Boppy has a great bathroom makeover with tips on removing wallpaper.  I've removed my share of wallpaper too and it's not fun!  Paint does wonders in this bathroom as well.
Kristi from Addicted 2 Decorating is quite the DIYer, working her way around her entire house on renovation projects, including this beautiful bathroom she built herself.
Brittany with Addison's Wonderland is a super talented designer and put together this stunning space in their new historic home renovation.  Gorgeous!
Coastal farmhouse style bathroom remake from Artsy Chicks Rule. 
And another modern farmhouse look from Wife in Progress.
Modern farmhouse seems to be the hottest look going right now, but we're not going in that direction, even though I like it.  We'll be going with classic and timeless as much as possible.  It really gets hard these days to narrow down one style to stick with, so that's why I love looking at all this inspiration in blogland.  There are so many talented bloggers out there now and they are all doing amazing things!
Here's a look at our own master bathroom renovation.
I hope you enjoyed this extensive post on bathroom renovations, from low budget to high-end.  I get so many ideas when I get out and start looking at them all and I know we'll figure out just what to do in our bathrooms as we move through our house.
SaveSaveSaveSaveSaveSaveSaveSaveSaveSave
SaveSaveSaveSaveSaveSave
SaveSaveSaveSaveSaveSaveSaveSaveSaveSaveSaveSave
SaveSave
SaveSaveSaveSave
SaveSave
SaveSaveSaveSaveSaveSaveSaveSave
SaveSaveSaveSave
SaveSave
SaveSave
Don't Miss a Post, join my list!