Lauren's wedding week was so much fun and I'm so glad I was able to be included in all the festivities.  As most weddings go, there is much activity and things to do in the days preceding the day.  With a bridesmaid luncheon the Friday before and rehearsal dinner Friday night, it was a week full of fun and laughter, getting ready for the BIG day.
I was lucky enough to get invited to the bridesmaid luncheon that Lauren's Aunt Toni hosted in Marietta the day before the wedding.
It was a perfect Spring day, beautiful weather and there is nothing like the Marietta Square.  We've watched the square undergo all sorts of renovations over the years and this square is one pretty place to enjoy with all the shops and restaurants surrounding it.  We are very lucky to have this in Marietta!
We had the luncheon at The Vineyard cafe, tucked away in an upstairs alcove and it was the perfect spot for a girly lunch, in an out of the way area just the right size for a small party.
Her Aunt Toni is a florist in Louisiana and had the table decorated so pretty.
With lacy tablecloth, pretty berry topiaries and wedding bells, it felt festive and happy.
Toni knows how to put things together for a festive occasion like this.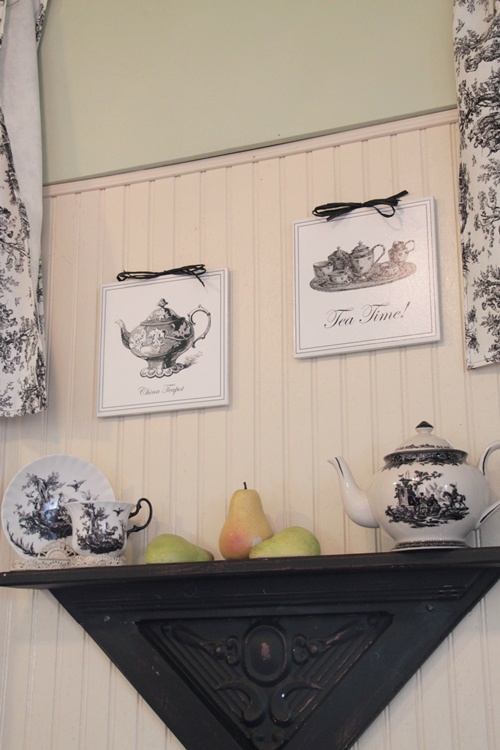 And the Vineyard is a great spot for an event like this.
Four of Lauren's bridemaids:  Becky, Ashley, Meredith, and Becca.  Lauren has some great girlfriends from college and law school and they have been wonderful friends to her. I know she cherishes each and every one of them, just as they do her.
Aren't we all blessed to have girlfriends in our lives?   I have some who have been with me through thick and thin.
Renee, Lauren, me and Mom.  It was a happy occasion that we all enjoyed celebrating.
Everyone got seated and ready to eat.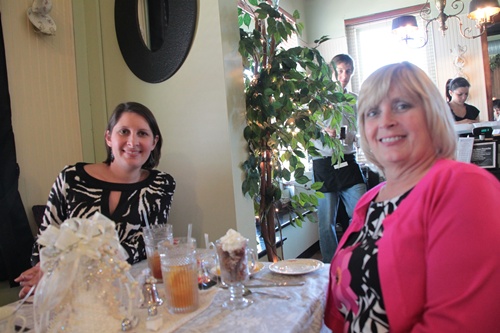 Nicole and Karen, Lauren's sister-in-law and mother-in-law.  Nicole was a bridesmaid too.
Lauren, looking so pretty in yellow.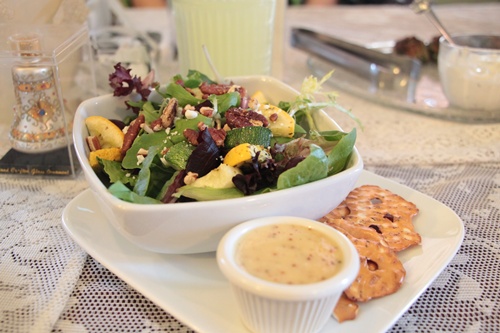 We enjoyed salads, quiche and soup, with a yummy bread pudding for dessert.  Perfect!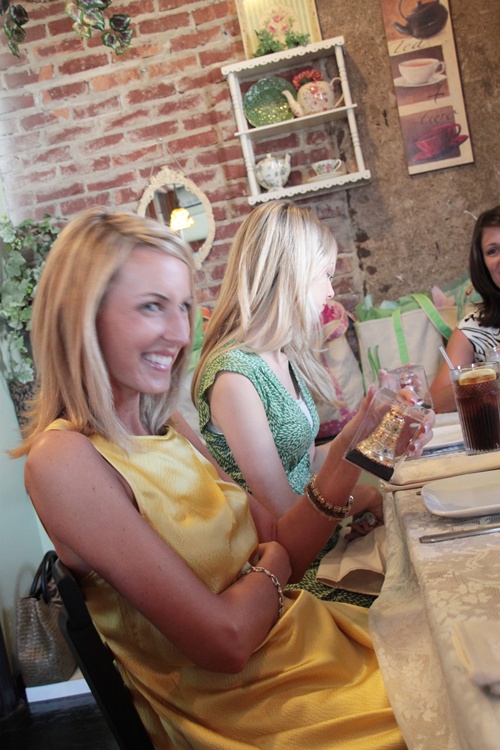 Lauren's Aunt Toni told a story about Lauren collecting Radko Christmas ornaments and having a serious conversation with Toni about her own Radko tree and what sort of perfect tree was needed to showcase these beautiful ornaments. 
In that spirit, we all opened our gifts from Toni, beautiful hand blown bells, perfect for wedding bells and a reminder of Lauren's special wedding day.  Aren't they beautiful?   We all loved them.
Next, it was time for Lauren to hand out the bridesmaid gifts, personalized bags that Lauren monogrammed herself on her fun machine.  She had picked out special ribbon and colors for each girl, filling their bags with personalized items just for them.  She handed them out and each girl opened her special bag with all the goodies inside.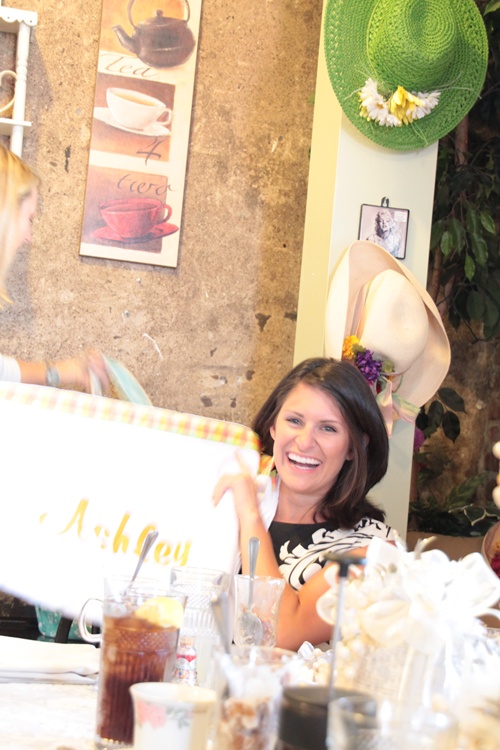 Ashley showing off her pretty towel.
And something especially for Becca, some funky hairclips.  They were all laughing and carrying on.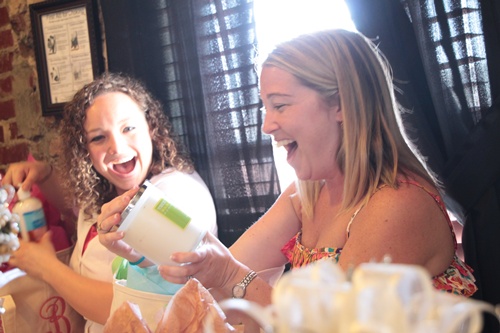 Enjoying the moment.
Becky and Meredith.
It was an extra special day of memories and blessings.  Weddings are so special and our family sure enjoyed this week.
There will be LOTS more wedding pics to come, stay tuned!
Don't Miss a Post, join my list!