Last 4th of July, I hit the Homewood Catholic Rummage sale and found some great things, so this year I hit it again on Saturday a.m.  And since I have been on hiatus for 2 weeks from yardsaling, my thrifting mojo was on once more and I found some great stuff.
First thing on the way to the rummage sale, I stopped in at The Narrows, which has always been a good stop for me, I've found a lot of good things in this small neighborhood.  The lady had some awesome clothes at only $1 each, so I went through the racks to see what I could find.  Brand names all over the place.  I'm SO spoiled on shopping retail, since I find so many great things shopping like this.  I could never go back to shopping the regular ole' way now.  I love the deals too much!
Studio Max adorable tank top, in turquoise and brown.  I've got some cropped brown linen pants that will be perfect for this.  Add my flip-flops and it's a cute summer outfit.
J. Jill coral tank top with linen jacket.
The Limited hand knit creamy white cotton sleeveless sweater.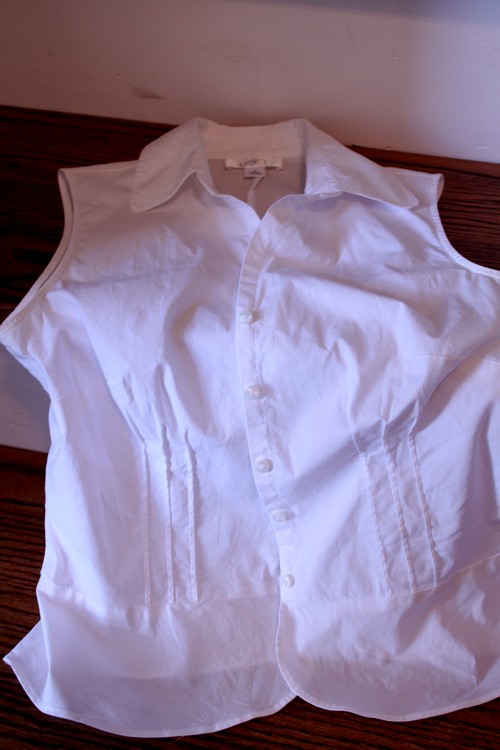 Ann Taylor Loft crisp white cotton sleeveless blouse, with tucks and a flounce on the bottom.
White House Black Market cream knit tank top.  ALL of these were $1.00 each, 5 measly dollars for 5 new tops.  Now how can you beat those prices?? You can't, not even with a stick!! 🙂
Now, for the rummage sale stuff…
I have been wanting another vacuum cleaner that is lightweight that I can keep upstairs and pull out when needed.  This Eureka is SO light compared to my heavier one and is also bagless.  Works great too, I tried it out before I bought it for $10.  YAY, I'm excited to find this and Ronald McDonald would be so proud for me! 🙂
Cute old suitcase was $1.
And it says Amelia Earhart on the tag, how cute is that?  I'll stack this up with another one I have.
Little wooden shelf was $1.  I'll probably paint it white and use it with a grouping of plates and platters I have planned.
Moss basket was $1, with a plastic liner inside, it will be perfect for some live plant.
Pretty old creamy white planter pottery was $2, to add to my white collection.
3 books for $1.00 each. You can see I found classics, Gone with the Wind and Dr. Zhivago (which I've never read).  The black one is called My Life in Court, but I got it for the colors. 🙂
And last but not least, this oh so cute old bench was $10.  Part of the veneer is missing, but I can take the rest off and sand it down, since I'll be repainting it anyway.  You can see why I fell in love with it, right?
Yep, it's her purdy old legs that got me.  I'll probably paint this creamy white and add it to the end of the bed in my upstairs guestroom.  Of course, it will get new fabric too.  So, there's another project for me.
That's my haul for the week!
Oh, and before I forget, the winner of the Custom Roman shade is Erin, from No Money Will Decorate.  Congrats, Erin, hope you enjoy your prize.

Now it's YOUR turn!  What have YOU found lately. Add your link to the Linky list and remember our guidelines for the party:
Add your permalink to the link list, which is the actual post that you did for this party, NOT your general blog url. To get the actual post, after you publish the post, just click on the title and THAT will be your party post url. Last year, I can't tell you how many links I had to fix. This year I might get mean & delete them, so PLEASE try to get the correct url in the first time! 🙂
Please add my button to your post or blog OR at least link back to this post in your post. That's all I ask. It's common courtesy to link back to the person having the party, so that all of your readers can find it too.
Please do NOT link to an Etsy shop or something similar (even if you think it's a fabulous deal) or I will delete the link. This party is for sharing thrifty finds from yardsales, thriftstores, or something along those lines. If I see that your post is not really on track with this theme AND you don't link back, I'll delete your link. Sorry, but I'd like to keep the party consistent! IF YOU SEE THAT YOUR LINK HAS BEEN DELETED, IT IS PROBABLY BECAUSE IT IS NOT IN LINE WITH THIS PARTY THEME.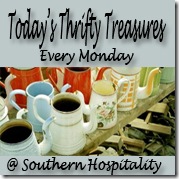 Let's have some fun this week with the Thrifty Treasure's party!
Don't Miss a Post, join my list!