Welcome! I'm so glad you stopped by to see part of my Christmas home tour this year. I'm joining a group of talented bloggers and you'll see all of them at the bottom of this post, but come on in! I shared my Christmas front porch last week, so stop by there for more, but let's go inside!
If you're coming by from Jewel at Jeweled Interiors, welcome! She has such a beautiful style and so much color.
I adore this real wreath on the front door from Lynch Creek Farm. It is the perfect embodiment of Christmas cheer for me, fresh greens and magnolia leaves. You don't get more Southern than that!
Inside the front door, I have our staircase festooned with garland, I'll share more of that later next week, but today we'll see the living room and dining room. There is plenty of color in these spaces. I made that bow by the way and have a video in the porch post above showing how I make bows from a roll of wired ribbon.
Our smallish living room holds the Christmas tree. If you're new around here, my husband Mark and I have been married for 3 years and we bought this house together. We're fixing it up one space at a time. It was a builder's beige very clean house that's 15 years old and we are putting our stamp on it which has been so fun. The 7 1/2′ Christmas tree is front and center in the living room window.
Mark and I both have Shiny Brites from our childhoods and when we put both of them together, it's quite the tree. I decided when we got married that I would from now on use the Shiny Brites on our Christmas tree, so I don't change it up every year. It's so colorful and pretty and we love it! Plus it holds all those childhood memories from both of us.
I love adding wired ribbons and all those ornaments.
This space is so happy and full of color.
Those are wrapped faux presents and make it extra pretty in here with nostalgic wrapping paper of jewel tones and plaids.
Those are Mark's Christmas figurines and I love them added with the presents.
It's a dreamy tree to me. There are so many beautiful displays of Christmas throughout blogland and sometimes I don't feel at all like I measure up with that, but ours is real and perfect for us. I don't go out and spend a lot of money on new things every year. I have a lot of things I've collected over the years and love bringing it out for us to enjoy every single year.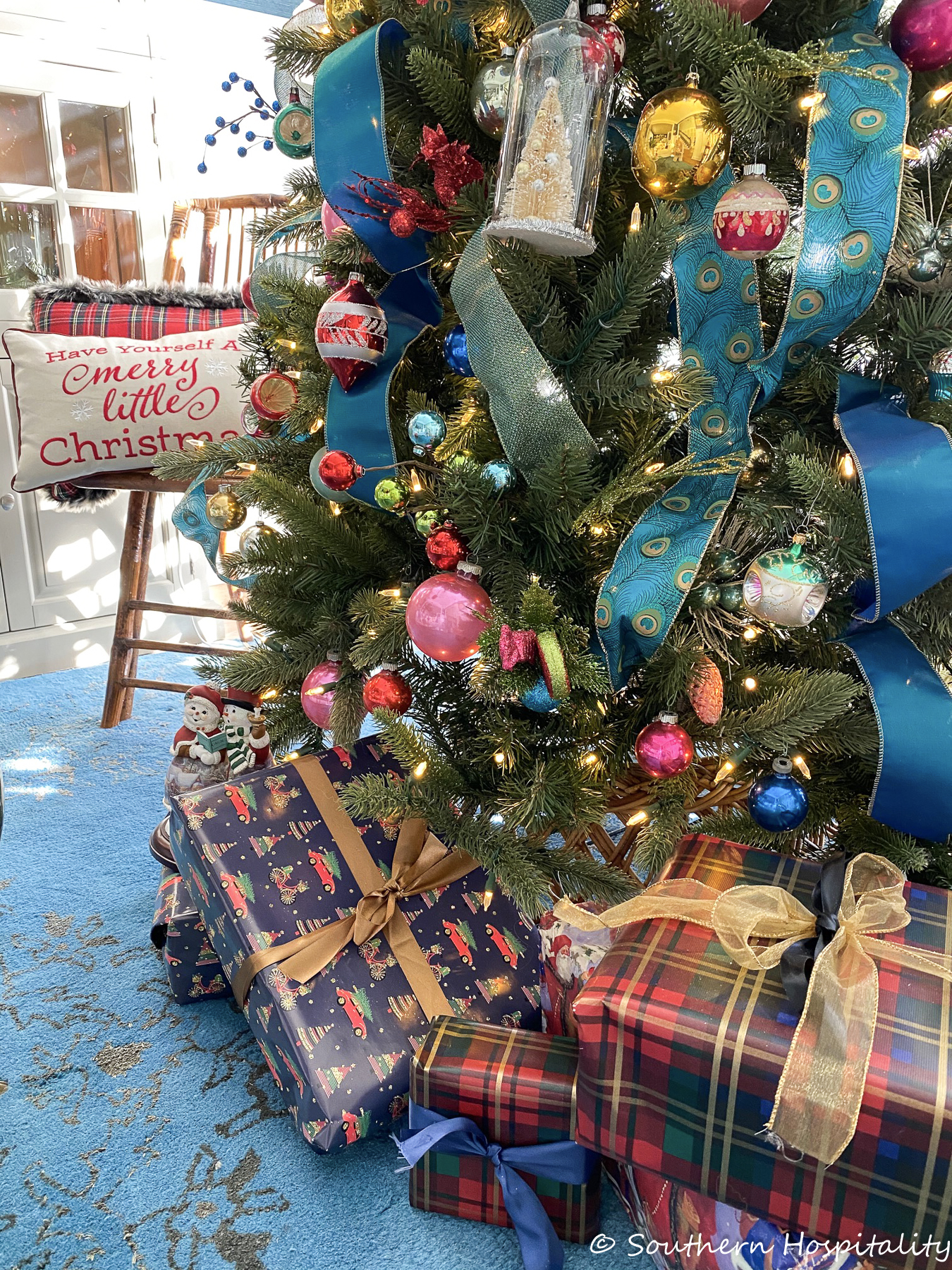 Weren't our childhood trees all colorful too?
Ours sure was!
We bought that pretty snowman ornament at a Christmas store on our Viking cruise last year.
A lighted capiz star atop the tree shines bright.
Can you tell I love our tree?
On the coffee table this year, I added fresh greens with magnolia leaves in an old white urn I've had for years. It's fun to get out my treasures. I also clipped those magnolia leaves from the woods behind us and coated the green part with Mod Podge and sprayed the backs with gold spray paint. I love how they look!
I love piling extra ornaments in glass and this pretty glass vase is perfect for that.
Those little pink balls are vintage.
Love all the color and the lights glowing in the background.
Moving on next to the living room is the dining room, one of my favorite rooms in the house. It's not like we eat in here every night, we don't, but I sure like to set a pretty table and enjoy it.
Affiliate links used below.
This year, I got out my plaid placemats and used red as my accent color. These red Spode transferware plates were found at Homegoods long ago.
These cute little reindeer are a fun accent on plates. I've linked my source for those.
Perfect votive holder and place holder!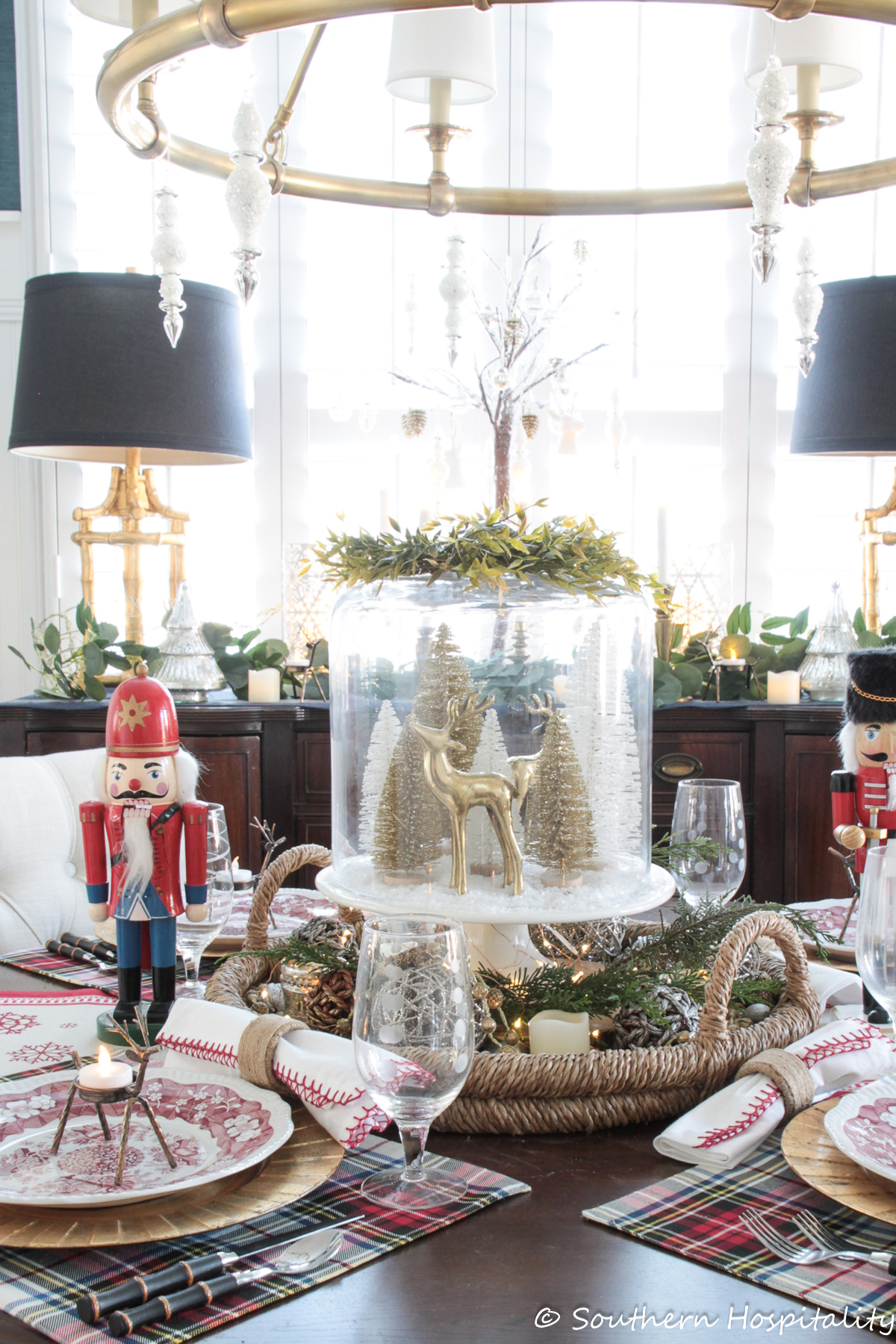 I love adding a pretty centerpiece to the table and this year opted for a glass globe snow vignette.
I've had this nutcracker for a long time and got him out this year.
I needed one for this side and found this one at Target.
I'll share the foyer next week, stay tuned.
Looking towards the living room.
On the sideboard I've added a pretty faux eucalyptus garland, you can find it at that link.
I sprinkled faux candles, some sparkly mercury glass, and brass candlesticks for extra sparkle and light.
It all looks so pretty at night! We are ready for Christmas and looking forward to enjoying our home all decked out for the Holidays. Bring on the Merry & Bright this year!
I'm happy to be joining many other color loving gals this week in a blog hop, so please go and visit these ladies. You'll be glad you did! Don't miss Less than Perfect Life of Bliss, she's next up after me and you'll love her home!
TUESDAY
WEDNESDAY
THURSDAY
FRIDAY
Instagram It's A Colorful Life Party!
Post your Christmas decor in your feed this week with #ItsAColorfulLifeTour for a chance to be featured in IG Stories by IACL Tour bloggers!
Don't Miss a Post, join my list!