Imagine my glee at getting to spend a day behind the scenes of my favorite catalog store. Yes, tis true!   Ballard Designs put together a blogger event and I was so very fortunate to be asked to attend this first ever Ballard Loves Bloggers event right here in Atlanta, where they are headquartered.  Not only that, but many of my fave blogger friends were there too, so that made it even more fun.  We all love hanging out together anyway, sharing ideas and just chatting about what we love, so getting to be there together was just icing on the cake.
Ballard Designs, started in 1983 by Helen Ballard Weeks, has grown into a company with over 100 million in sales and they send out 37 million catalogs annually.  Wow! That's a lot of catalogs.  I bet you have a few of them laying around your house too,  right?  I know I do!
This is a bad iphone pic, but here are a few of my blog friends:  Front row l to r, Cassity, Melissa, me, Traci.  Back row:  l to r, new blog friend, Michael, Sarah, Beth, Kate.  We were treated to a wonderful dinner the first night at Ecco in Midtown and then stayed at the Hotel Indigo that night.  All of these folks flew in from out of town and Kate let me crash in her room to avoid the traffic the next morning.  Slumber party!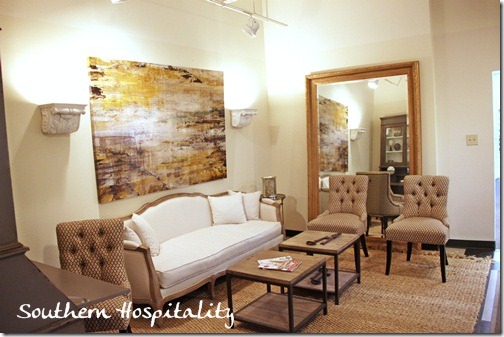 Next morning, we all convened at Ballard Designs headquarters for breakfast and lots of learning about how Ballard runs their 30 year old business.  It's a fascinating process for sure.
Of course, we were all ga-ga at all the beautiful Ballard items just hanging around for perusing.  How distracting would it be to see this every day when you go to work?  We all decided that next to blogging, working at Ballards might be the next best dream job there is.
Their offices are very cool with an industrial feel and all those Ballards goodies in every office.
I'm so blessed to know so many wonderful bloggers all over the country and several of my Atlanta blog friends were there too, Sherry, Lori and Erika (who's about to deliver baby #4 very soon!)  in this pic.  Dayka was also there and I missed her pic.  I worked with all these ladies in the Room Service Atlanta project this fall and they are all such talented designers.
We were welcomed and hosted by James Pope, Director of Business Development, Mollie Kitchens, Marketing Manager, and Karen Mooney, VP Creative Services.  After an initial discussion about Ballards, the company and learning so much about the behind the scenes, we went on a tour of the offices.
James Pope, next to him, another Ballards executive (sorry, didn't get the name), in green is Britany Simon, top 2 finalist on last season's Design Star (great to meet her!) and Kate.
There's a pretty lampshade on one desk sporting my beautiful Ikat fabric.
Mollie sharing lots of good info for us.
It's an energizing environment with lots of creativity flowing.  Our kind of place, for sure!
Mood boards with upcoming color trends were abundant.
We found out everything there is to know about how Ballards operates.  Very impressive company, they are doing lots of things right.
Have you ever seen a cubicle this cool?  Actually, back when I worked in corporate and did live in a cube, I did make my cubes cute! Maybe not this cute, but I tried.
Fabulous chairs and fabrics.
Ballards shops the world, especially Paris and Europe in general, for interesting products to develop and then mass produce, like this huge clock.
Love these mirrors.
We so enjoyed our tour of the Ballard corporate offices.
The warehouse looks like this, shelves after shelves of beautiful things. There are those famous Ballard pears up there!
So pretty, the fabrics and accessories.
Karen Mooney shared with us all about the creative process of putting together their catalogs, which go out 5 times a year.  That's a whole lot of catalogs!
We even got a look at their quality control process and how they drop boxes many, many times to test them for durability.  If they can't ship their products out in one piece, they don't make the cut.
We took a break after a delish lunch in the offices and went  to a photoshoot at this beautiful house.
Lovely house in a million + neighborhood.  The homeowners rented it out for a few days to Ballards to do their Spring 2013 photoshoot.
Inside, there were all sorts of furniture pieces, props and accessories all waiting their turn to get in a photo.
Michael (who is a delightful guy!) and Sarah (and all of us) took a turn petting Ricky Bobby, Jill Sharp Brinson's cute pug who joined her on location.
I fell in love with this fabric and may have to get it this spring for my kitchen windows.  Pretty, isn't it?
This room was all decked out for the photoshoot and you will more than likely see this in the Spring catalog next year.
Jill Sharp Brinson is an amazing creative director for Ballards and has been with them for many years.  She is one talented lady and we all enjoyed meeting  her.  She sure knows her way around a photoshoot.  I had already met her and James at the Bosch house in Serenbe earlier this year, so it was nice to chat with her again.
She explained how the catalog comes to life in the photoshoots.
It was fun just to see the rooms staged for photos.
Beautiful pieces and new fabrics.
We then went back to Ballards and got to meet the merchandising team, who go all over the world looking for products to go in the catalogs and then working with factories to get them produced.  That is such a fascinating process too and it was fun to hear from all of them with their particular product lines.  This is the fabric merchandiser and she gave  us some great insight on how fabrics are chosen.  She had just returned from High Point, NC.
Even vintage fabrics like this 200+ year old fabrics are used for inspiration in new designs.
So, what a fascinating way to spend the day with Ballards!  It was such a treat to be there with all of these other bloggers and I'm so happy that companies are reaching out to bloggers like me to partner up in spreading the word on design and beautifying our homes.
I'm definitely a Ballard Designs lover and even if some things in the catalog are out of my budget, I can certainly gain tons of inspiration from it.  I've bought my share of bargains from their outlet here in Atlanta over the years, in particularly 3 of my light fixtures in my new house.
We also got a gift certificate to spend and wow,  was that fun!
I picked up this little beauty in the DeFoor Ave. store and it was a really nice bargain. Marked at $50, they had a 30% off sale and I got this beautiful painted canvas for $35. It's huge and I'm not even sure where it's going yet, but it will be in my house somewhere. The watery tones are beachy in feel and I couldn't pass it up.
I also got a 5 foot long shelf and brackets in black just like the ones in my office at the Roswell outlet for $26!!   Crazy good deal and this one is going in my laundry room.
So, that's been my fun week and I wanted to share it all with you too!  Thanks for tagging along.
I'll be sharing lots more Christmas décor next week too. 
Don't Miss a Post, join my list!