Last week, we had the chance to spend a few days at the beach with Mark's family.  We made plans earlier this year to go to the beach for a few days and it was fun when it finally got here.  The weather couldn't have been more perfect, in fact it felt like summer still, since our weather here in the South has not yet turned to Fallish temps.  It was downright hot!  But, we sure enjoyed sitting on the beach and feeling those ocean breezes in our faces for a couple of days.
Mark's family has gotten so big that it's getting almost impossible for the whole family to get together for a beach trip like they've done in the past.  I've shared the last 2 years that they all went to St. George for a week and that was very fun too.  But now, they are doing smaller family trips and this time it was me and Mark, his sister and parents, and his other sister and her husband and 2 adult children.  Only one of Mark's daughters got to go this time, Kelly, with her husband and baby boy.  It was nice to be with them all and as I mentioned the weather couldn't have been more perfect.
We stayed in these cute and quaint Sea Cabins right across the street from the beach. They've been here for many years, but are very affordable compared to everything else down there, so if you're looking for a lower budget condo, these are great.  They aren't fancy, but are clean and great for families going together.  Most of them have bunk rooms and loft bedrooms upstairs and some are more updated than others. Click that link above for the place we booked through. It was an easy walk across the street to the beach and they do have a cute little pool too. It reminded me of the motor court kind of places we used to stay in back in the 60's or 70's.
We enjoyed the beach for 2 days and also spent time at the pool.  Mark's daughter, Kelly, was there with her baby, cutie pie Henry. He's a little doll!
He's 8 months old now and everyone passed him around. Mark's mom is so sweet, everyone calls her Nanny.
Our first night there, we all went to one of my favorite spots to eat that I've shared with you several times before, Dewey Destin's seafood.  They have the BEST fried shrimp ever and it's hands down my favorite spot for fried seafood.  Located on the docks, it's a beautiful place for sunset and we got to see a spectacular one that night.  Mark had fun holding Henry, he's getting so playful and smiles all the time.
I always get the fried shrimp basket, so we ordered 2 of those and Mark loved it too. It was his first time here, but his family have all been here before.  It was so nice eating outside and enjoying the sunset.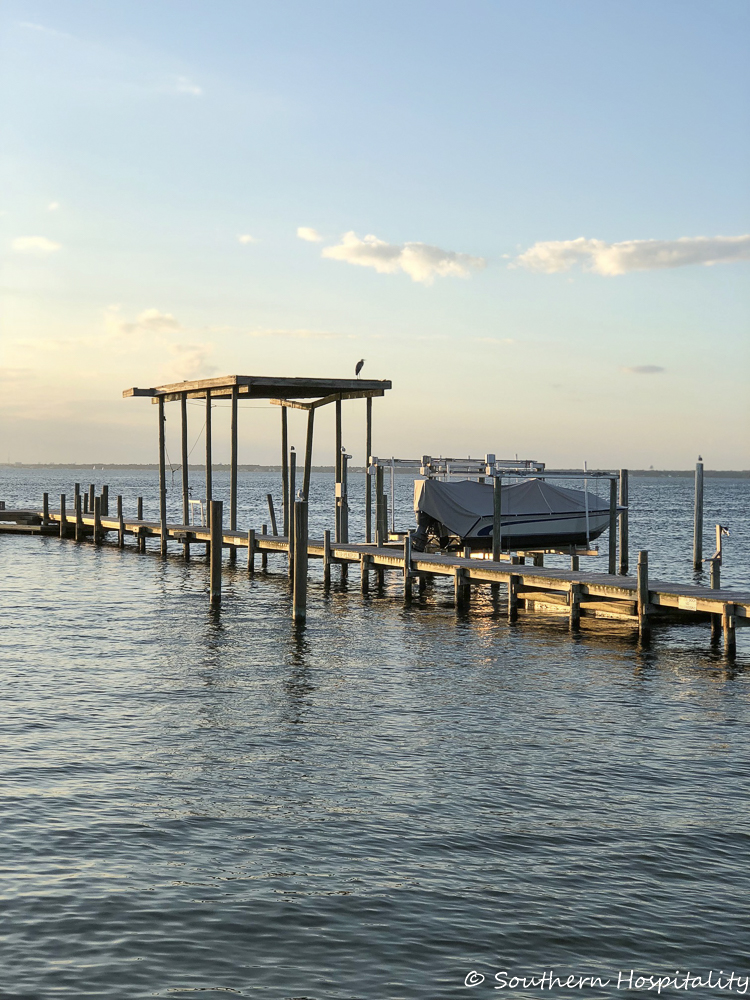 The light on the water is just gorgeous as the sun goes down.
Dewey Destin has long piers with tables and umbrellas to enjoy the views.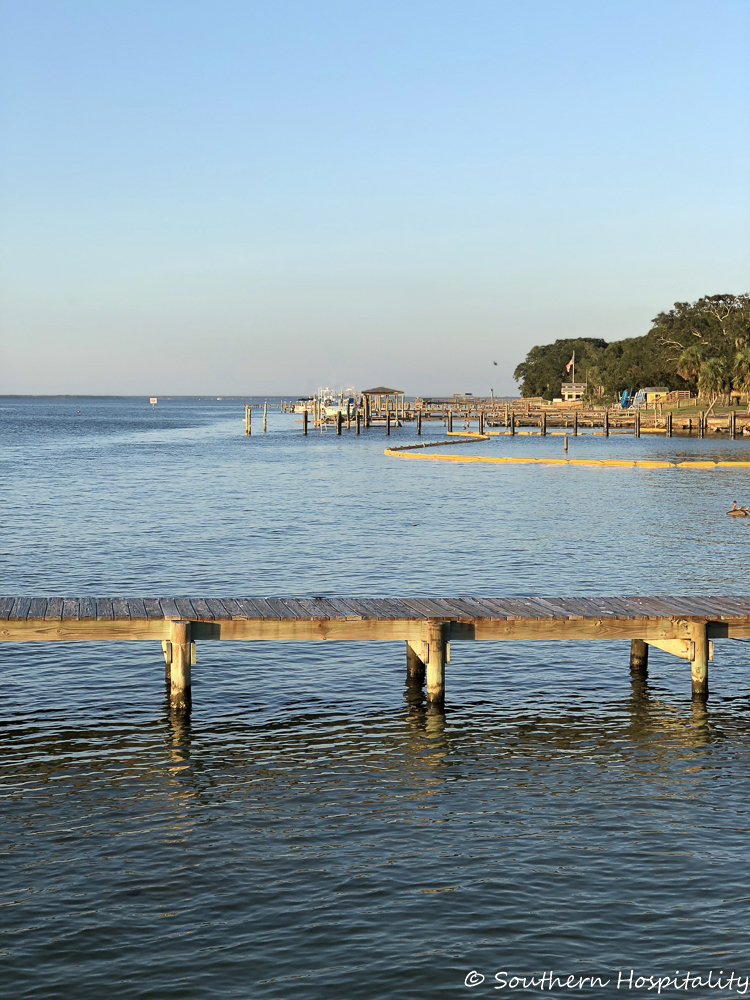 The views are great!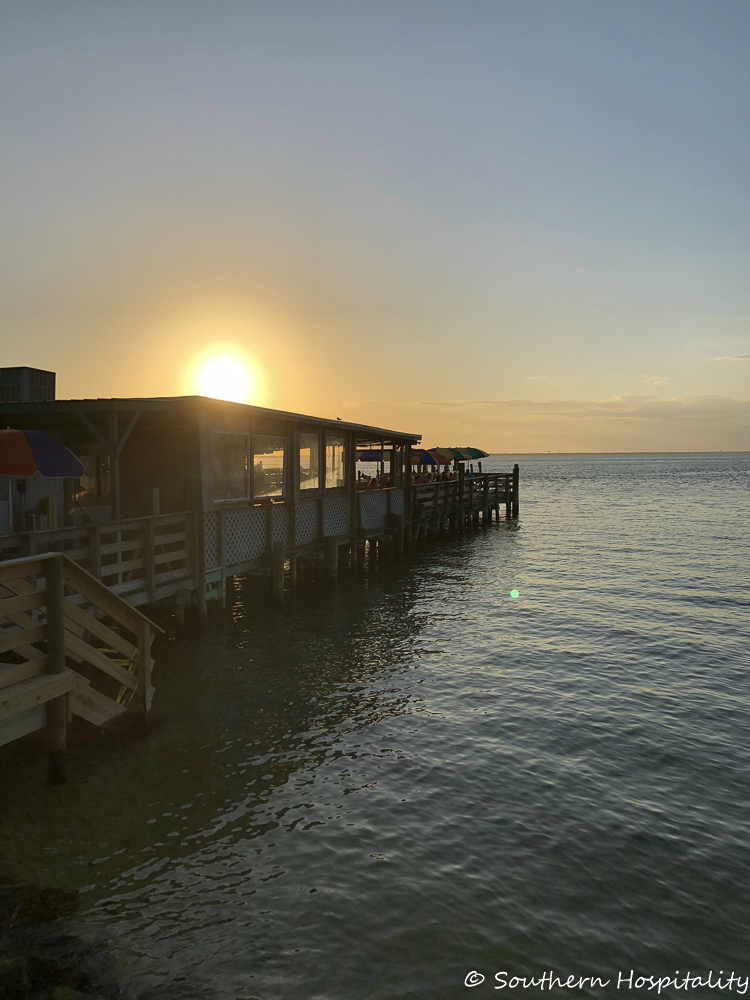 After we ate, I made a point to take pics of the sun going down and everyone else was doing the same.
Mark and I did a selfie to remember our time.  Such a good spot!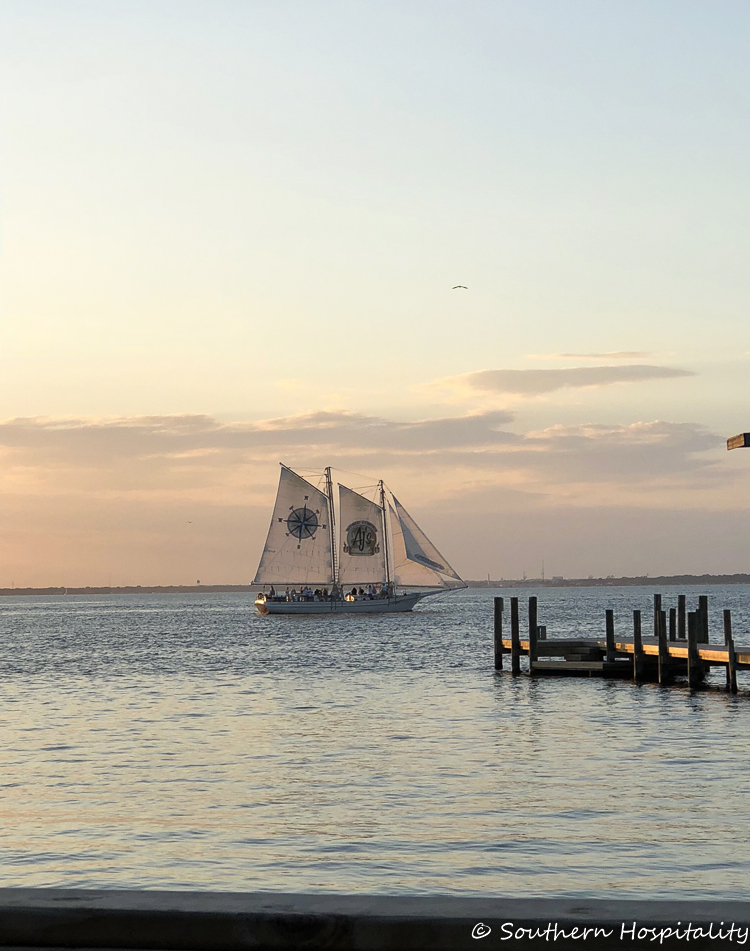 There were many boats in the water this time of night and they were all so pretty.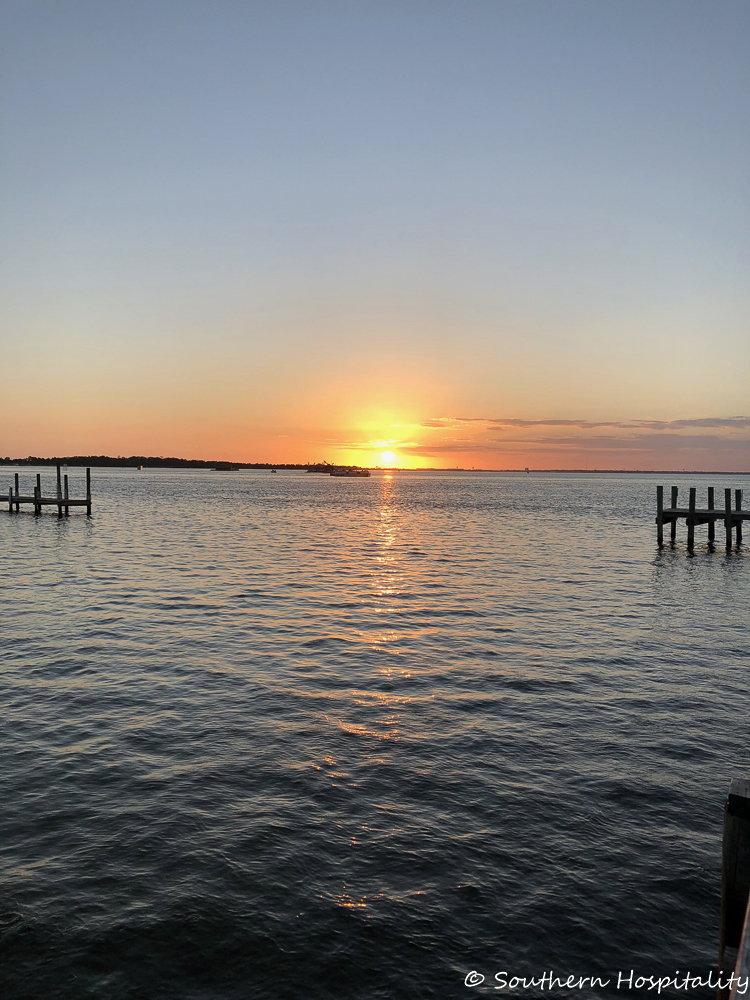 What a sunset it was!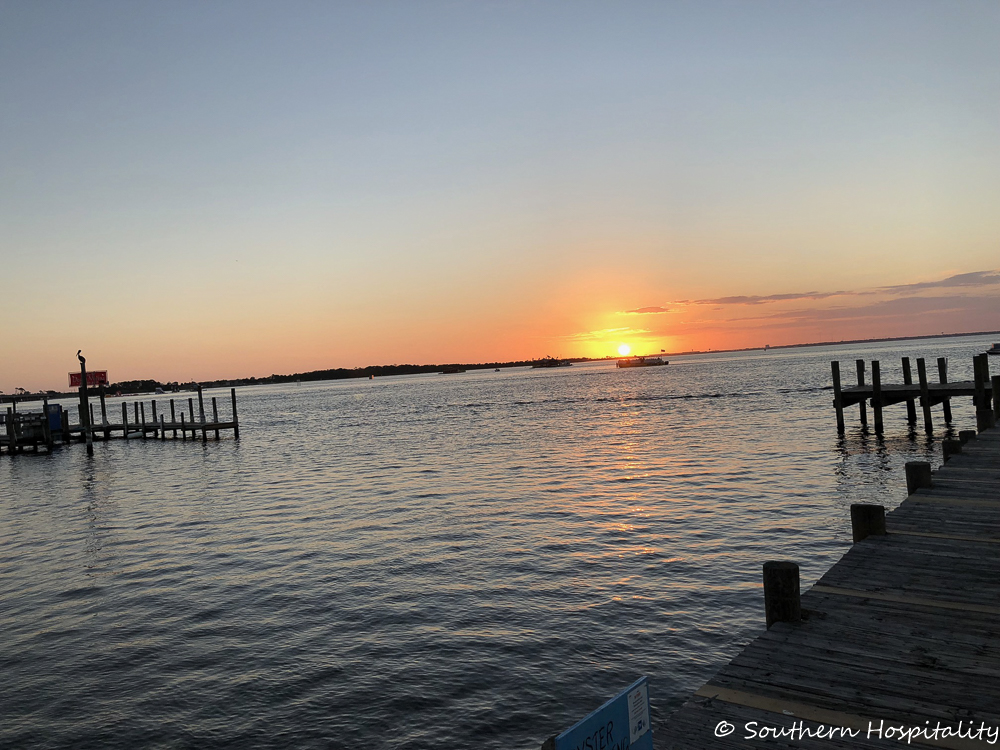 Florida has the best sunsets over the water.
So pretty!
Our first day on the beach and this was the view.  We couldn't help but notice how crowded it was down there this time of year, which surprised me.  I guess as school schedules have changed, so many school systems are out on Fall break all over the Southeast and since we are having such hot weather, naturally a trip to the beach makes sense, so there were so many people there this time of year. I just think of October as being off season, but that's no longer the case. It's been 3 years since I was down there and it definitely wasn't this crowded then.  Destin has grown and the traffic is getting worse down there too. They are widening Hwy. 98 to accommodate all the traffic, so I hope they get that worked out so that it's not so congested.  We all get away from Atlanta to get relief from the traffic, so don't like going to a place with lots of traffic too.
But having this view was really nice for a couple of days.  There was a good breeze most of the time, but there was also Red Tide happening, which apparently had beaches in South Florida closed and maybe that's why there were more people in Destin now.  Anyway, the Red tide had us all coughing and I can't ever remember that happening before.  It wasn't dangerous, but just made us cough and sneeze, but it was bearable.  Still can't beat the white sand and that gorgeous turquoise water!
We all had umbrellas and sat under them all day. I can't take the sun without shade anymore and it was very nice with our chairs and umbrellas.
I'm glad to get a little beach time in this year!
It's just so calming looking at the water and waves and hearing the seagulls chatting away.
Baby Henry enjoyed his beach time too and Kelly had a cute baby pool for him to play in. He liked the sand too.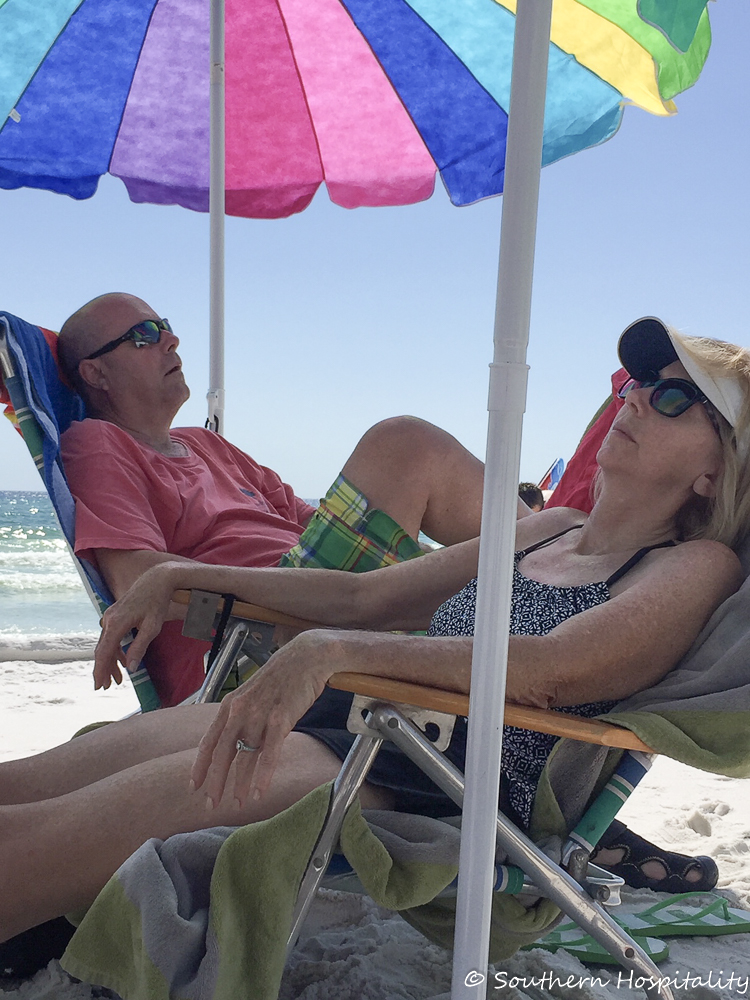 Mark's sister captured this photo.  Caught in the act of napping on the beach!  It was easy to do.
Capturing the seagulls.
And the colorful umbrellas against the blue sky was so pretty!
Another memorable beach trip for Mark and I. This is the 3rd beach trip I've been on with his family and I love that they enjoy spending time together. I get to be a part of that too.
Kelly and Henry in the pool floating on such a cute float.
Mark and I got some great food while we were there. He has such wonderful memories of going to Angelos Steak Pit since he was about 17 years old and goes as often as he can, so we made the drive over to Panama City for a steak one night. He got a T-bone and I got a petite fillet.  It was delicious and we enjoyed our meal very much.  We really love seafood the most though!
We only had 2 full days and one morning we took in Smith's Antique Mall, always a fun place to browse.  I always see things in there that I like. I brought home a square bamboo planter that I plan to add a plant too. I'll show you that when I do.  We also went to a thrift store, Haven House. Those are always fun to visit down there too. I didn't buy anything else though.  Mark is going to ban anymore bamboo from coming in the house, so I will have to slow down on that.
Our last dinner, we went to Louis Louis. I had not been to this location before, but it's owned by the same owners as The Red Bar. I wanted to take Mark to Red Bar in Grayton Beach and we drove there, but it was so packed with cars and people that we couldn't find a parking space so we left there and went back to Louis Louis and got in with no problem.  So I got my crab cakes after all. They do a great job with their seafood and I always enjoy my meal.
We got back to our condos just in time for a last sunset view.  We missed the sun going down, but the colorful remnants in the sky was just gorgeous.  I love this time of night on the beach!
The soft light and sea oats were just breath taking.
And that's a wrap on our little visit to Destin this year.  We definitely enjoyed our stay, but Mark has already said he'd rather go back to St. George where it's a little quieter and less busy.  He doesn't like crowds of people anymore.
Driving down there through AL, we took the route that Google maps suggested and drove down I-65 out of Montgomery onto the backroads of LA (Lower Alabama).  I made the mistake when we left on Wednesday of not eating any breakfast, thinking we would be stopping for a late breakfast or early lunch. We hadn't stopped by then and once we got on those backroads, there was nothing on the road to eat except a couple of fast food places, which by the time we went further down the road, I wish I had taken one of them. So be warned, if you go down through Andalusia in AL and don't stop for food, you might be sorry!  I was SO hungry by the time we got to Destin, I thought I'd gnaw my arm off.  We ended up getting a hot dog from Dairy Queen because it was so late and we didn't want to spoil dinner, but it wasn't a good idea.  Anyway, I can't go all day without food and I got very cranky after not eating all day.   Lesson learned on that one!  Get food while you can!  Mark found out how hangry his wife can get when she doesn't eat.  He can go way longer than I can without food apparently!  Fair warning to anyone who gets off the interstate and heads on those backroads of Lower Alabama without some food!  It's desolate out there!
That fried shrimp was mighty good when we finally got it that first night!
Before we left, Mark's sister, Kim (far right) wanted to get a family pic of us all, so we went to her house in the backyard for this pic.  Kim has a beach house near the condos we stayed and I'm going to share that soon. It's so cute!  She built it about 4 years ago and it has so many cute and cottage features, so she let me take pics of it and I'll share her beach cottage on Feature Friday this week.
Here's Mark's family in attendance for this week's beach trip,  That's his mom and dad in front with baby Henry, from right to left, his sister, Kim, Mark, me, sister Linda, nephew James (Kim's son), brother-in-law David (Kim's husband), daughter Kelly and her husband, Alex, and niece Allie (Kim's daughter).
We had a great couple of days in Destin, so I thought you all would enjoy seeing what we did!  This is a fun family to hang out with and I'm so glad to be a part of them now!
Don't Miss a Post, join my list!