Back in the 70's I totally got into terrarium's. You too?
I built these cute little tabletop indoor gardens under glass and had fun with them.  They are popular all over again and tabletop gardens are fun to put together.  This one isn't under glass, but putting some lush succulents together in a pretty pottery planter is a great way to bring the outdoors inside.
One of our Lowes challenges was to create a tabletop garden, so this is what I came up with.  I love plants anyway and enjoy bringing in more greenery to my rooms.
I found a beautiful pottery piece in the garden section, with a pretty blue/green glaze on the outside.  Filled it with potting soil and got my succulents ready to plant.
Potting soil gives plants a good boost of nutrients for several months.
My choice of succulents.  These are sturdy plants and really love the sun, so it's best to keep them in a well lit area.
I used river rock to fill in around the plants and cover the dirt.
And here's my tabletop garden all planted with succulents.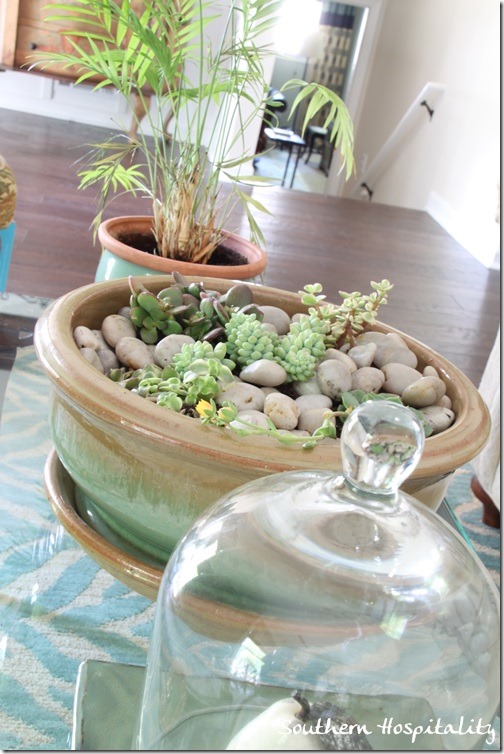 Earthy and natural and perfect for showing off.
I have to say though that succulents don't do all that well for me indoors.  I think they just need more light than my spot gives them.  I know the ones I have had outside do great though with all the sun. They are tough plants and don't need a lot of water.
I do love the tender shoots that came off one of them, a sweet yellow flower in bloom.
Each of them have a different look and it's fun to mix them up with textures and colors.
Are you planting inside these days?  Have you tried succulents and do they do well for you indoors?  I need to find a sunnier spot for mine, but I do love this tabletop garden.
Check out Lowes Creative Ideas Magazine app, visit Lowes on Facebook, and Lowes on Pinterest.
Are you on Instagram? I'm on there and having so much fun since I got my iphone last year! If you want to see what I'm doing in real time, follow me on Instagram. You can see Lowes on Instagram as well. It's a fun little snapshot of what is going on every day.
Disclosure: As a Lowes Creative blogger, I am sent gift cards to spend on projects and to blog about them. This post is sponsored by Lowes, but all ideas and projects are my own.
Don't Miss a Post, join my list!