I was invited  to stay as a guest of Barnsley Resort on a visit with Mark and Daisy for 2 nights. All opinions are my own. 
It was 9 years ago when I first visited Barnsley Resort in North Georgia. Just 45 minutes from our house here in Acworth, it's an easy drive up to this picturesque resort in the countryside. I knew how pretty it is from my visit all those years ago and it has had even more improvements and amenities added since then. Come along for a fresh look at Barnsley Resort and all the things you can do and see here.
The resort is nestled on a sprawling 3,000-acre estate that was originally built by Godfrey Barnsley in the mid-19th century as a grand manor house.
It's not far off I-75 North in Adairsville and the signs take you right to the resort, as well as GPS. Mark had never been so it was fun to show him around. The entrance is a beautiful country driveway which borders the golf course.
Once you meander down the driveway you come to the new 55 room inn which was built a few years ago. This is new since I was there and it's just beautiful.
How would I describe Barnsley Resort? It's a place to get away from it all, away from the traffic and noise of the city and be one with nature. You can explore the grounds through a variety of outdoor activities and be wowed by the dining options. Overall, Barnsley Resort offers a charming blend of Southern hospitality, outdoor pursuits, luxury accommodations, and a rich historical legacy, making it a popular destination for those seeking a unique and relaxing getaway in Georgia.
Ride bikes, rent a canoe, go horseback riding, bike riding, visit the farm and stables, go clay shooting, or axe throwing, or shoot air rifles like we did. There's a lake for catch and release fishing as well as hiking and lawn games. There are plenty of outdoor activities to keep you busy if you want or just relax. The property is made for relaxation and rest. From the firepits and hammocks that dot the grounds, relaxing is a major part of Barnsley.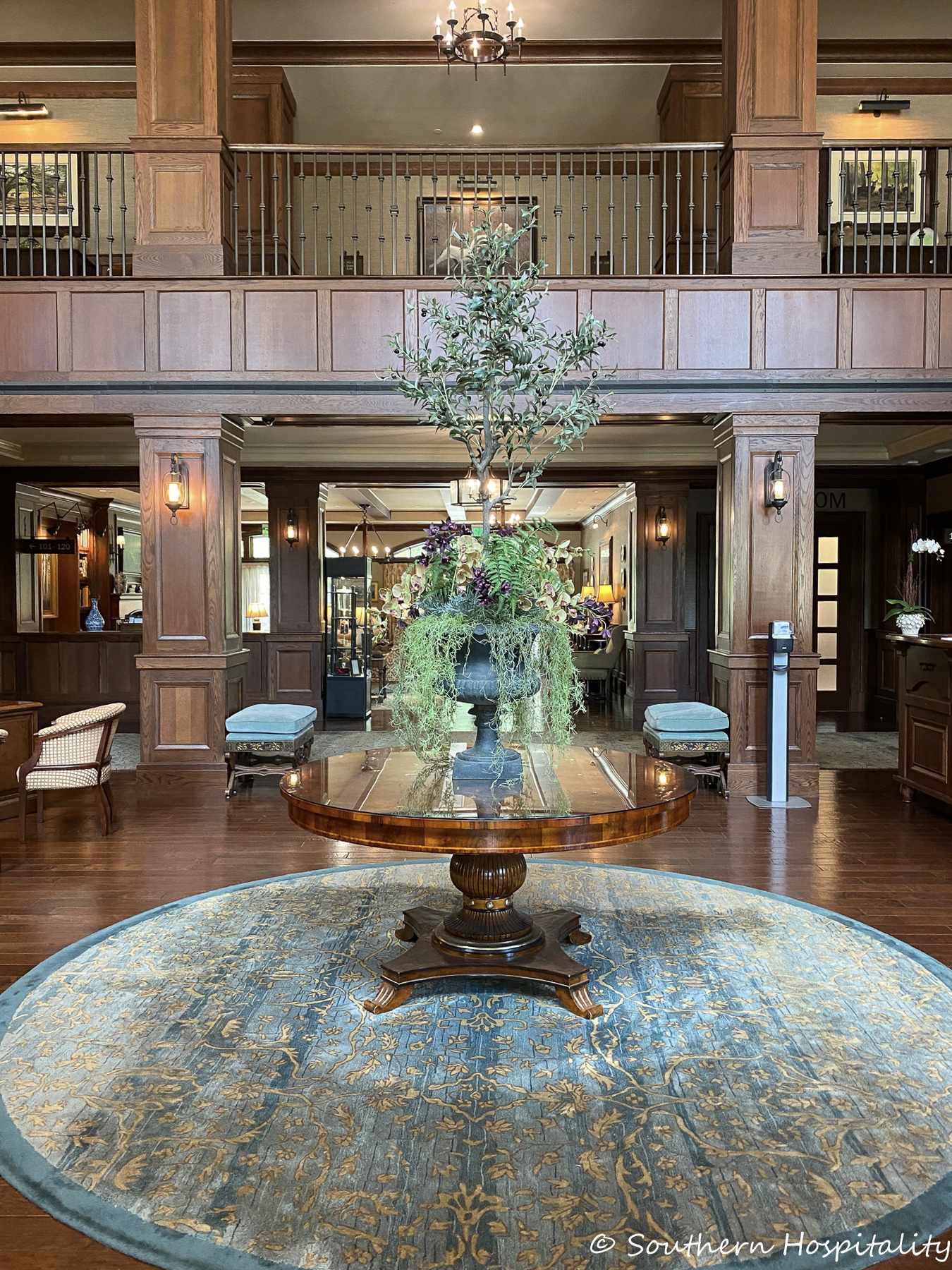 Inside the inn, I checked in and got the keys to our cute cottage. Many of the cottages are pet friendly, but the inn is not, just an FYI. I was happy that we could take Daisy on this weekend trip with us. The inn screams Southern charm as soon as you walk in, with its beautifully appointed and decorated lobby.
We found our cute cottage and got all settled in for our two night stay. The cottages are English inspired and so charming and quaint. You can rent small cottages or larger ones for bigger groups.
There's a Town Hall building which is for events and special parties. The grounds are immaculate and it must take quite the crew to keep this place looking so spectacular.
You can see the fire pits complete with Adirondack chairs all around the property. Everything is so walkable at Barnsley and it's easy to get around.
We didn't need fire pits this trip, but I'm sure they are nice in the cooler months.
We stayed here in this charming place and it was a lovely and comfortable cottage for our stay. It felt so homey! Daisy was right at home and did great.
We enjoyed walking around the grounds and getting familiar with it all. Mark thought it was a beautiful place too.
Another of the cute cottages.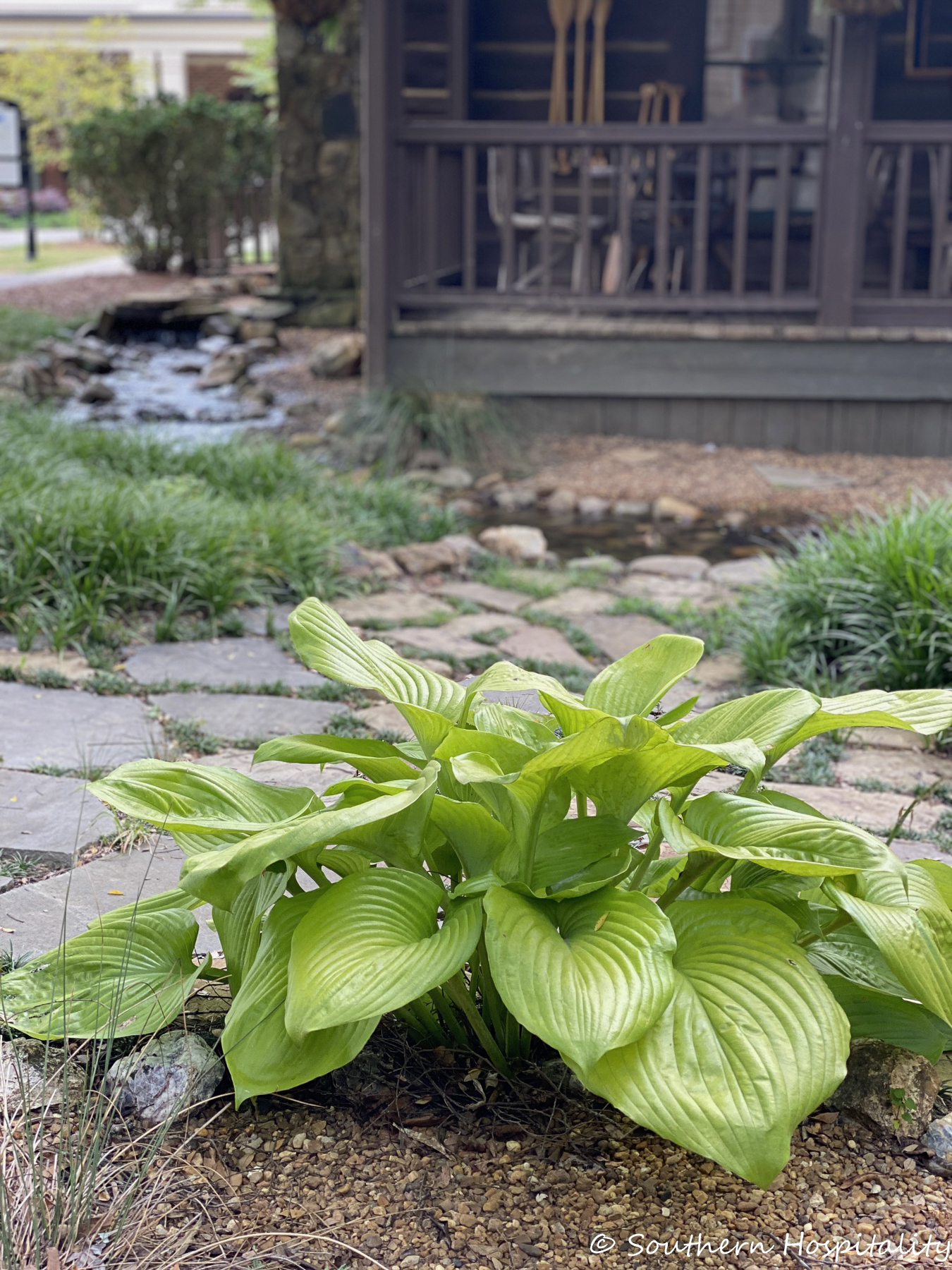 The Outpost is the spot to meet up with a golf cart ride and to sign out bikes to ride. We did ride bikes one afternoon and rode around the house ruins and down to the farm.
There are lots of special events going on at Barnsley, so check their calendar for all the details. There's always something going on like Yappy Hour in honor of National Dog month. We enjoyed sitting outside sipping a cool beverage and Daisy got a pup cup from King of Pops. We got a King of Pops popsicle too as an afternoon treat. There was live music that night too in the beer garden, but we had dinner plans at Rice so didn't get to stay too long.
We had plans the next day for air rifle shooting and we visited the farm to see all these cute farm animals.
They have a pretty big garden which grows delicious veggies and herbs for the two restaurants on the property, the Rice House and Woodlands Grill. We ate at both of them and they are both outstanding. We enjoyed both meals so much.
The countryside is so pretty on the property.
You can choose archery, axe throwing and air rifles as an extra activity at Barnsley Resort. These are all additional fees, just FYI.
We signed up for Introduction to Air Rifles and Mark enjoyed that. I tried it a few times, but shooting is not my thing.
There's also a Spa if you love the spa, right next to the golf course and pool. It would be a great place for families to go. It seems the golf club is definitely popular and that's the draw for many folks.
I sat by the pool one afternoon and enjoyed some sunshine and a snack. It did rain 3 times in one day while we were there, but the sun came back out each time.
Woodlands Grill is the main restaurant by the golf course and our dinner was very delicious.
We sat outside on this pretty patio with a golf course view.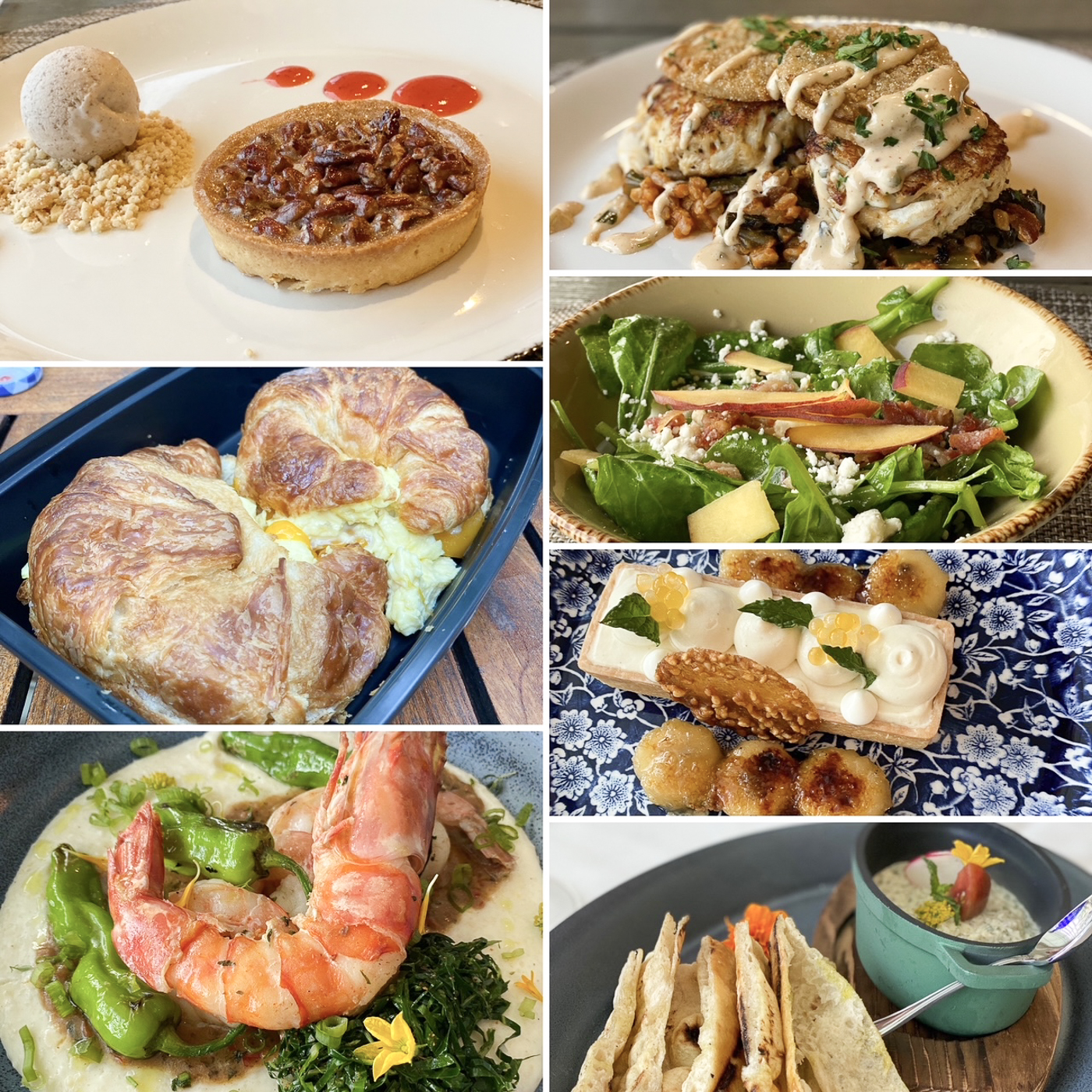 Here's a look at our meals at Barnsley, from Woodlands Grill to the Rice House and even breakfast at the Beer Garden. It was all so tasty and delicious! Those home croissant sandwiches were great for breakfast. Rice House was certainly a treat too. That shrimp and grits dish I had was amazing! I had crabcakes at Woodlands and it was so delectable as well. Tasty food is what you'll get at Barnsley Resort.
Entrance to the Rice House is very inviting.
The Rice House, a nineteenth century farmhouse, which is the elevated fine dining restaurant at Barnsley.
It's a beautiful building inside and out.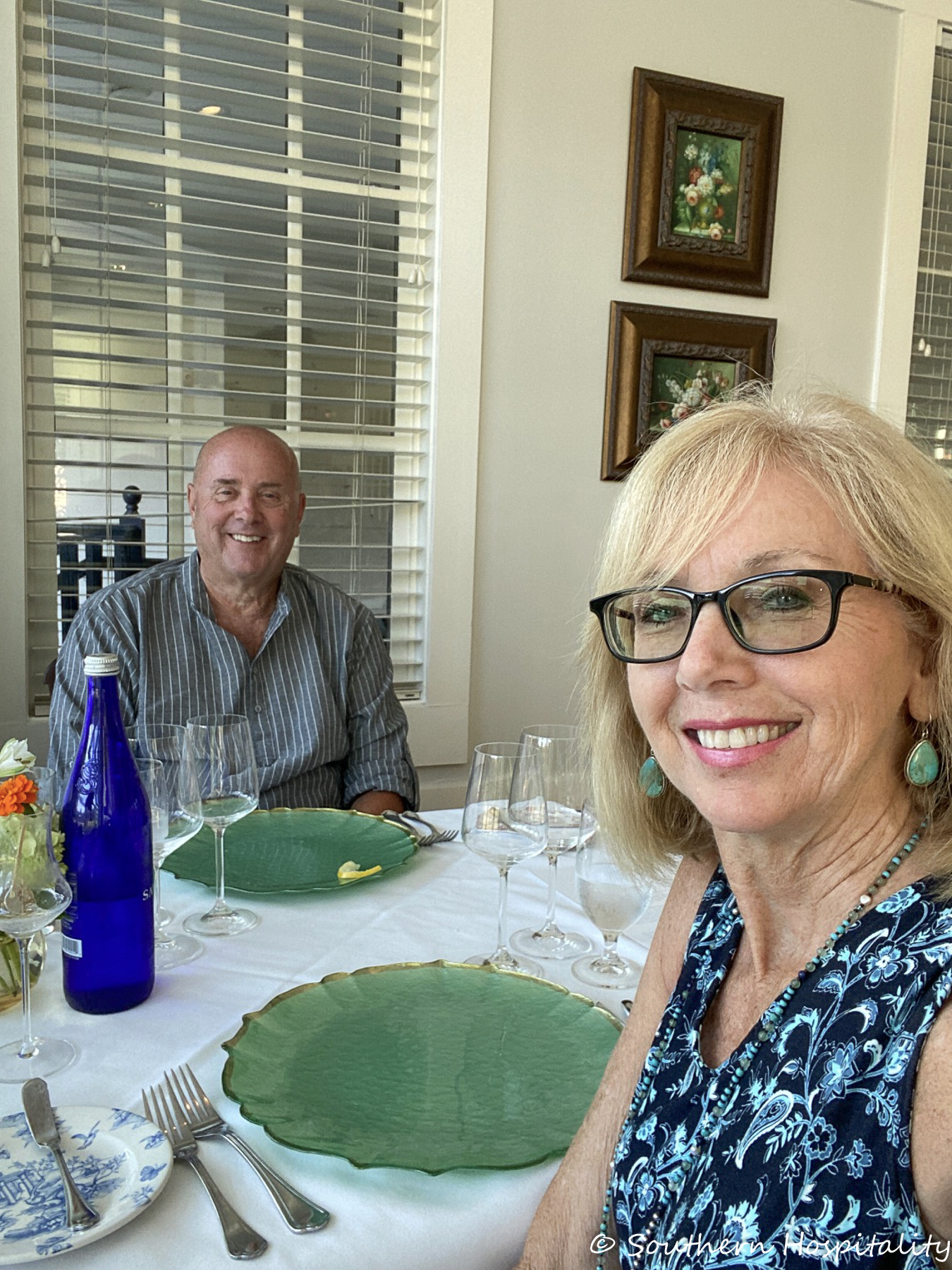 We thoroughly enjoyed this meal, so extra special.
Executive Chef Javier Cuesta stopped by our table and it was a pleasure to meet him too. The Rice House is open for dinner only on weekends and the restaurant offers a seasonal  menu inspired by local and regional farms and their own garden offerings.
We watched the sun start to go down as we had dinner.
After dinner was the perfect time to take a stroll to the ruins. Barnsley is known for the ruins of Godfrey Barnsley's grand Southern estate and is a highlight to visit for the history and beauty of this historic home that was originally built in the 1840's. You can read more at that link, but the story is fascinating.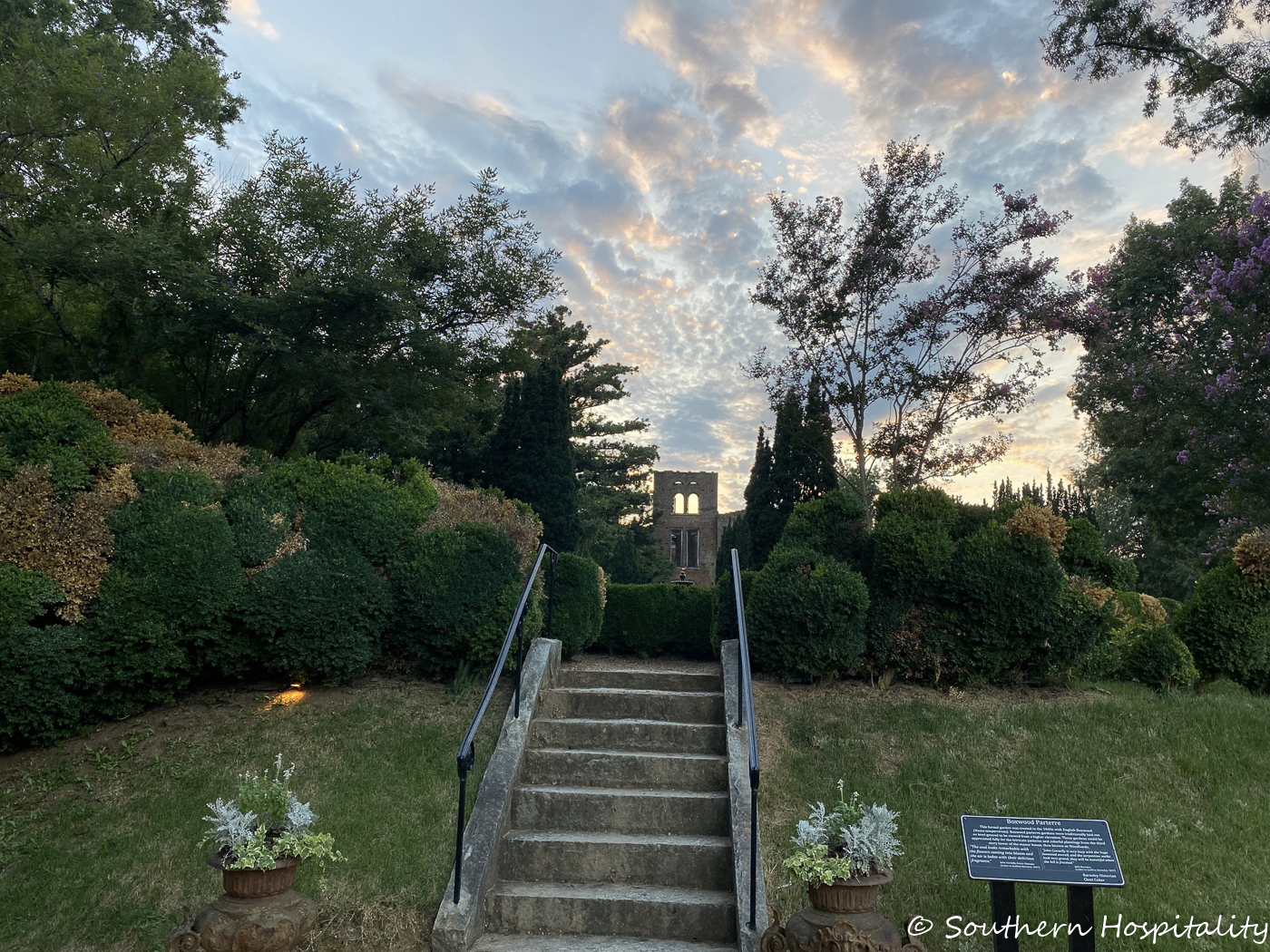 The house was built in Gothic and Italianate architecture.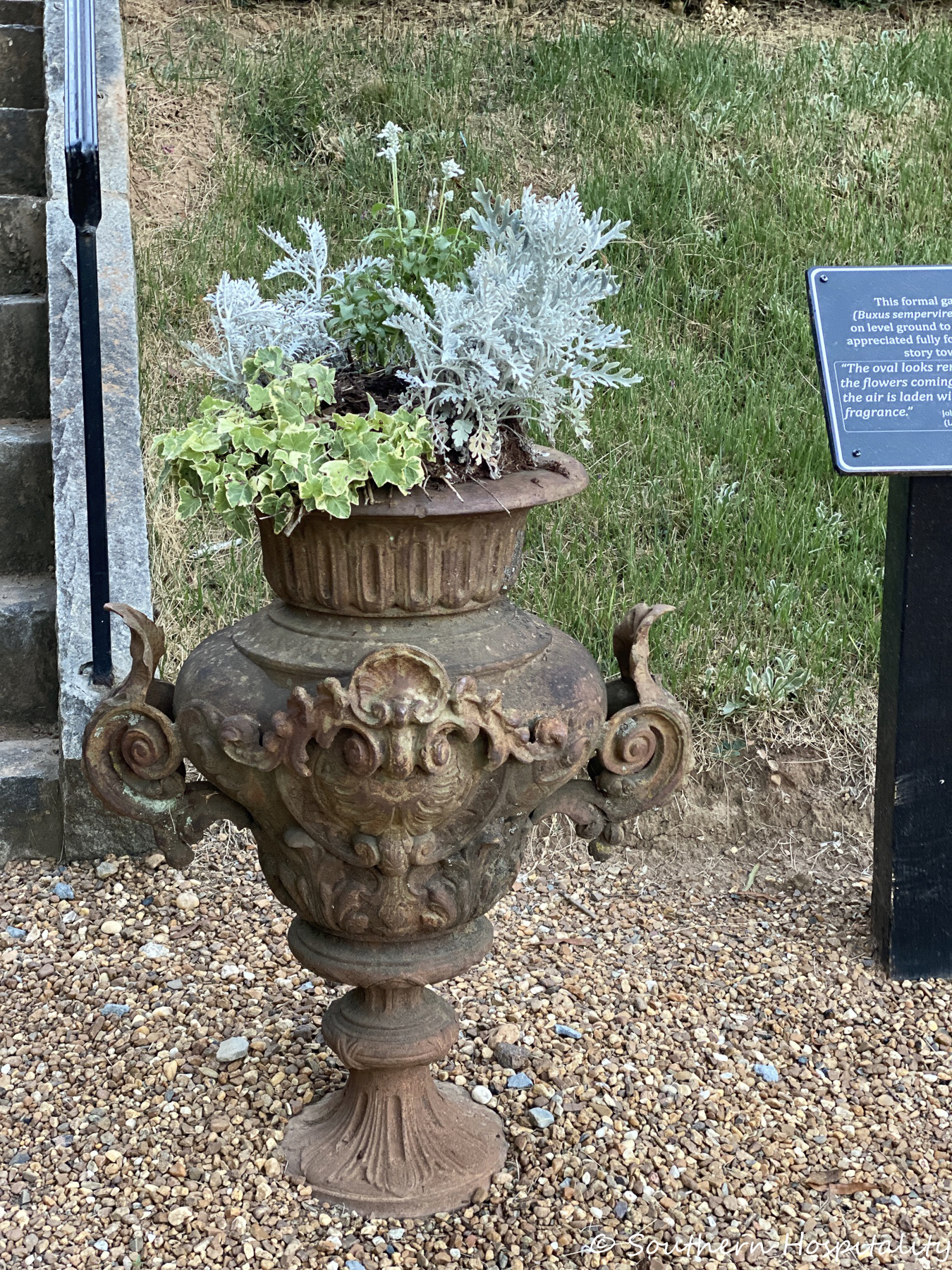 It's really stunning to see the ruins of this beautiful old home and the gardens that surround it.
If you love history and architecture, you'll love the ruins of Barnsley.
Set in such a picturesque spot, you can just imagine the house when it was built and thriving here.
They've added lights around the house at night, which is the best time to see it, I think.
Those arches are special and the old brick is too.
It was so nice to stroll at sunset as the lights came on when the sun was going down.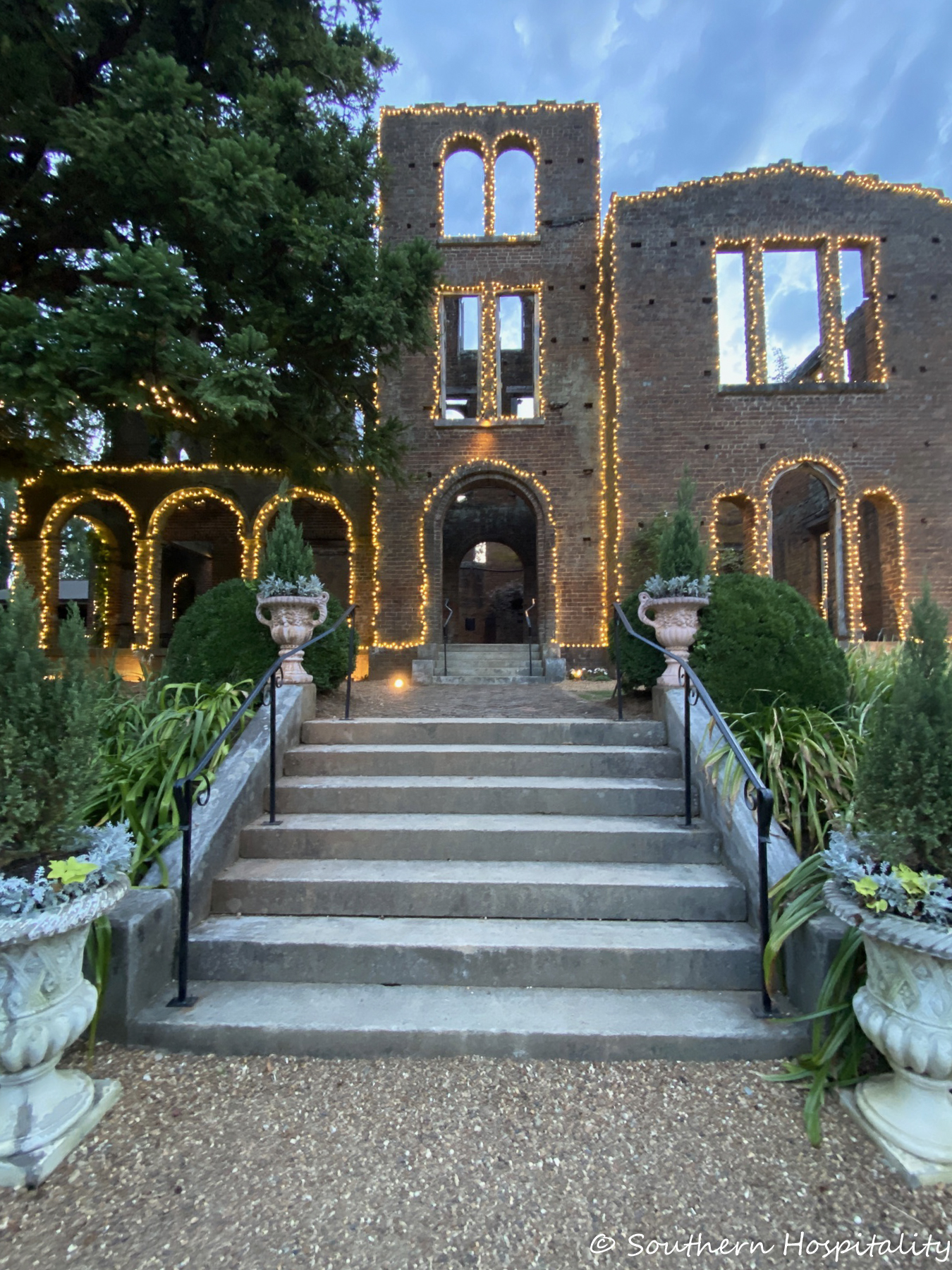 What a beauty she must have been.
They even host events here at Barnsley in the ruins and I've seen pictures of a dinner here that was just spectacular. Can you imagine dinner here in the ruins?
It was fun to visit again.
We headed back to our cottage and the lights were coming on down the lane. It feels like a throwback in time when you're here at Barnsley and it just beckons you to slow down and enjoy nature just a little bit more than you normally do. The property and grounds are just stunning, as are the cottages and inn.
If you've never been to Barnsley Resort and you're looking for a weekend getaway, I'd definitely recommend you check it out. It's a beautiful picture of nature, with a historied story and a presence all its own in North Georgia. Whether it's a family gathering, wedding, or corporate function, they host many group and family events. Barnsley Resort is as serene and peaceful as it gets!
Don't Miss a Post, join my list!