On our last morning in NY, I met up with Kate and Cristin, along with roommates Emily and Katie and we hit a store that Kate had heard about, ABC Carpet and Home. I'm so glad we had time to check this place out. It was totally worth rushing and seeing it in person.
We only had about an hour or so to rush through a few of  the 6 floors, take some pics and then jump down the street to an eatery we wanted to see too.  From furniture, bedding, lighting and accessories, ABC has it all covered.  There's a floor for baby furniture too.  Urban, rustic, modern, traditional, and everything you can imagine, they've got it.
I would highly recommend a run through if you're in NY or visiting. 
In an old building with impressive columns and doors, ABC is a happening spot for design inspiration.
Cristin, me, Kate, and Emily, one last pic before we all hugged and said our goodbyes.  Til next time, girls!
Now, prepare to be inspired!
Luscious lighting.
Sparkly napkin rings.  Can you imagine a table set with these beauties?
Ahhh, aqua glass jars all lined up in a row.  What could be prettier?
With a few pink flowers arranged for good measure.
Check out this brickmakers table with a twist.  How about a suzani upholstered on top?  Now that's a statement maker.
Rows of colorful rugs.
Rustic pottery.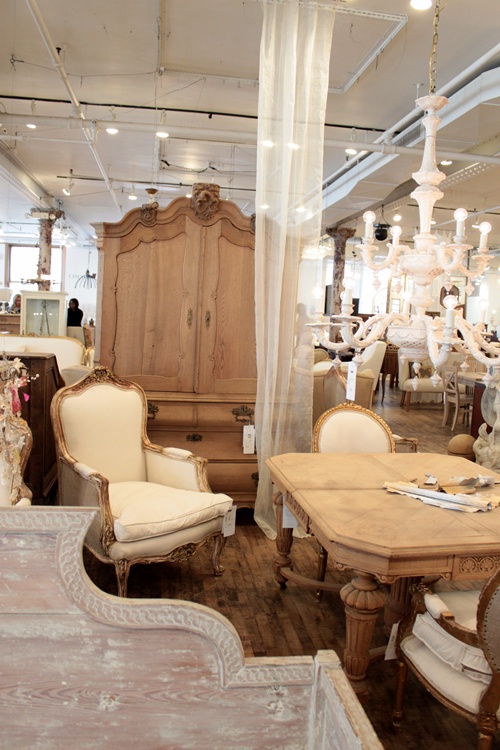 The light upholstery and gray furniture is alive and well in NYC.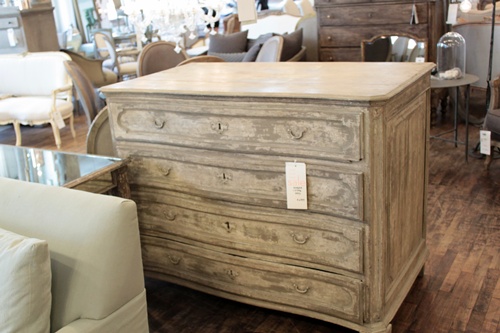 Rustic appeal of a weathered, but new chest.
Gorgeous eye candy everywhere you look.
And hey! Plates on the wall are hot even in NY.  I love that.
Check out the weathered vintage paint finish on this chair.  A lot of work went into this.
Close up on the beautiful aqua paint finish.  Just perfectly chippy and aged.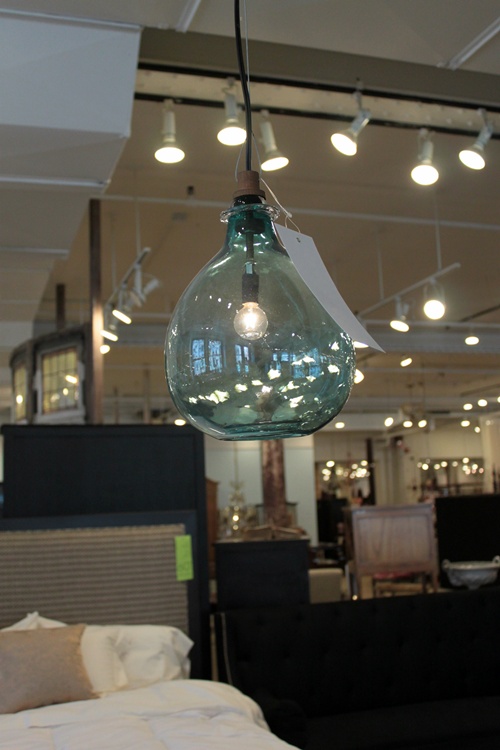 A bottle hanging pendant. 
Some very colorful pieces of furniture.  These are a little too wild for me, but it was fun to see it all.
How about pink damask on your dining room chairs?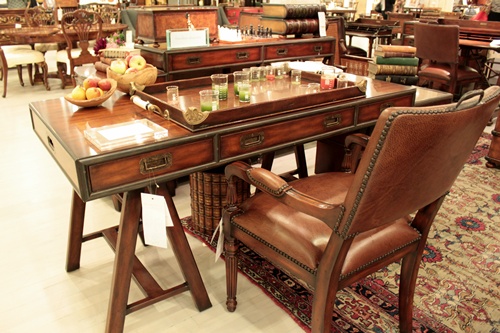 This whole floor was very traditional with dark woods.  Of course, I felt very at home here.
A bedroom by Barbara Barry.  She does beautiful things.
More dark wood and traditional pieces.  Just lovely.
Beautiful pair of lamps and a starburst mirror.
A weathered bench.
Contemporary and Bohemian.
Clever storage piece with old drawers.  Very innovative.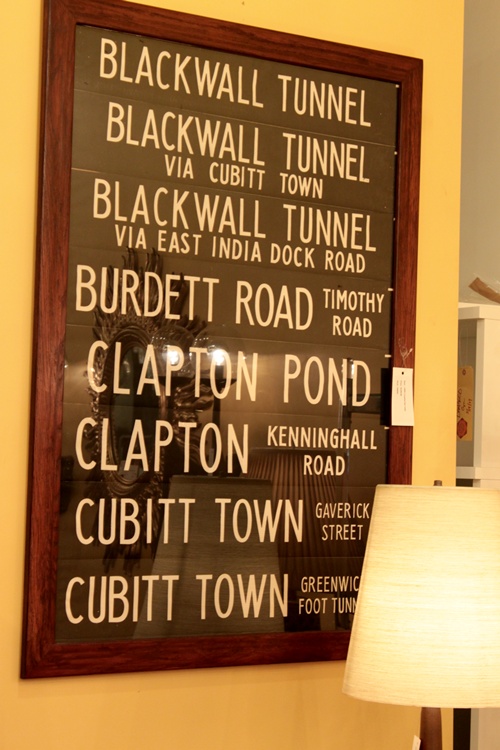 Words are popular in a big way, even in NY.
Pretty and elegant light fixture and a stunning glass tile mirror in the background.
A whole floor of luxury linens.  I would love to get my hands on some of these and take them home.
A unique seashell light fixture, there are tiny shells embedded in this.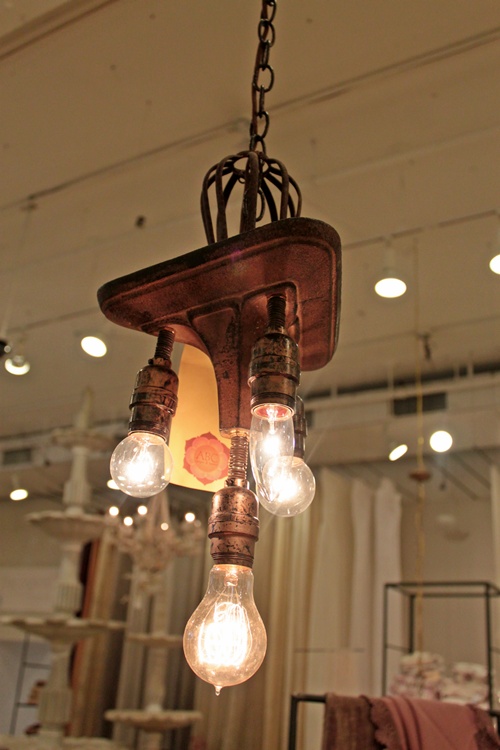 Another unique fixture, I loved this one too.
The old building that houses ABC was very impressive, with old columns throughout.
We rushed through ABC and then took off down the street to a brand new food sensation eatery, called Eataly, brainchild of 3 restaurateurs, one of whom is Mario Batali, the Iron Chef himself.
Wow, what fun this place was.  I'm  really bummed we didn't have more time in here too.  I could have grazed for days at all the stations.
From fresh fruits and veggies.
Salad greens galore, New Yorkers can shop fresh and cook at home.
Or you can walk around to each station and pick out your faves to try here or take it out.
Fresh cheeses in abundance.  I love cheese!
And the fresh pasta!  Oh my word, I could eat my weight in this stuff.  Love!
Panini station and I just noticed in the pic, the gelato in the background.  I could cry for not getting in on gelato, my fave Italian ice cream.
These paninis were looking pretty good too, but time was short and I had to hail a taxi to retrieve my luggage from the hotel, jump in another taxi and head out to LaGuardia.  So, I opted for a big square of pizza to go.
Out the door I went, pizza in hand.
Once safely inside my taxi, headed to the airport, the pizza came out and I savored every bite of it with the windows down in the cab, breeze blowing through my hair, it was a beautiful Fall day in the city and a grand finale to this fun trip.
Farewell for now, NY!
I hope you are inspired too by all the beauty at ABC Home.  If you get the chance to go, I'd highly recommend it.
Don't Miss a Post, join my list!