I just added something to my house that I thought you all might like to hear about, since I've done so much around here in the renovation mode.  I have 2 large picture windows in my kitchen that face southwest and in the afternoon, the sun beats against those windows heating up the kitchen so much during the summer months. It really gets uncomfortable in there and makes me rethink having a fan in there that I took down when we renovated. I now see why it was there. There's only one vent in there too for cooling it off and that one vent doesn't do much.  Even though I have lined bamboo shades in there, it's still not enough to block the heat. I knew about window tint for cars and homes, so I called a local place and got an estimate.
Let me say that this is in no way sponsored.  I decided I wanted to add this to my home and called a local business that had a good rating online, The Tint Guy. They were very thorough in explaining the process and options to me, so I made my decision on which 3M film I wanted to add to my windows and set up an installation day with them. I have another window in the guest room (Rhonda's room) that is also single pane and it gets afternoon sun too on the front of the house, so I added film there as well.  Total for all 3 windows came to just over $300, so I was satisfied with that.  Keith, the installer came out and got them installed in no time.
He explained the differences to me, but it was hard to grasp until I saw it in person, and even then it was hard to tell the difference, but here's the breakdown on what I got:
Rejection of Solar Energy/ HEAT!
NV25 rejects 61% 
PR50 rejects 56%
Reduction of Glare
NV25 reduces glare by 73%
PR50 reduces glare by 44%
It's hard to tell the difference with the tinting in place, but you can see the Before here when he took the shade down to add the window film. I chose the NV25 for the kitchen, since it blocks more heat and glare and I'm happy to have less light in here.  We don't often open these blinds anyway, because….the neighbor is right there and it's not that great a view, plus the heat.
And here's the After shot.  The NV25 window tint should help this room with the blocking some of that summer heat, I hope!  I haven't had a chance to really test it out yet because all of a sudden we haven't had a lot of heat yet, but it's coming, no doubt about that!  I will keep the blinds down as usual and with that extra layer of tinting, it should make a difference.
Here's how it looks from the outside.  It is the darker tint of the two I got just so you know. I was fine with darker tint on these windows since they face the drive way and not the front of the house.
The window in Rhonda's room, I got the PR50 tinting.  It isn't quite as dark and doesn't block quite as much heat and glare, but should do the job too on the front of the house. This is the Before.
And here's the After.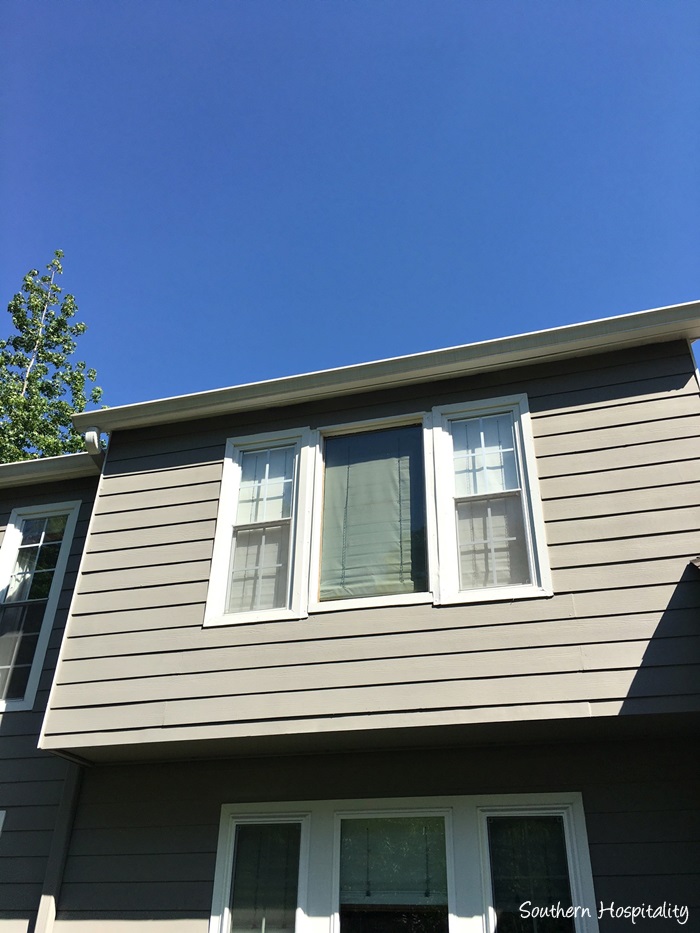 And a shot from the outside of the house.
I'll keep you posted on how this works, but I thought it was definitely worth a shot in blocking the heat from my kitchen especially.  It really gets hot in there when I'm cooking during the summer, making it very uncomfortable, so hopefully this will help make it more bearable.  I thought this was something you all would enjoy hearing about and seeing what I chose just in case you are in the market to for less heat and glare coming in your windows.
Thanks for stopping by today!
Don't Miss a Post, join my list!