Hey there, let's get the new week started!  Happy Mother's Day to all of you!
Y'all have been so supportive of Mark and I and the new house and it's so fun to share all the little milestones, big and small around here with all of you.
One of the things that I noticed right away in our new house was the fact that the 2 story off the ground deck didn't have stairs to the backyard.  I hate when builders do that!  I know it's a cost cutting factor, but still….don't most people want to be able to walk out the back door and into their yard?
Yes, they do!  At least that's how I feel about the situation.  Our deck is right off the kitchen, so it makes sense if we are going to enjoy our backyard and patio space, we needed stairs to connect the two.  It wasn't fun toting food down through the basement and out that door.  We just needed stairs from the deck to the ground.  Simple solution!  Mark doesn't have time to tackle something that big, so I did some research and came up with a couple of estimates and chose a company to work with.  I'll share them below, since we were really happy with their work.
Here's the deck when we bought the house.  Just a plain 2 story deck, nothig fancy, but I'm glad we have it.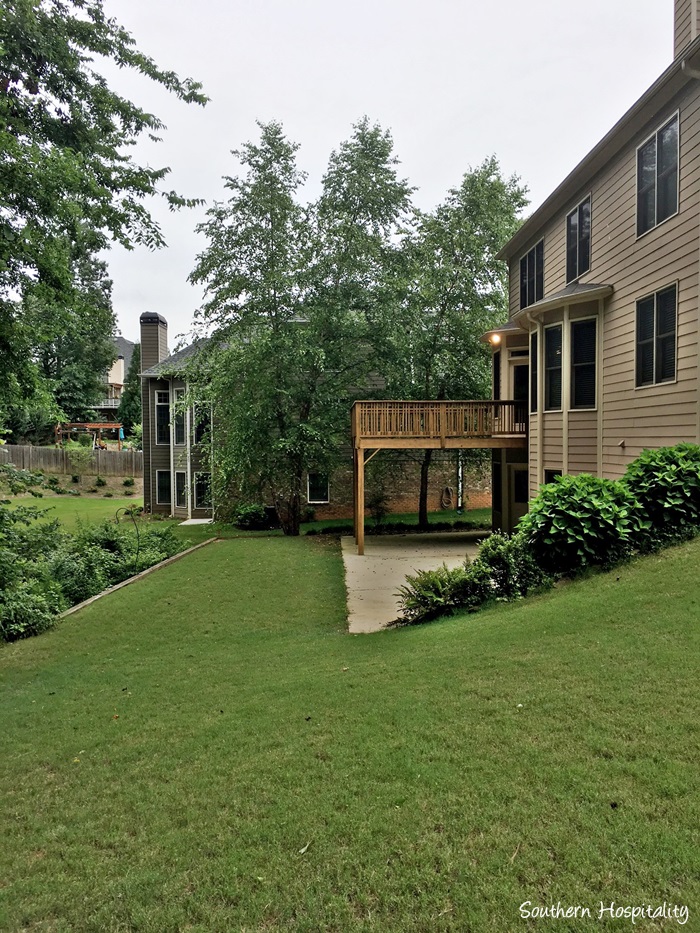 Those are birch trees on the far side of the deck between our neighbors and they do a great job of adding some privacy between our houses.  It feels like a treehouse up there.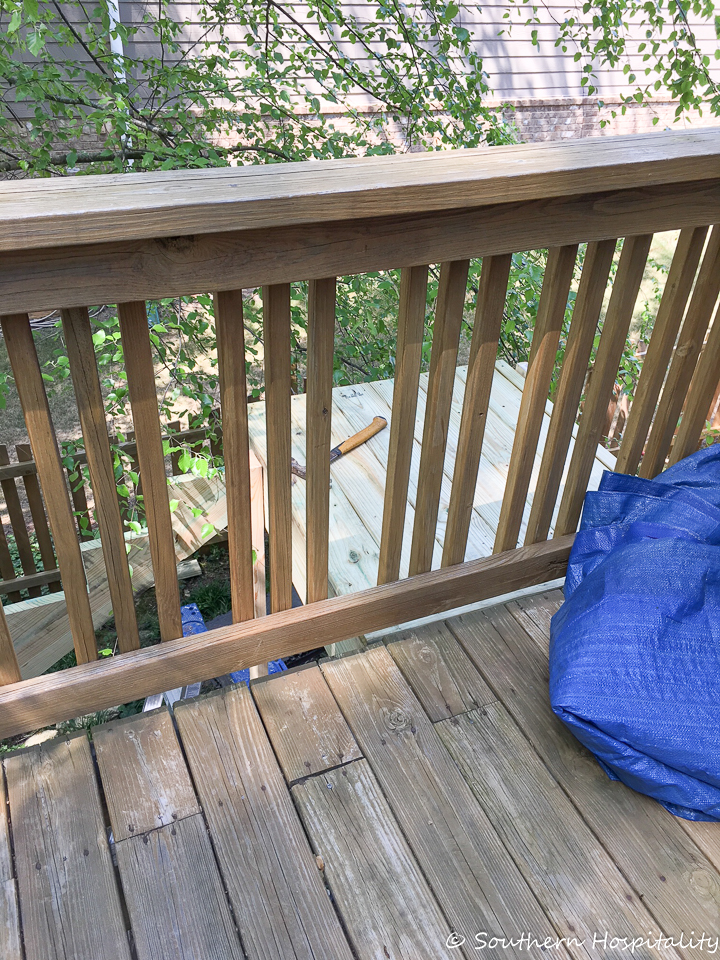 It took them about 2 and 1/2 days to complete the stairs and we couldn't be happier with them. We now have a lot of staining to do and that will be happening before too long. We have to get the fence stained, restain the deck and then later on stain the new stairs. Our current deck is 13 years old this year, so definitely needs fresh stain to perk up that wood again.
They built the landings first and then began the stairs.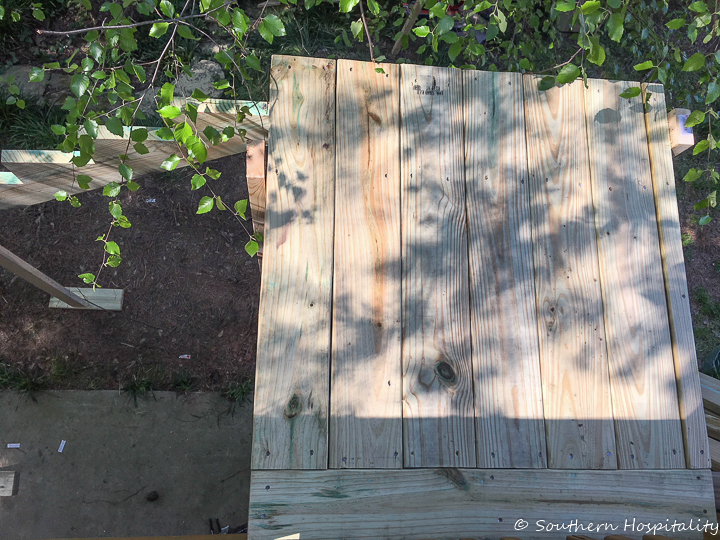 Top landing.
They worked hard and got things done and I had fun peeking at the progress.
They sit to the side of the deck and are on the same side that we have the closest neighbors, so it helps to act as a little bit of a buffer between us, plus those birch trees help too.
This area is pretty shady, so I'm going to work on it and add more shade plants and we'll also put down some pinestraw to keep things tidy on this side of the house.  It's not really a great area to try to grow grass, so I want to make it a shade garden. We already have some big rocks, with some shady plants in there, so when I get the energy I want to add to it with more shade plants. I've already added a few hosta in here and oak leaf hydrangeas that I dug up from my parents that I'd like to get growing in this corner.
Looking up the stairs. They added a concrete landing at the bottom, so we need to remove the boards around it and then figure out what else we want to do down here in the yard. We may add some stepping stones to lead to the patio and we still have to figure out exactly what we are doing on the screened porch that will more than likely go underneath here.
After mulling things over for awhile, we think we will end up putting the screened porch below the deck. We'll add under decking material to dry in the underside and then we will spruce it up with beefed up posts and some sort of flooring and it will be much more economical to do that than to build a whole new screened porch on the deck.
We've decided it's just too expensive to try to add a screened porch to the deck, so underneath makes a lot more sense financially and we will then end up with 3 entertaining areas in the backyard, so that's not bad.  When we have large groups like Mark's family, we'll visit on the big sectional on the patio.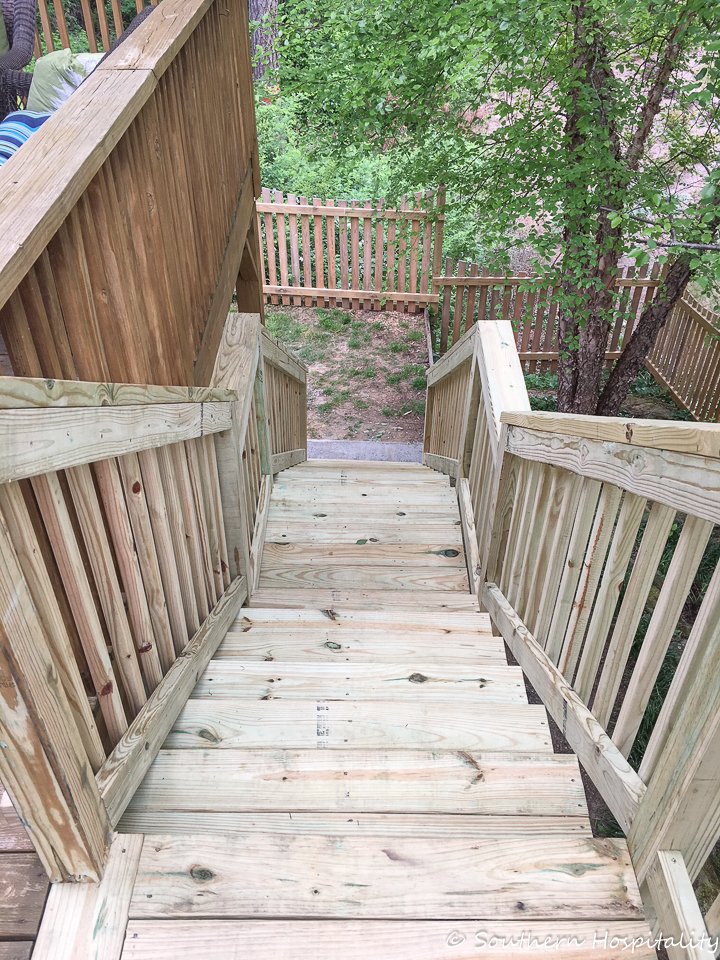 The deck now has my old wicker furniture and several other pieces that I can't wait to show you.  As soon as I can, I'll share all that with you.  It's been so nice to spruce up the deck and walk outside the kitchen and have a seating area and eating area too. We are really going to enjoy the deck now!  I'm calling it the Treehouse!  These stairs will just make everything more accessible.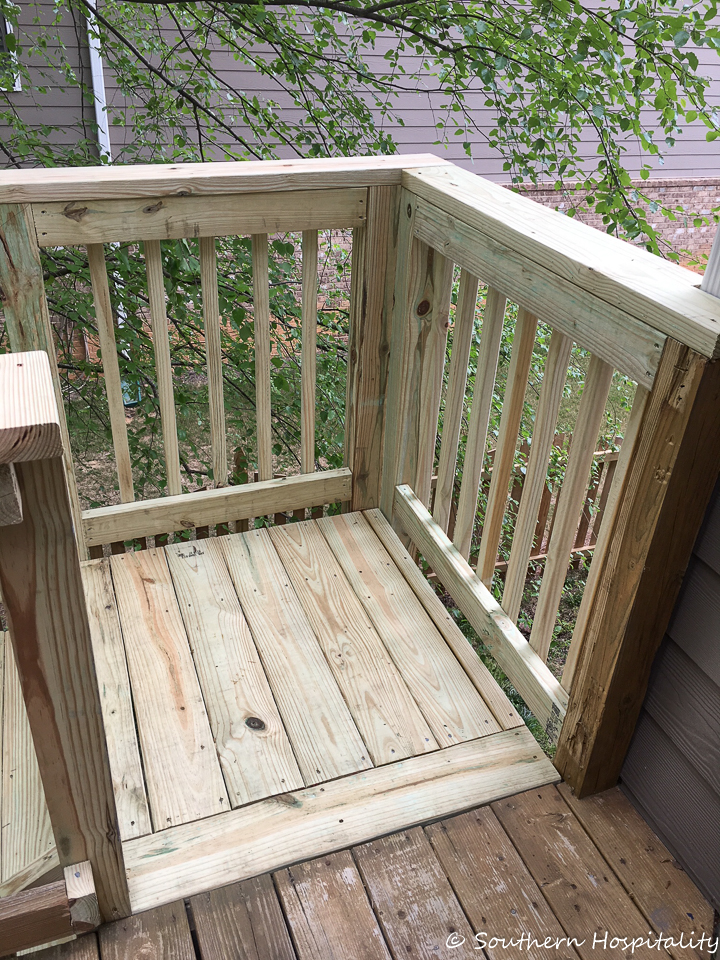 New stairs at the top landing. You can see the difference between the new wood and the old.
Holly totally loves having stairs so she can come up to the deck anytime she wants now and she has spent every day since the stairs were installed up here, she loves it so. I think she thinks the newly furnished deck is her new apartment.
I know we are definitely going to enjoy having this space right outside the kitchen and I've been out there every day too, except when we had rain one day.  It feels so good to have a nice seating and eating area just in time for Summer!  I'll share it all soon, I promise!
The cost of the labor and materials for getting the stairs installed was $3,250.  I know people love to compare prices, as I do as well, so it helps to know if you're getting a decent deal.  I got 2 estimates and this one was the best, so I went with it and have no regrets about using this company.
I worked with Juan Gorga with DGS Contractors and his crew did a great job.  You can reach Juan at 786.301.2590 if you're here in the Atlanta area and want to do a remodeling job.  He said they are general contractors and do a lot of different type jobs.  They are located in Kennesaw.  The office # is 770.615.3882.  They were great about working with my schedule and setting it up on days that I would be here.  We will definitely use them again for any other outside project like this, they also do painting, gutters, windows and siding.
So that's a look at our latest project completed.  I'm just thrilled to get this done just as Summer is starting. We have lots more we want to do in our backyard, but it will take time and energy to get things looking just the way we want, so it will be a work in progress for awhile, but having this deck and the downstairs patio area in summer mode is really helpful.
Don't Miss a Post, join my list!